Help us improve our new site!
Lorenzkirche
Der Reiseführer wurde aktualisiert:
Die schöne Lorenzkirche ist eingebettet inmitten der Nürnberger Fußgängerzone. Sie wurde um 1250 erbaut und ist seit 1525 Evangelisch-Lutherisch. Ihre beiden Türme haben eine Höhe von 80 bzw. 81 Metern. Nachdem die Lorenzkirche im Krieg weitgehend zerstört wurde, begann man im Jahre 1952 mit dem Wiederaufbau. Neben der beeindruckenden Fassade können im Inneren der Kirche bedeutende Kunstwerke wie der Engelsgruß von Veit Stoß (1518) oder das Sakramentshaus von Adam Kraft (1496) besichtigt werden.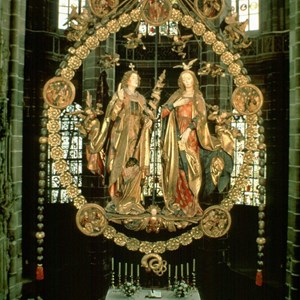 Try our
NEW

site!
Our
NEW

website is now available, give it a try! Let's Go There!
Our
NEW

website is now available, give it a try!
Book

On the new ArrivalGuides you can book your next flight or hotel for the best price.

Plan

Collaborate with your friends or invite an agent to plan the best trip ever! All in one place.

Explore

578 and counting updated guides from the most popular destination all over the world.