Provided by:
BTWImages/Shutterstock.com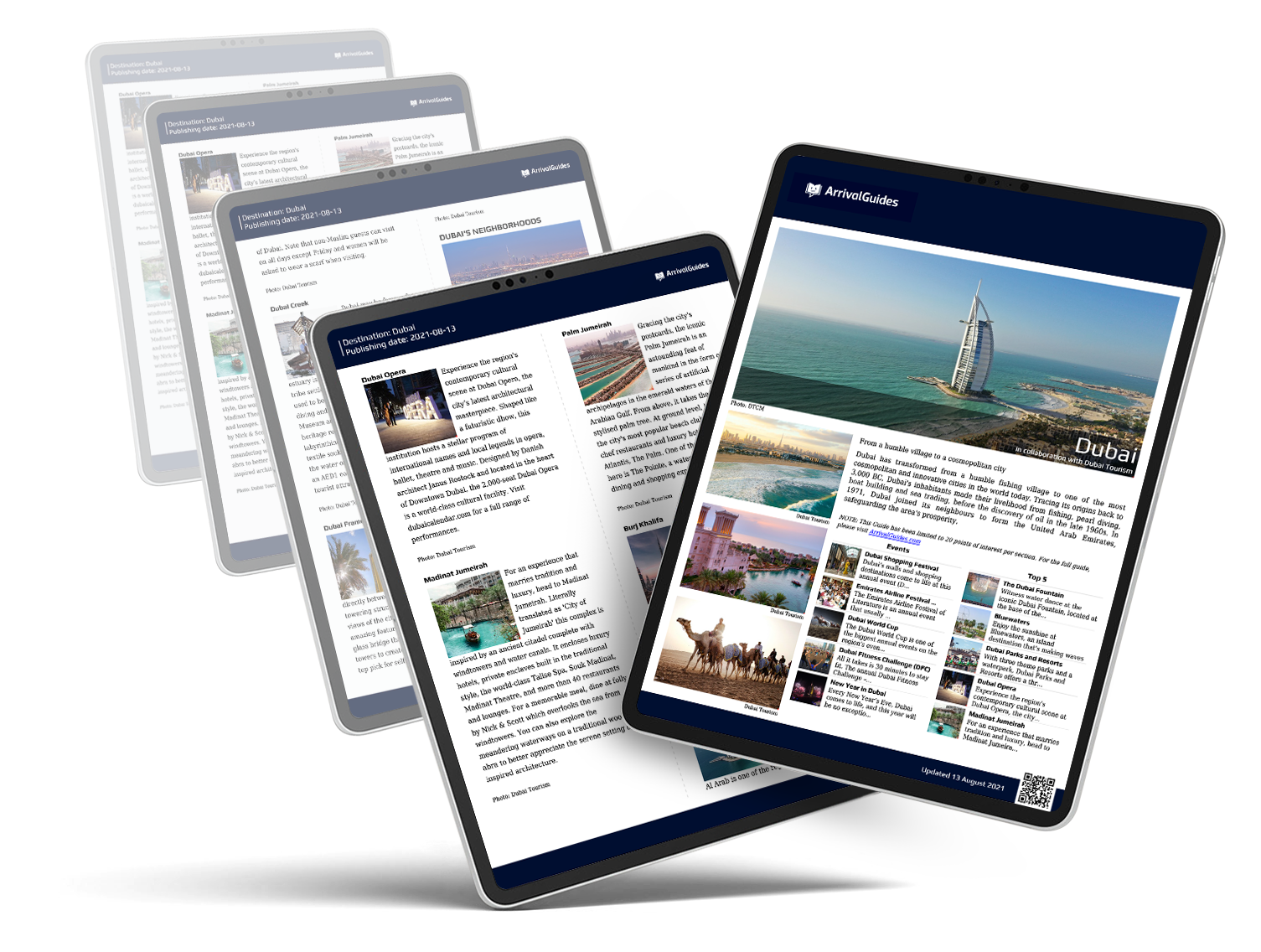 Our travel guides are free to read and explore online. If you want to get your own copy, the full travel guide for this destination is available to you offline* to bring along anywhere or print for your trip.​
*this will be downloaded as a PDF.
Purchase
Die Stadt
Der Reiseführer wurde aktualisiert:
Djereba ist vor Allem bekannt für seine außergewöhnlichen Strände und Hotels, sowie für den Drehort der Mos Eisley Szenen in Tatoine des Star Wars Filmen. Die Haupt-Touristengegend liegt im Osten, entlang der Strände Sidi Mahrez und Seguia (bei Midoun).

Auf der Insel herumzukommen ist preiswert. Wohin man auch geht, man wird nie weiter als 30 Minuten von seinem Hotel entfernt sein, und Sie werden überrascht sein, wie vielfältig Djerba ist. Das Zentrum liegt in der Stadt Houmt Souk. Hier findet man schöne, lebhafte Märkte und Souks, sowie traditionelle Hotels mit den typischen Zimmern, den ""Funduqs"". Viele Hotels besitzen einen Innenhof und haben eine schöne Atmosphäre. Der Rest der Insel besteht aus kleinen Dörfern und Orten, die oft von Touristen ignoriert werden, aber sehr authentisch und malerisch sind, wie z.B. Guellala mit einer Töpferei und Keramikproduktion.

Sie werden von den atypischen Moscheen erstaunt sein, denn viele sind sehr alt und wie Festungen gebaut. Auch die traditionelle Architektur der ""Menzels"" ist sehenswert: Die Farmen wurden bestehen aus quadratischen, weiß-gekalkten Häusern.