Wien Tourismus / Christian Stemper
Vienna
The guide was updated:
Vienna fires our imagination with sweeping waltzes and balls at the Opera, beautiful buildings, the Spanish Riding School and traditional cafés. That being said, even with all this history and tradition, Vienna also has a very different side – its young, trendy and creative side. In the Freihausvierteil, creativity thrives and young designers and artists exhibit and sell their work.
Facts
Population:
1.7 million
Currency:
Euro, €1 = 100 cents
Emergency numbers:
112
144 (Emergency services and ambulance)
122 (Fire brigade)
133 (Police)
141 (Medical doctors on duty)
Newspapers:
Kurier
Der Standard
Die Presse
Wiener Zeitung
Neue Kronen Zeitung
Website:
www.wien.info www.facebook.com/WienTourismus www.youtube.com/Vienna www.twitter.com/WienInfoB2B www.instagram.com/viennatouristboard
Opening hours:
Shops are usually open Mon - Fri from 9.00 am - 6.30 pm, Sat until 5.00 pm or 6.00 pm; some shopping centers are open until 8.00 pm or 9.00 from Mon-Fri.
Tourist information:
Vienna Tourist Office
Albertinaplatz/Maysedergasse, district 1
+43 1 24 555
Read more
Section in Vienna
Do & See
Vienna has over 100 museums, great architecture in harmony between old and new design, 280 parks and gardens with over 400 species of roses during spring in Volksgarten.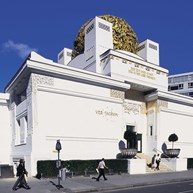 Secession
Featuring a golden dome decorated with laurels, this Art Nouveau exhibition building was constructed in 1897/98 by Joseph Maria Olbriach, a student of Otto Wagner, and is one of the most famous structures in Vienna. The Beethoven Frieze created by Gustav Klimt in 1902 is on permanent display on the lower level. Rotating exhibitions feature contemporary art. More information on www.wien.info/en/sightseeing/sights/art-nouveau/secession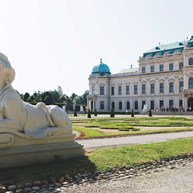 Belvedere Palace
With its magnificent gardens, this former residence of Prince Eugen von Savoyen is one of the most beautiful Baroque ensembles in the world and a UNESCO World Heritage Site. The Upper Belvedere houses the world's largest collection of paintings by Klimt, including the Art Nouveau icons "The Kiss" and "Judith." It also contains masterpieces by Schiele, Kokoschka, Waldmüller, Renoir, Monet and Van Gogh as well as important collections of works from the 19th and 20th centuries, the Baroque and the Middle Ages. Top-quality special exhibitions are put on in the Lower Belvedere and Orangery. And the exquisite Baroque garden between the two palaces offers an extraordinary view of Vienna. More information on www.wien.info/en/sightseeing/museums-exhibitions/top/belvedere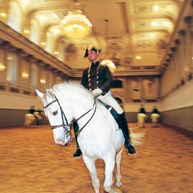 Spanish Riding School
Founded in 1572, the Spanish Riding School has put on performances in the Baroque Winter Riding School since 1735. These shows represent the highest form of equestrian art. The Spanish Riding School in Vienna is the only institution in the world at which the classic equestrian art of the "High School" has been preserved and practiced unchanged since the Renaissance. At the gala shows, visitors can enjoy unique presentations by the Lipizzaner horses in the most beautiful riding hall in the world. The morning session offers an insight into the years of training that the riders and their Lipizzaners go through. More information on www.wien.info/en/sightseeing/sights/imperial/spanish-riding-school
New Impressions of Vienna
Vienna- the perfect setting for a modern lifestyle coupled with historical charm. Copyright: WienTourismus. All rights reserved Produced by: Rosebud Inc. Directed by: Michael Balgavy Music by Christoph Unterberger www.vienna.info
Wien Museum
This museum presents Vienna's 2000-year history, from the Imperium Romanum to the residence of the Dukes of Babenberg and the 640 years of Habsburg rule to the present. The history of the construction of St. Stephen's Cathedral, detailed city views and furnishings from the Biedermeier era as well as magnificent paintings from artists such as Makart, Klimt and Schiele illustrate Vienna's cultural heritage. The Wien Museum also has an exceptional Klimt collection that includes the world's largest collection of his drawings, comprising absolute masterpieces, sketches and preliminary outlines dating from all stages of his creative life. More information on www.wien.info/en/sightseeing/museums-exhibitions/museum-karlsplatz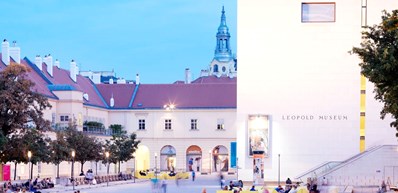 Leopold Museum
With its 41 paintings and 188 works on paper, the Leopold Museum in Vienna's MuseumsQuartier has the world's largest and most significant collection of works by Egon Schiele. The comprehensive collection "Vienna 1900 and Art Nouveau" is another highlight of the Leopold Museum. The paintings by Schiele's mentor and paternal friend Gustav Klimt are especially noteworthy. A program of special exhibitions also presents large-scale shows of work by internationally famous artists. The offer is rounded off by a well-curated museum and a cafe with a patio that affords a view of the main courtyard of the MuseumsQuartier. More information on www.wien.info/en/sightseeing/museums-exhibitions/top/mq/leopold-museum
#ViennaFunFacts -- and what do YOU know about Vienna?
Click here to submit your #ViennaFunFacts and win a trip to Vienna: http://funfacts.vienna.info||In the campaign #ViennaFunFacts we follow Pippilotta on her special journey of discovery through Vienna. She wants to picque our curiosity for seemingly useless knowledge, for fun facts and Viennese myths.||On Facebook, Google+, Twitter, Instagram, Flickr or YouTube, everyone can submit their true, assumed (or wrong!) #ViennaFunFacts, and other users can vote if it's true or not. A jury of Vienna experts will reward the best ideas with books and selected giveaways. The main prize is a trip to Vienna, or a smartphone-attacheable camera. ||Find more info at http://funfacts.vienna.info||Copyright: Vienna Tourist Board. All rights reserved.|Direction/Editing: Thomas Draschan http://www.draschan.com/|Camera: Harald Staudach|Production: Freie Digitale http://www.freiedigitale.at/|Actress: Pippilotta Staudach|Sound: Tobias Oliver http://www.superdisko.com/|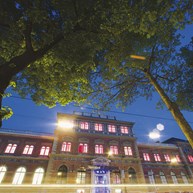 MAK - Austrian Museum of Applied Arts/Contemporary Art
As the home of the Wiener Werkstätte archives, the MAK Austrian Museum of Applied Arts/Contemporary Art is unique in its ability to represent the history and significance of the Wiener Werkstätte. The archive, which was donated to the MAK (Austrian Museum of Applied Arts) in 1955 by its last owner, Alfred Hofmann, comprises about 16,000 design drawings, including 5,500 from Josef Hoffmann, about 20,000 fabric samples, posters, postcard designs, model books, photo albums and business correspondence. One of the highlights of the MAK's collection is Gustav Klimt's nine-part working drawings for the mosaic frieze (around 1910) in the dining room of the Palais Stoclet in Brussels, which was designed by Josef Hoffmann. After a restoration process that took several years, this has again been on permanent display in the MAK as of 2012. The Palais Stoclet, which is considered one of the Wiener Werkstätte's most important works, was commissioned by Adolphe Stoclet and built in the Avenue de Tervuren from 1906-1911. It most clearly symbolizes the utopia of the Gesamtkunstwerk, one of the main concepts behind the Wiener Werkstätte. More information on www.wien.info/en/sightseeing/museums-exhibitions/top/mak