This guide has recently been updated.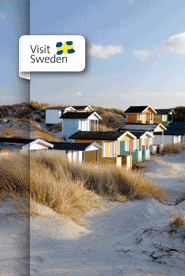 Sweden's third-largest city has become a symbol of cross-border diversity. Malmö is a creative and inquisitive mini-metropolis on the border between Sweden and mainland Europe. Starting out as an industrial city, Malmö is now very much a knowledge hub, known for its environmental work and has been a Fairtrade City since 2006.

Welcome to a city of contrasts, where you´ll find Scandinavia´s oldest Renaissance castle just a stone´s throw from the hip new sustainable district of Västra Hamnen. Inviting street cafés mix with trendy galleries and clubs, restaurants with gourmet food or a falafel. The Eurovision Song Contest 2013, the European Eventing Championship 2013 and the World Junior Hockey Championship 2014 have shown that Malmö is the place to be in terms of international events.
Facts
Population
313,000
Currency
Swedish krona, SEK=100 öre
Opening hours
Shops are open weekdays 10-18 and weekends, Saturday 10-16 and Sunday 12-16.
Website
www.malmotown.com
www.malmo.se
www.malmocity.se
www.skane.com
Newspapers
Sydsvenska Dagbladet
Skånska Dagbladet
Kvällsposten
Aftonbladet
Emergency numbers
112
Tourist information
Malmö Turism
Address: Skeppsbron 2
Tel:+46 40 34 12 00
Opening hours:
During Summer: Monday -Friday 9-18, Weekends 9-16
The rest of the year: Monday - Friday: 9 - 17, Weekends: 10 - 14.30