wiseguy71
Alghero
The guide was updated:
The narrow, cobbled streets of Alghero's medieval citadel, packed with boutiques, bars and restaurants, slope towards the harbour and sweeping bay. Built in a buttery sandstone that glows a soft apricot shade in the setting sun, it's Sardinia's most picturesque Old Town. Spanish-style palazzos and street signs in Italian and Catalan reflect its proud heritage - 300 years of Aragon rule. Fringed by pine forests, long sandy beaches, hotels and bars curve away towards green headlands. It's an idyllic setting.
Facts
Population:
43,000
Currency:
1 Euro = 100 cents
Emergency numbers:
General: 113
Police: 113
Fire: 115
Ambulance: 118
Newspapers:
L'Unione Sarda
La Nuova Sardegna
Corriere della Sera, Italy's main daily
Opening hours:
Most shops open from 09.00-13.00 and 16.00/17.00-20.00, Monday to Saturday. In the peak summer months they can stay open until 23.00 or later. There's also a siesta, typically from 13.00 to 18.00. Many restaurants and bars are closed one day a week, usually mid-week.
Tourist information:
Alghero Tourist Information Office
Piazza Porta Terra 9
Opening hours: 08.00-20.00, Monday to Saturday
+39 079 979 054
Read more
Del i Alghero
Do & See
With a medieval city centre, a beautiful marina, lovely sandy beaches with activities such as kitesurfing and plenty of historical sights to visit, a trip to Alghero will never be boring.
Do & See
Cathedral of Santa Maria
The 16th-century Duomo is mainly Catalan-Gothic and Renaissance, although you wouldn't guess that from its Doric-columned frontage. Inside are peach-coloured walls, 18th-century chapels, and impressive Baroque marble balustrades before the statue-filled high altar.
Do & See
Diocesan Museum of Sacred Art
This art museum is located in the former Rosario church, next to the Cathedral and it is the ideal setting for an array of priceless religious art. They also showcase African sacred paintings and art works.
Torre di Porta Terra
The tower – the remains of the main land gate entrance into the old city – houses a bookshop on the ground floor. Upstairs, touch screens provide a virtual journey through Alghero's history, and a top floor terrace offers panoramic city and harbour views.
Do & See
Chiesa di San Francesco
Chiesa de San Fransesco is an enchanting, restored 14th-century church with a mix of Romanesque, Gothic and late Renaissance style. It also provides a tranquil cloister where summer concerts are held.
Piazza Civica
If you walk through the Port a Mare (Sea Gate) from the harbour you will end up at this oblong, and often very crowded, piazza. It is overseen by the grand, late-medieval Catalan façade of the Palazzo d'Albis.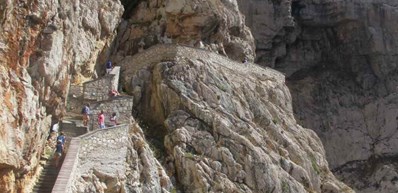 Grotta di Nettuno
Tour boats leave the harbour for Capo Caccia and the amazing Neptune caves, with 20m-long stalagmite and stalactite formations decorating a cave lake. Alternatively, take the bus to Capo Caccia and negotiate the steep and dramatic 656 steps down to the caves, then climb back up again!
Nuraghe di Palmavera
This is the ruins of a nuraghe (stone tower) village dating from 1500 BC. This is one of the most important historical sites on Sardinia and here you can see the central limestone tower and remnants of circular dwellings.
Do & See
Anghelu Ruju Necropolis
This necropolis from pre-nuragic time is located 9 km from the town of Alghero. 37 tombs, some of them decorated with bull's heads can be visited here. Just 1 km from the ruins, you can visit a small museum, Museo e Tenuta Vitivinicola, which shows replicas of some of the findings.