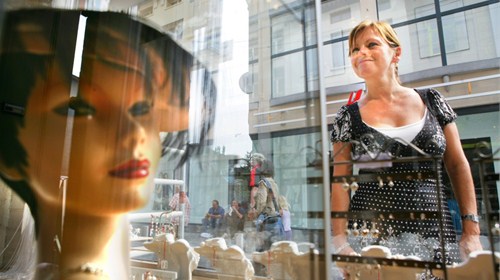 There are any number of reasons for choosing Mechelen as your shopping destination! For one thing, here you escape the hustle and bustle and shop against a backdrop of historic architecture rather than traffic! What is more, the shops are all within easy walking distance of each other. Most are concentrated in the Bruul – Ijzerenleen – Onze-Lieve-Vrouwestraat triangle and side streets where traffic is restricted. High-street chains and chic boutiques stand shoulder to shoulder with traditional specialist shops. So Mechelen has something for everyone: from trendy to classic, from vintage to cutting-edge.
Apia
This shop stocks just about every authentic product Morocco has to offer! From honey and oils, tagines and lamps, to olives and pastries, all the products are made by hand in Morocco, apart from the pastries which the owner makes herself. Apia's bestseller has to be its argan oil, produced from the kernels of the argan tree, which is endemic to Morocco. It is valued for its nutritive, cosmetic and medicinal properties.
Awardt
Everyone in Mechelen knows Wies and Els, the cheerful 'hat ladies' from Adegemstraat. Mother and daughter have been designing colourful hats, scarves, shoes and handbags for almost ten years. All the accessories are crafted in Belgium and can be made in different sizes and colours to meet a customer's specific requirements.
Banketbakkerij Vanderbeek
The Mechelen-based Michel is the seventh generation of Vanderbeek bakers. Having established a first shop in Kortrijk in 1763, the Vanderbeekes later opened up in Mechelen (among other places). A stone's throw from Mechelen's Grote Markt, Vanderbeek is a modern patisserie which, besides selling a wide range of tarts, cakes and special types of bread, also does canapés, pizzas, quiches and other savoury items. The firm's speciality is its moon-shaped chocolates and cookies known as 'Maneblussertjes'.
Blender Vintage Shop
To step into the Blender Vintage Shop is to step back in time several decades. Cheerful seventies wallpaper, wall units and other storage furniture and original hanging lamps from the late fifties. You can browse at your leisure in the various, spacious display areas. And you'll find even more authentic vintage for every budget in the online shop.
Chocolaterie Gauthier
Edouard Gauthier set up his praline business in Mechelen in 1964. These days Gauthier is an established name in the city and surrounding area. Everything that is sold in the shop is handmade, without preservatives of any kind. Moreover, Gauthier is one of the few chocolatiers in Belgium that still makes marzipan from raw almonds.
Het Mechels Souvenierke
If you're looking for an original gift to take back home with you, here you'll find not only the traditional souvenirs, but also a wide range of Belgian beers, liqueurs, pralines and other items which are typical of Mechelen or Flanders.
Huis Windels
Huis Windels specializes in smokers' products and requisites. It also sells alcoholic drinks. The firm was founded in 1875 and has been handed down from generation to generation ever since, making it one of the oldest businesses in Mechelen. People come to the Ijzerenleen from all over Flanders for specialities like the cigars known as 'Mechelse Zandknakjes'.
Kaashandel Schockaert
This cheese temple has been in the family for almost a century. The result? The sort of expertise you would be hard put to find anywhere else - not to mention the huge range of cheeses. Be sure to try the 'Mecheleir'!
Lily
In Onze-Lieve-Vrouwestraat in the heart of Mechelen, you'll find a shop called Lily. Though you might say it's the perfect location, the boutique is so small you could easily walk straight past it! And that's its charm. Unusual items are packed into just one room and it oozes atmosphere!

In terms of style, it reminds you of England. Lily would not be out of place in Camden or Shoreditch. You'll also find more than a hint of Paris here, which is hardly surprising since the collections come from Paris and London. The webshop is also worth a visit.
Mr + Mrs Tweed
Mr + Mrs Tweed, a concept store in the alternative Onze-Lieve-Vrouwestraat, stocks a great variety of modern classics for men and women. You'll also find a wide range of accessories: everything from scent and jewellery to hats, handbags and shoes. While the clothes are to die for, the interior also speaks volumes!

To enter Mr + Mrs Tweed is to enter another world, one full of beautiful, magical touches - even real birds! Be sure to visit their webshop too.
Paté du Chef
On the banks of the River Dyle in Mechelen you'll find Paté du chef. Not a butcher's, but the perfect place for original gifts and accessories. It sells everything you don't need, but which once you've seen it, you just have to have: old postcards and posters, leather notebooks, original hats and frivolous scarves… even jewellery and designer items. They all have one thing in common: they are timeless.
Pin'Art
Pin'Art is a good address for wine enthusiasts. You will find an excellent selection of character wines, each with its own identity and soul and produced by winegrowers who know the owners of Pin'Art personally. So it's the combination of knowledge and quality that makes Pin'Art so special. It doesn't stick to the well-trodden paths, but that just makes its wines all the more exciting in the glass.
Simon Lévelt
At Simon Lévelt you can choose from 30 different sorts of coffee and more than 150 different sorts of tea and most of them are organic and fair trade. That may sound rather a lot to choose from, but Simon Lévelt will advise you and you can always settle for a few smaller 'tester packets'.

Simon Lévelt also sells a special Mechelen blend of coffee, the 'Taste of Mechelen', and a Mechelen tea, the 'Wonder of Mechelen' with dreamy hints of bergamot, orange blossom and lavender.
Simple comme Bonjour
Synonymous with simple, handmade jewellery with a preference for beautiful and sustainable materials, Simple comme Bonjour took over the smallest shop in Mechelen at the beginning of 2011 and turned it into a Valhalla that makes every girl's heart beat faster! Gold walls, porcelain knobs, fine fabrics… and that's just to ensure that the jewels are shown to their best advantage!
Simple Design
Simple Design is more than an interior design shop. With over fifteen years' experience in the world of interior design, the owner Amélie is only too happy to help you with expert colour advice and tasteful furnishing tips. Simple Design favours functional products that don't date, whether it's a tea towel, a lamp or a piece of furniture.