Malmö
The guide was updated:
Sweden's third-largest city is a symbol of cross-border diversity where Malmö is a creative and inquisitive mini-metropolis on the border between Sweden and mainland Europe. Starting out as an industrial city, Malmö is now very much a knowledge hub, known for its environmental work.
Here you´ll find Scandinavia´s oldest renaissance castle just a stone´s throw from the hip new sustainable district of Västra Hamnen. The Eurovision Song Contest 2013, the World Junior Hockey Championship 2014and the IIHF World Women's Championships show that Malmö is the place to be in terms of international events.
Facts
Population:
315,000
Currency:
Swedish krona, SEK=100 öre
Emergency numbers:
112
Newspapers:
Sydsvenska Dagbladet
Skånska Dagbladet
Kvällsposten
Aftonbladet
Website:
www.malmotown.com www.malmo.se www.malmocity.se www.visitskane.com
Opening hours:
Shops are open weekdays 10-18 and weekends, Saturday 10-16 and Sunday 12-16.
Tourist information:
Malmö Turism
Address: Skeppsbron 2
Tel:+46 40 34 12 00
Opening hours:
During Summer: Monday -Friday 9-18, Weekends 9-16
The rest of the year: Monday - Friday: 9 - 17, Weekends: 10 - 14.30
Read more
Section in Malmö
Do & See
Art and culture life in Malmö has gained a well-deserved reputation as of very varied and high class. Here you will find a rich variety of cultural experiences for the whole family. Malmö invests in a broad cultural range, with both large institutions and many smaller operators and activities. Malmö also offers the best of Scandinavian and international design in the shape of furniture and furnishings, jewellery and textiles. Malmö works for sustainable tourism so it is easy to choose a sustainable stay here. Many hotels are environmentally certified and restaurants and cafés have a wide selection of organic and local produce on their menus. Malmö is a cycling city with over four Swedish "mil" bike lanes and city buses that run on natural gas. The city has lots of green areas in the city centre and around town. For example, Kungsparken, Slottsparken and the large Pildammsparken. Malmö Folkets Park is Sweden's oldest "folkpark" and has beautiful lawns to sit in, tivoli, cafés, restaurant, terrarium, adventure golf, horse riding and live entertainment in summer. Don't forget: Malmö's glorious two-kilometre long beach Ribersborg Beach & Kallbadhuset, or "Ribban" within walking distance from the town centre.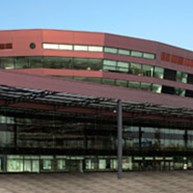 Malmö Arena
Malmö Arena is the latest addition to northern Europe's growing number of modern, multi-purpose concert and event venues. Serving the rapidly growing and dynamic Öresund Region, Malmö Arena is the premier venue in the region for world-class sporting events, concerts, family shows, full-scale conferences and smaller meeting, wining and dining or a quick snack.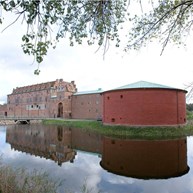 Malmö Museums
Southern Sweden´s largest museum is located on Malmöhusvägen in the heart of Malmö in a beautiful park-like setting surrounded by canals. Here you can see everything from the Nordic region´s oldest surviving Renaissance castle to a real submarine and fantastic vehicles. The museum´s permanent exhibitions focus on history, natural history, technology and seafaring. There are also about a dozen temporary exhibitions every year. Next to Malmö Museum are the classic "Fiskehoddor", where even by todays date fresh fish is sold over the counter.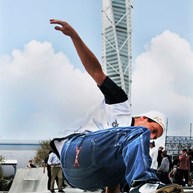 Stapelbäddsparken
A 2,000 sqm unique custom-designed outdoor skate facility in the Western Harbour, which has been hosting the international competition the Quiksilver Bowlriders. There is also a popular climbing wall if you are eager to test your limits. Next door to the skate facility is the cultural house of Stapelbäddsparken that is well worth a visit. This gathers a bicycle repair shop, "the bicycle kitchen", where you can fix your bike at a cost price and get practical tips, a container library and a café.
Hi I´m Malmö
Hi I´m Malmö
Malmö by foot
Classical sightseeing by foot through Malmö's history from medieval to modern times. The organizer offers a tour in Swedish, this tour takes about 2 hours. There is also a city walk available in Swedish and English and that one takes about 1 hour and 15 minutes.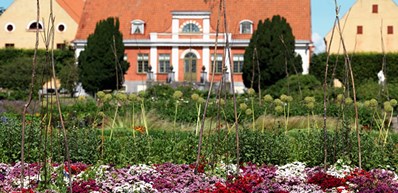 Katrinetorp
In the outskirts of Malmö lies a rural oasis that gives you a feeling of peace and harmony. Katrinetorp is a so called "landeri" from the early 19th century that from the start was used as a summer home and for bigger receptions. The city of Malmö runs the operation today and they are constantly working on recreating the former glory of this estate. Markets, music entertainment, events and exhibitions are held here annually and they are always attended by many people. Katrinetorp manor recently opened its new exhibition hall "The Stables", which also has a high-end gift store. Katrinetorp lies 10 minutes from the city centre of Malmö which makes the big city no more than a stone throw away from this idyllic scenery.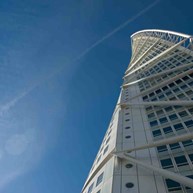 Turning Torso
Sweden's tallest building at 190 metres, designed by architect Santiago Calatrava. Turning Torso consists of nine cubes with a total of 54 apartments, where winding from base to peak is 90 degrees. Today the Turning Torso is a residential house with 147 apartments of various sizes, from one-bedroom studios of 45 square metres to threes bedroom flats of 190 square meters. During the summer you have the opportunity to visit the top floor of Turning Torso. Read more about it: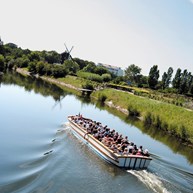 Sightseeing
There are many ways to discover Malmo – either through a traditional tour or on your own. Sightseeing possibilities vary according to season, let us tell you about the spring/summer opportunities. See Malmö from the water, come along for a sightseeing on the channels of Malmö. The tour goes under bridges, through parks and with a personal guide you get a lively story about the history, buildings and various anecdotes of Malmö.