Werner Dieterich
Stuttgart
The guide was updated:
Magnificent panorama and splendid architecture, cultural diversity and traditional festivals - Stuttgart, the state capital of Baden-Württemberg, delights its visitors.
Discover over 125 years of automobile history at Mercedes-Benz Museum and Porsche Museum, enjoy the world-famous Stuttgart ballet, celebrate at Stuttgart's beer festival or soak up the unique atmosphere at the christmas market.
Shopping or culinary pleasures, art exhibtions or vibrant nightlife - Stuttgart is always worth a visit!
Facts
Population:
Approximately 613,000
Currency:
Euro (EUR) €1 = 100 cents
Emergency numbers:
Police: 110
Fire brigade and Ambulance: 112
Website:
www.stuttgart-tourist.de
Opening hours:
Shops in Stuttgart are usually open Mon-Sat from 10am-7/8pm. Shops are generally closed on Sundays except for gas stations.
Tourist information:
"i-Punkt" Tourist Information
Königstrasse 1 A, Stuttgart
Open: Mon-Fri 9am-8pm. Sat 9am-6.30pm. Sundays and public holidays 10am-6.30pm
+49 711 222 81 00 / +49 711 222 81 11
i-punkt@stuttgart-tourist.de

Tourist Information Center
Stuttgart Airport, Terminal 3, Stuttgart
Open: Mon-Fri 8am-7pm. Sat 9am-1pm and 1.45pm-4.30pm. Sundays and public holidays 10am-1pm and 1.45pm-5.30pm
+49 711 222 81 00 / +49 711 222 81 11
welcome@stuttgart-tourist.de
Read more
Section in Stuttgart
Do & See
Even if Stuttgart is one of the most high-tech cities in Germany, it has more than 1,000 years of history to look back upon. The city has served as everything from a royal residence to a sanctuary for revolutionaries. Nowadays, the city combines traditional, laid-back Swabian culture and a drive towards future innovations. Coming here you can expect elegance and exclusivity with an earth-bound, ecological outlook on life.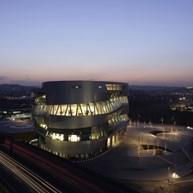 Mercedes-Benz Museum
The Mercedes-Benz Museum is truly one of Stuttgart's main tourist magnets. The extraordinary and award-winning architecture in the form of a double helix is certainly an eye-catcher. On the nine floors there are about 160 historic and brand new vehicles displayed, ranging from the world's first automobiles to the noble Luxuskarossen.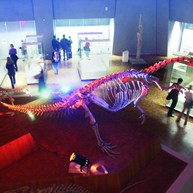 Stuttgart State Museum of Natural History
Tucked away in the Royal Gardens you can find the 19th-century palace, now housing the Natural History Museum. Come here and see the imaginative displays of the evolution as well as the constructed natural habitats. The museum's centrepiece is a 13 metre-long pollack whale in the oceanic exhibition.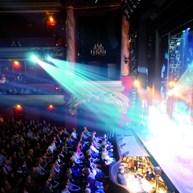 Musicals
Stuttgart is renowned for being an entertainment centre, with one of Germany's top musical venues. The theatre is located by the SI-Centrum, which houses several theatres, a movie theatre, a casino and a state-of-the-art video game arcade.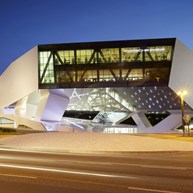 Porsche Museum
If you love beautiful cars then you should definitely head over to this museum which is housed in one of the most spectacular buildings in Stuttgart. The futuristic building designed by the Viennese architects Delugan Meissl rests on three V-shaped pillars. In the exhibition, which covers an area of 5600 square metres, about 80 vehicles and 200 smaller items are on display. This is a unique place to learn more about the world-famous, iconic vehicle Porsche!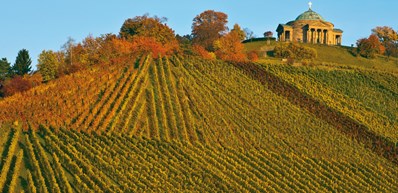 Burial chapel Württemberg
The romantic burial chapel (Grabkapelle) was erected by King Wilhelm I in loving memory of his wife who passed away. This monument of Swabian classicism was built in the years 1820 to 1824 by court building master Giovanni Salucci. The burial chapel Württemberg, surrounded by picturesque vineyards, is one of the most beautiful viewing points in Stuttgart.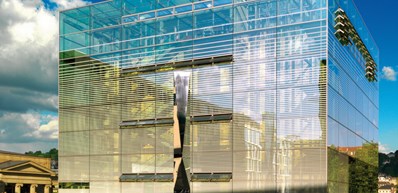 Art Museum Stuttgart
The Stuttgart Museum of Art (Kunstmuseum Stuttgart) houses contemporary and modern art on an exhibition area of 5000 sq.m.. Extraordinary: The museum's outstanding Otto Dix collection with around 250 of his works. The building itself is a piece of art - at the night the stone core of the glass cube glows.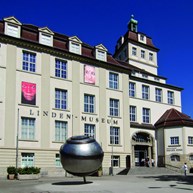 Linden Museum
The whole world under one roof: The Linden Museum is amongst Europe's leading museums of ethnology. Discover foreign cultures and learn about art and civilisation history of other countries...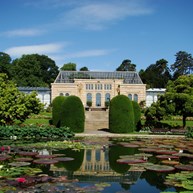 Wilhelma
One of the most beautiful in Europe: Stuttgart's unique zoological-botanical garden Wilhelma with around 9000 animals of 1000 species, a beautiful orchid collection and much more is a must-see for families and zoo lovers. It was built as a moorish garden for King Wilhelm I of Wuerttemberg from 1842 - 1853.