Provided by:
Lech Zürs Tourismus by Sepp Mallaun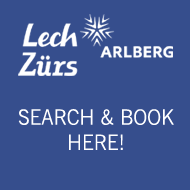 The City
The guide was updated:
Outstanding natural conditions, a winter sports offering that is unequalled and an excellent tourist infrastructure, together with cordial hospitality, outstanding cuisine and an inspiring combination of tradition and modernity - these are the ingredients that make your winter holiday in Lech Zürs am Alberg unforgettable.
Lech am Arlberg – elegant, stylish
Stylish Lech with its sunny terrace at Oberlech is synonymous with top hotels, restaurants and cosmopolitan flair, and is a popular holiday destination with the European aristocracy. That being said, it has not lost any of its original mountain village charm. Known for its extensive ski runs and routes, perfect winter days are rounded off in this "World Gourmet Village" at award winning mountain lodges and restaurants. One of the many events that take place in Lech is the legendary White Ring – a race which nowadays attracts up to 1,000 participants. The White Ring is a unique ski circuit in the Alps between Lech, Zürs, Zug and Oberlech, the very heart of this excellent ski area.
Zürs am Arlberg – exquisite, prominent
Immediately after the Flexen Pass and flanked by mountain slopes is the small yet very exclusive village of Zürs, a popular meeting place for the international jet set. Especially appreciated for its wide, treeless slopes and deep snow, it enjoys the reputation of being a deep snow Mecca. This 150 inhabitant village also has a hangar, from which adventurous heli-ski tours can be made. Arlberg is the only place Austria-wide where heli-skiing is available: with a choice of two different peaks, both expert and intermediate skiers can enjoy this unparalleled experience from Monday to Friday, excluding bank holidays and always accompanied by a trained guide. Zürs is known not least for its vibrant night life in trendy bars and fashionable clubs.