Marknad Varberg
Varberg
The guide was updated:
Varberg – Sweden's Health Resort.
The old health resort tradition in Varberg has been refined and nowadays is a way of life for residents and visitors. The prerequisites for quality of life are available here, along with the opportunity to put together an individualised range of treatments to make you feel good. A course of treatment can consist of a massage treatment or seaweed baths, however, for some people a stiff wind and a windsurfing board, a walk on the sea front around Varberg Fortress, a visit to the Cold Bathhouse or a woodland excursion to Åkulla Beech Forests is what counts. What makes you feel good? What is a cure for you? Welcome to Varberg to find your particular course of treatment!
Facts
Population:
60 000
Currency:
Swedish kronor, 1 Kr = 100 Öre
Emergency numbers:
112
Newspapers:
Hallands Nyheter
www.hn.se

Varbergs Posten
www.varbergsposten.se
Website:
www.varberg.se www.bokavarberg.se
Opening hours:
Shops are open Monday-Friday 10-18, Saturday 10-14. Department stores and food shops have more generous opening hours and are also open on Sundays.
Tourist information:
Marknad Varberg AB
Address: Box 150, Brunnsparken
Tel: +46 340 86800
www.visitvarberg.se
Read more
部分 在 Varberg
Dining
There is a strong trend to eat local, organic products in Varberg. Both restaurants and food shops are very involved in precisely this aspect, and the food maintains a high quality. You might also be able to enjoy Halland specialities such as horseradish, elder or curly kale.
John´s Place
John´s Place is a cosy restaurant on Apelviken's waterfront. It offers a fantastic sea view, a calm and pleasant atmosphere and an abundance of good food. The hostess comes to welcome you when you ring the door bell outside the locked door. The food is prepared on a charcoal grill, guaranteeing superb culinary experiences. Without doubt, the fastest way to access the continent.
Harrys Pub
The two Harrys Pubs in Falkenberg and Varberg were the first to open in Sweden and after these successful ventures the concept was expanded and Harrys became a chain. You can enjoy a good value menu and a wide range of drinks in a congenial environment. Everything from simple pub grub to á la carte is served here. After work is offered on Fridays. There is a DJ on Fridays and Saturdays.
Dining
Restaurang Zorba
The restaurant is situated in central Varberg opposite the English Park. Zorba serves both Swedish and Greek specialities.
Grappa Restaurang
This restaurant is to be found in Brunnsparken in Lundquistska Huset. At Grappa you can eat good food inspired by Southern Europe's finest cuisine.
Dining
Restaurang Salt & Vatten
You will find this restaurant at Comwell Varbergs Kurort, 3 km south of Varberg's town centre. Outside the hotel are long beaches, windy promenades, magnificent sunsets and fresh, salty breezes. In the kitchen the restaurant's food is prepared with much love and care. Great consideration is given to Mother Earth when selecting raw materials and even the water is filtered and flavoured on site in order to avoid unnecessary transportation. A successful choice of drinks for the evening is guaranteed by their prize-winning sommelier.
Vin & Skafferi, Hus 13
The Vin & Skafferi, Hus no 13 restaurant is located on historic ground, with the sea as its closest neighbour. You can enjoy good food and beverages here in a unique setting on Varberg Fortress. Drink tastings, conference dinners and Christmas buffets are also held here. During the summer six months you can sit down at a table outside and enjoy a good lunch or perhaps a cold beer or a cup of coffee. An enjoyable experience in a unique environment.
Nami
"- A slice of Japan, please." A genuine Japanese restaurant when it comes to food, atmosphere and interior design. The menu offers everything from the traditional Japanese cuisine. In addition to sushi they offer meat courses, salads, fish, seafood and much more. Simple, clean and relaxed. A real izakaya!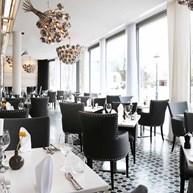 Varbergs Stadshotell & Asia Spa
Varbergs Stadshotell is located just by the square and has an award winning restaurant which has, among other things, been awarded with a membership in Sweden's best table. They find inspiration from all over the world, but the products are always locally produced and adjusted to the season. Here you will have a complete experience where well composed dishes and beverages interact in a unique environment.