Toerisme Leuven
Leuven
The guide was updated:
There are few other places in Flanders that appeal more to the imagination than this exuberant university town. Are you interested in shopping or cultural activities, enjoying gastronomical pleasures or admiring art, visiting ancient buildings or viewing modern architecture? Whatever you are looking for in a city, can be found in Leuven. A people-friendly city with a small-town feel, but completely in pace with a rapidly changing society. Leuven is situated right in the centre of Belgium. Its easy accessibility is an advantage. But there are many more good reasons to visit the "Jewel of the River Dyle". You will soon find out: this city will never let you go.
Facts
Population:
97.000
Currency:
Euro, EUR 1 = 100 cents
Search Accommodation:
Hotels »
Emergency numbers:
112 or 101
Newspapers:
Events in Leuven: UitInLeuven (only in Dutch)
Best known newspapers:
Het Laatste Nieuws
De Morgen
De Standaard
Het Nieuwsblad
Website:
www.visitleuven.be
Opening hours:
Most shops are open from 10.00 a.m. – 6.00 p.m. On Thursday, most shops are open from 10.00 a.m. – 8.00 p.m.
Tourist information:
Toerisme Leuven, Naamsestraat 3, 3000 Leuven
T: +32 16 20 30 20, toerisme@leuven.be
Open from Monday to Sunday from 10.00 a.m. to 5.00 p.m.
Closed on public holidays, intervening holidays between a public holiday and a weekend and all Sundays from 1 November to the end of February.
Read more
Section in Leuven
Do & See
Both from a cultural and art-historical point of view, Leuven offers a wide range of possibilities. From the magnificent Gothic Stadhuis (Town Hall) to the modest splendour of the Sint-Pieterskerk (Saint Peter's Church) and the delicious Leuven pint and student atmosphere at the Oude Markt (Old Market Square), Leuven has it all. You are sure to come back again.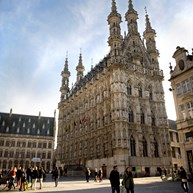 Town Hall
Here, you are standing in front of one of the most famous Gothic town halls in the world. If you have counted correctly, you will find 236 statues embellishing the niches. Construction of the Town Hall started in the fifteenth century.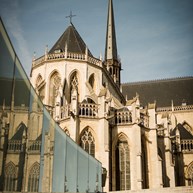 Saint Peter´s Church
As you enter this Gothic church, you are immediately struck by the splendour of this unique building. In M/the Treasury of Saint Peter, you will see the last painting of a Flemish Primitive painter, still displayed in the place for which it was ordered: "Het Laatste Avondmaal" (The Last Supper) by Dirk Bouts. But Saint Peter's Church is unique for other reasons as well. For example, the belfry has been recognised as a UNESCO World Heritage monument.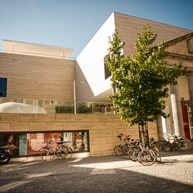 M - Museum Leuven
Do you like contemporary art? Or do you prefer the old masters? Either way, you will find exactly what you are looking for in the M - Museum Leuven. Here, you will find masterpieces from both medieval and modern art. In addition, the permanent collection is regularly supplemented by temporary exhibitions.
Summer in Leuven
Enjoy the summervibes in Leuven! www.visitleuven.be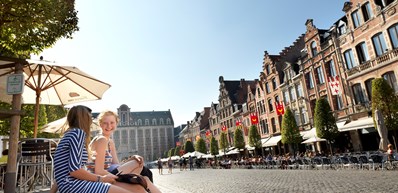 Oude Markt
Visiting the Old Market Square is like taking a seat at the longest bar in Europe. Nowhere will you find as high a concentration of restaurants and cafés than on this unique square. No wonder the Old Market Square is the perfect meeting place in Leuven, especially when the weather is good and the numerous pavement cafés are overflowing with people.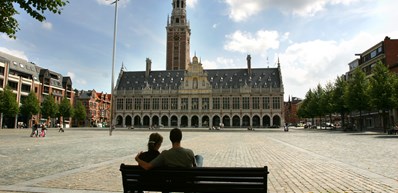 Central University Library
During the First World War, the library, then housed in the University Hall, was destroyed by fire. In the 1920s, with the help of American funding, the Leuven library rose again from the ashes in a new building built in the Flemish Renaissance style on the Mgr. Ladeuzeplein. The Carillon - with its 63 bells, the largest in the country - was also funded by the benefactors. One million books are currently housed in and around the impressive reading room.
Winter in Leuven
Winterseason in Leuven: joyful days from 12-31 december 2013. www.wintertijdinleuven.be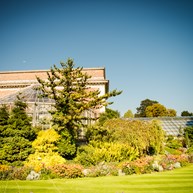 Botanical Garden
This is the oldest botanical garden in Belgium. The university laid out the garden in 1738 for its medical students. Today, this unique place is managed by the city of Leuven. It has created a tropical conservatory, a water and fruit garden and the sunken garden. This, together with the picnic benches, the sea of flowers and art projects, make the Botanical Garden a favourite resting place for inhabitants and visitors.