Karlskrona
The guide was updated:
Karlskrona - in the middle of the archipelago! Karlskrona is a unique and exciting world heritage environment, where people come to meet, relax and be inspired. In Karlskrona, the distance is short between sights, and the city center is situated 6 km out in the archipelago! Here you will find exciting places to visit, nice shopping, cosy cafés and restaurants - and the sea is ever present. Discover new islands every day. Take the archipelago boat and explore exciting places together with the family. On these pages Karlskrona has made a selection that they hope will entice you to visit!
Facts
Population:
64 260
Currency:
Swedish krona, SEK 1 = 100 öre
Emergency numbers:
112
Newspapers:
Foreign newspapers are available at the city library.
Website:
www.visitkarlskrona.se www.karlskrona.se
Opening hours:
Shops are open Monday – Friday 10-18, Saturday 10-14. Department stores and food shops have generous opening times and are also open on Sundays.
Tourist information:
Karlskrona Tourist Office
Address: Stortorget 2, S-371 34 Karlskrona
Phone: +46 455-30 34 90
E-mail: visit@karlskrona.se
www.visitkarlskrona.se
Read more
Section in Karlskrona
Do & See
There is no end of things worth doing and seeing in Karlskona. You can visit many of the places of interest independently, others must be visited with a guide. Stroll the streets and experience the town's modern day pulse blended with its historical spirit, a fantastic combination of past and present.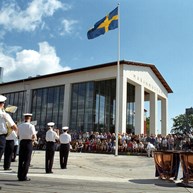 The Naval Museum
Real battleships, 18th century figureheads, unique models and an underwater tunnel with a genuine wreck. Experience Swedish naval history at the Naval Museum. For children there is Dunder's deck and a sailors' workshop. Free admission for children up to 18. The new submarine hall opens in june 2014!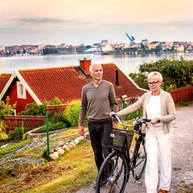 Brändaholm
Did you know that the most Swedish of all Swedish motifs, and perhaps the most widely distributed, is found in Karlskrona – on tiny Brändaholm? 43 red cottages with white corners, waving flags and a bright blue sea. And the motif continues to be spread across the globe as a representation of genuine Swedishness. Come and take a look at the real thing!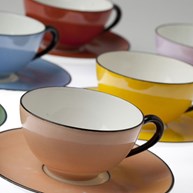 Karlskrona Porcelain Museum
Karlskrona Porcelain factory, manufactured beautifully feldspar porcelain, during the years 1918-1968, designed by famous artists such as Edward Hald, Percy, Alf Jarnestad, Sven Erik Skawonius and others. In parts of the old factory building, a large part of the production is shown in contemporary environments.
Karlskrona - Aerial film
Visit Karlskrona proudly presents Karlskrona from above part 2. Thanks to HeliAir Sweden for filming and No limits for production of the movie.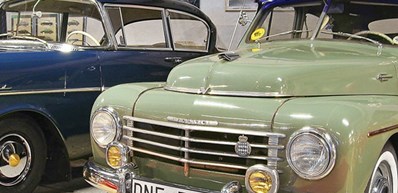 Albinsson & Sjöberg's Car Museum
In the Car Museum intermingled treasures from the past: luxurious automobiles together with the cars that everyone could afford, motorcycles, caravans, purpose-built cars and much more. A unique collection enthusiast vehicles, linked to legendary drivers and car builder profiles.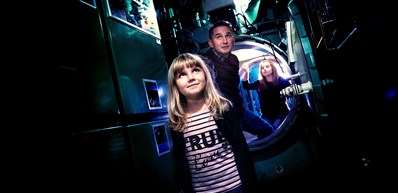 Neptun – a real submarine!
The Naval Museum's latest attraction, opened on the 6th of June 2014. Experience a close contact with a submarine from the Cold War era, a dramatised boarding procedure and an inspiring exhibition for the whole family.
Karlskrona Archipelago Festival SWE
Karlskrona Archipelago Festival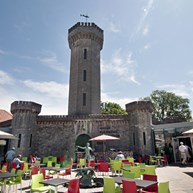 Museum Kulenovic Collection
The art museum Kulenovic Collection is situated in Karlskrona's Gamla Vattenborg (Old Water tower) on Stortorget (The Big Square) in Karlskrona. Unique art on display in a unique environment! From renaissance to modernism. Boulle, Braque, Bruegel, Fragonard, Friedrich, van Gogh, Hill, Le Prince, Lionardo, Matisse, Melendez, Moitte, Rembrandt, Reni, Schjerfbeck and Steer. International art: From the Renaissance to the 20th century.