Help us improve our new site!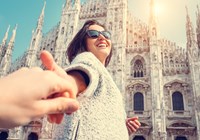 Milano drejer sig om design og high fashion. Udbuddet af butikker og moderigtige barer kan nogle gange virke overvældene. Men her kan man også finde Kuplen, da Vincis "Den sidste Nadver", og de simple lokale kroer hvor man stadigvæk spiser en lang frokost med ossobuco og risotto alla milanese.
Gå til guide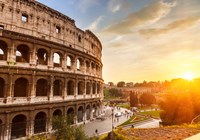 Den evige by har lokket besøgende til sig i over 2.000 år, og den er stadigvæk én af de mest storslåede og romantiske byer i verdenen. Her findes grandiose attraktioner side om side med stemningsfuldt lokalt liv. Det gode liv koncentreret – det gælder bare om at plukke rosinerne ud af kagen. Italiensk designershopping, lækker is, skummende cappuccini og udsøgte vin er bare nogle af dem.
Gå til guide
Try our
NEW

site!
Our
NEW

website is now available, give it a try! Let's Go There!
Our
NEW

website is now available, give it a try!
Book

On the new ArrivalGuides you can book your next flight or hotel for the best price.

Plan

Collaborate with your friends or invite an agent to plan the best trip ever! All in one place.

Explore

578 and counting updated guides from the most popular destination all over the world.