Help us improve our new site!
Jeg elsker kultur i Italien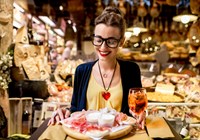 Bologna, der er hovedstaden for Emilia Romagna regionen, er en kunstby, et universitetscenter, og et sted der er berømt for god mad. Byen er vært for vigtige internationale fagmesser, og er én af verdenens store bilbyer. Ducati, Lamborghini og Maserati blev alle født i Bologna, og Ferraris hovedkvarter kan findes i den nærliggende by Modena.
Gå til guide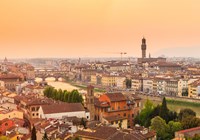 Firenze er regional hovedstad i Toscana og et verdenskendt turistmål. Byen er en af verdens smukkeste, hvilket også er anerkendt af UNESCO, som har optaget byen på sin verdensarvliste. Byen er hjemsted for nogle af verdens mest kendte kunstværker, og byen i sig selv er pakket med imponerende paladser, kirker og monumenter. Det omkringliggende landskab er kendt for sine bløde bakkeskråninger og sin vin, især Chiantiområdet mellem Siena og Firenze.
Gå til guide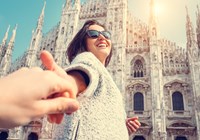 Milano drejer sig om design og high fashion. Udbuddet af butikker og moderigtige barer kan nogle gange virke overvældene. Men her kan man også finde Kuplen, da Vincis "Den sidste Nadver", og de simple lokale kroer hvor man stadigvæk spiser en lang frokost med ossobuco og risotto alla milanese.
Gå til guide
Der er ingen anden by som Venedig. Den har 180 kanaler, 450 broer, og storslåede paladser. Tilføj til det den forbigående stemning og det stille hverdagsliv væk fra turisterne, og byens skønhed bliver virkeligt synlig.
Gå til guide
Try our
NEW

site!
Our
NEW

website is now available, give it a try! Let's Go There!
Our
NEW

website is now available, give it a try!
Book

On the new ArrivalGuides you can book your next flight or hotel for the best price.

Plan

Collaborate with your friends or invite an agent to plan the best trip ever! All in one place.

Explore

578 and counting updated guides from the most popular destination all over the world.