Ulf Celander
Kalmar
The guide was updated:
Enjoy a holiday with sun and swimming, shopping and entertainment, art and culture. Kalmar offers the opportunities of a large city but also the proximity and charm of a smaller place. Within walking and bicycling distance, you can enjoy beaches, parks, forests, meadows, cobblestone streets, shops, museums, cafés and galleries. And an honest-to-goodness castle with pinnacles and towers.
Today Kalmar is a modern city with broad scope, but wherever you go, you feel the pulse of history. Several important meetings have taken place here. The best known is the Union Meeting of 1397, when the Kalmar Union was formed. Sweden, Denmark and Norway were a united kingdom up until 1523, when Sweden broke away and Gustav Vasa became king.
Facts
Population:
Municipality: ca 64,000
Currency:
Swedish kronor
SEK 1 = 100 öre
Emergency numbers:
112
Newspapers:
Barometern
www.barometern.se
Östra Småland
www.ostran.se
KalmarPosten
www.kalmarposten.se
Website:
www.kalmar.com
Opening hours:
Shops in the city centre normally are open weekdays 10-18, Saturdays 10-16. On Sundays most shops in the central galleries and shopping centres are open between 12-16.
Tourist information:
Kalmar Tourist Office For hours, see home page.
Tel. +46 (0) 480 41 77 00
info@kalmar.com
www.kalmar.com
Read more
Section in Kalmar
Do & See
In Kalmar you stroll on venerable paths. With its architecture and city plan, its walls, cobblestone streets and stone buildings from the 17th century, the city has done an exceptional job of preserving the memory of Sweden's period as a great power. Experience Old Town, which lies right next to Kalmar Castle, Kalmar County Museum with its exhibition about the ship "Kronan" and Kalmar Art Museum with its much-discussed exhibitions in newly constructed premises designed by Tham & Vidergård Architects.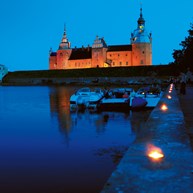 Kalmar Castle
Kalmar Castle is the best-preserved Renaissance castle in Scandinavia, and holds many secrets yet to be discovered. Nowadays, fascinating exhibitions take place at the castle as well as exciting historical activities for visitors of all ages.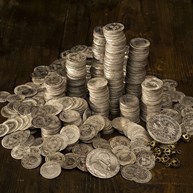 Kalmar County Museum
Kalmar County museum is found in a big building that once contained Kalmar steam mill. The museum offers exhibitions throughout the year. The biggest exhibition presents the warship "Kronan" that sank at the south coast of Öland 1676. Already at the entrance, you will meet some of the ships big canons. The exhibition shows some of the most interesting objects from the ship including a big gold treasure. In addition, the museum presents temporary exhibitions on current social and cultural topics.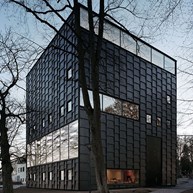 Kalmar Art Museum
Kalmar Art Museum with the Design Archive in Pukeberg, Nybro, is the museum for art and design in Kalmar County. The collections cast light upon the development of art and design during the 19th and 20th centuries up until the present day. Kalmar Art Museum displays temporary art history exhibitions and contemporary art with both regional and national perspectives as well as international art with a special focus on northeastern Europe and the Baltic.
Citypuls
Citypuls, by Kalmar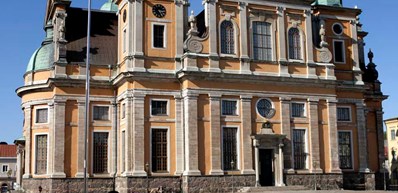 Kalmar Cathedral
Kalmar Cathedral is one of the few unaltered buildings from Sweden's period as a great power. The interior was laid out according to Evangelical Lutheran tenets with the altar as the focal point. The cathedral's furnishings and fixtures reflect Sweden's great power period with graves, epitaphs and a splendid baroque altar. This altar was designed in 1704 by Nikodemus Tessin, the younger, and depicts the Trinity: Father, Son and Holy Spirit. The oldest fixed content in the cathedral is the pulpit, which was created by sculptor Baltzar Hoppenstedt in the mid-17th century. A door at the side of the chancel leads to the Christopher Chancel, which is named after the city of Kalmar's patron saint, Saint Christopher. The cathedral has three church bells, all from the 17th century and obtained from the medieval Storkyrkan (Great Church).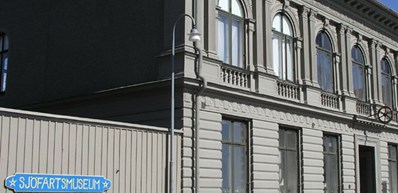 Kalmar Maritime Museum
Farthest out on Kattrumpan, next to the old warm public baths, is Kalmar Maritime Museum. There are several signs that point the way to the museum, which receives a couple thousand visitors annually. Kalmar Maritime Museum is a little gem in the centre of Kalmar that is well worth a visit by both young and old. If you are lucky, you might get a guide who has sailed the seven seas and who can relate salt-spattered tales about life at sea. At Kalmar Maritime Museum there are thousands of nautical artefacts, ship models, paintings and exotic objects from near and far horizons. Kalmar Maritime Museum has about 5,000 items in its collections, and it is considered one of the most interesting of the country's smaller museums.
A taste of Kalmar
Sports, music, theater and exhibitions - whatever interests you may have, there are plenty of activities to choose from in Kalmar.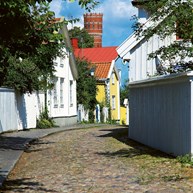 Old Town
Kalmar's medieval town centre, which today is called Old Town, is located right next to Kalmar Castle. Well-preserved 17th and 18th century buildings still remain here, inviting cultural-historical strolls. A 1647 fire largely devastated this whole section of town. Subsequently Kalmar authorities decided to move the city to Kvarnholmen. After much pressure, the population reluctantly moved, and where the old section of town lay, townsmen began building "lustgårdar" (pleasure gardens) for summer use. With its winding alleys and small old houses, Old Town allows you to experience the real old Kalmar. You can walk here on your own or with a guide.