Turismo Benidorm
Benidorm
The guide was updated:
If any one town can be considered to be, or to have been for many decades, a reference of tourism and leisure at every level, not just in Spain but throughout Europe, that place must surely be Benidorm. This is not only because the town was planned and designed with its visitors enjoyment in mind, has friendly people and a wonderful Mediterranean climate that ensures magnificent holidays all year round but also because, together with its beautiful natural surroundings and glorious beaches, it offers a wide range of accommodation, leisure facilities, services and restaurants that make it the ideal place in which to enjoy holidays or to celebrate any kind of meetings and incentives events.
Facts
Population:
76,683
Currency:
Euro, €1 = 100 cents
Emergency numbers:
112
Newspapers:
In Spanish:
Información
El Mundo
El País
ABC
In English:
Costa Blanca News
Round Town News (free)
Website:
www.visitbenidorm.co.uk facebook.com/visitbenidorm instagram.com/visitbenidorm flickr.com/visitbenidorm twitter.com/visitbenidorm
Opening hours:
Most shops are open from 10am until 2pm and then from 5pm until 9pm, although some shops open all day from 10am until 9pm from Monday to Saturday. Some shops open also on Sundays.
Tourist information:
Address: Edificio Torrejó, Plaza de Canalejas 1
Telephone: +34 96 585 13 11
Fax: +34 96 586 36 25
Email: turinfo_centro@benidorm.org
Read more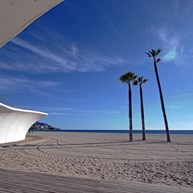 Beaches & Coves
Fine golden sand, transparent waters and beaches that are clean and cared for throughout the year identifies the Benidorm seafront. At its north end, there are two small coves of sand and rock that are very suitable for diving and for those who like to swim alone. Further on starts the bustling promenade of the popular and busy Levante beach, which in addition to its many facilities on offer, also has the added attraction of being lively throughout the year. South of the port, the Poniente beach competes in beauty and facilities with Levante beach. Both have in common the fact they, thanks to its orientation, enjoy sunshine in winter all day until sunset and in summer until after eight. Between them, in a section that corresponds to the old town and the shelter of the Canfali hill, is the small cove of Mal Pas and opposite, the Benidorm island, a paradise for scuba divers.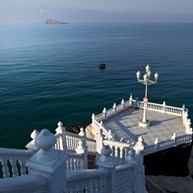 Touring the town
Starting in the Torrejó Square you can walk up Carrer dels Gats, a typical street made of cobbles stones, to St James' Church built in the 18th century. From outside the church you can go under the archway that leads to Senyoria Square, Castelar Square and Mirador del Castillo. The views from here overlooking the Levante, Poniente and Mal Pas beaches, are among the most beautiful ones in Benidorm. Continue your journey towards the harbour where you can go on excursions to the Island of Benidorm, Calpe and Tabarca. Other interesting places to visit in the town are Elche Park, Poniente and Levante Promenade and L'Aigüera Park.
Sightseeing buses
Double-decker buses with original comments in Spanish, English and French. Bus 30. It goes all over the town and you can hop on and off during the trip. Bus 31. It goes to Altea (8 km away), wandering through Albir Beach. Departing point at Ametlla de Mar, Ave. (opposite to Burger King). Daily service. No service on windy and rainy days.
Low Festival Benidorm
Since 2009, many artists have played at Low Festival's venue. Its 30.000 square meter of grass, together with two swimming pools (one of them is olympic-sized!), two VIP areas, relax areas and many more facilities make it the best festival area in Spain! This, together with the fact that Benidorm is increasingly being seen as the Spanish capital of so-called kitsch glamour, is one of the main reasons why more than 80 artists and 75.000 lowers per year choose Low Festival as their essential and most inspiring summer festival. From Kasabian to Belle and Sebastian, take a look at the list of international bands who have played at Low Festival!
Do & See
Bus turistic
Funny bus, looking like an old fashioned tram, which travels around the town (you can hop on and off) with multilingual audio system. Daily service on summer and during winter it works from Monday to Saturday. No service in rainy days.
Do & See
Tourist trains
Tiny trains touring around town. Levante Beach train: departure from Festilandia (20, Mediterraneo Ave.) and from Pharmacy 24h (38, Mediterraneo Ave.). Poniente Beach train: departure from Hotel Golden (10, Jaime I Ave.)
Benidorm, your holiday destination #1 // Benidorm, las mejores vacaciones
A drone overflew over Benidorm. Fine golden sand, transparent waters and beaches that are clean and cared for throughout the year are a trademark of the Benidorm seafront. At its north end, two small coves of sand and rock are very suitable for diving and for those who like to swim alone. Un drone sobrevuela Benidorm, teniendo unas imágenes fantásticas a vista de pájaro! Una arena fina y dorada, unas aguas transparentes y unas playas que presentan un aspecto limpio y cuidado todo el año son los signos de identidad de la fachada marítima de Benidorm. En su extremo norte, dos pequeñas calas de arena y roca resultan muy adecuadas para el buceo y para los que gustan de un baño solitario. Tras ellas, comienza el bullicioso paseo marítimo de la popular Playa de Levante, que a sus completos servicios suma el atractivo de mostrar una animada imagen durante todo el año.