© visitBerlin | Scholvien
Berlin
The guide was updated:
Welcome to Berlin - the capital of Germany, which has been enormously affected since the Wall came down, commanding global interest as a destination. In no other European metropolis has so much changed in recent years. Walking through Berlin you will see evidence of different historic periods in a short time, from medieval buildings to the famous sightseeing landmarks like the Brandenburg Gate, Reichstag and East Side Gallery. Today Berlin presents itself as a young, dynamic metropolis open to the world right in the heart of Europe, setting new trends in architecture, art and fashion. Discover its diversity – enjoy Berlin!
Read more
Section in Berlin
Do & See
Whether you see the sights of Berlin by coach, steamer, bicycle or on foot – you'll pass a lot of famous buildings and memorials. We'll tell you which ones you really can't afford to miss!
Ritter Sport Chocolate Store
Colourful on the outside, tasty on the inside. Experience the unique world of chocolate in a new way. In the heart of Berlin. Near Gendarmenmarkt. In an area covering almost 1,000 m² visitors can freely enjoy, discover and create. In our SchokoCafé you can enjoy our selected menu offerings all about chocolate. Explore the SchokoPfad to learn how our chocolate is created and everything else that you ever want to know about chocolate. At our SchokoKreation you can also create your own personal dream bar from exceptional ingredients, such as gummy bears or pink peppercorns. You will find many other RITTER SPORT gift ideas at our SchokoShop. Admission is free.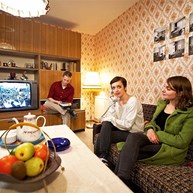 DDR Museum
The DDR Museum is Berlin's interactive museum. You're taken on a journey into the socialist past, taking a seat in a Trabi, dancing the Lipsi, or rummaging around in an authentic apartment - a hands on experience of history!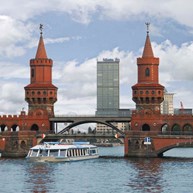 Experience Berlin from the water with Stern und Kreisschiffahrt!
Enjoy on board of Berlin´s largest shipping company the sights of the city or experience the surrounding area on river Havel and Spree. Experience architectural and historical highlights on our various cruises. Depart from one of 80 embarkment points to see the city and the surrounding area. Enjoy finest foods and beverages on board.
Berlin is Music
Like no other, the German capital has flourished as a music-metropolis. It is world-renowned for its three opera houses, famous orchestras, open air concerts, creative street musicians and a very unique club scene. Simply put, Berlin has something in store for every taste.
Alexanderplatz und Fernsehturm (Alexanderplatz and Television Tower)
Once the heart of the former East Berlin, Alexanderplatz is today the largest inner-city square in Germany and has developed into a popular shopping attraction. The view from the Television Tower, its height of 368 metres (1,207 ft) making it the tallest tower in Germany, is absolutely fantastic. A perfect 360° all-round view is provided by the revolving restaurant, which rotates at a rate of twice an hour.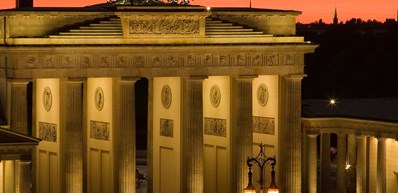 Brandenburger Tor
It's Berlin's most famous landmark and became the symbol of overcoming the division of Germany once the Berlin Wall came down. From an architectural perspective, the sandstone structure, built by Carl Gotthard Langhans, is one of the most magnificent examples of German classicism. Nowadays the Gate serves as a backdrop for festivals, big sporting events or New Year's Eve parties.
Green Berlin
The unique mixture of bustling urban life and the tranquil oases is characteristic of Berlin. With its vast array of public parks, extensive woodlands, and scores of lakes and rivers, this capital city is no doubt the greenest metropolis in all of Germany.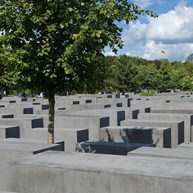 Denkmal für die ermordeten Juden Europas (Memorial to the Murdered Jews of Europe)
Not far from the Brandenburg Gate is located the Memorial for Europe's Murdered Jews, a site of stelae (concrete slabs) arranged in a grid pattern on a sloping field accessible from all sides. It serves as a central place of remembrance and admonition and is supplemented by an underground information centre, containing the names of all known victims and details on the places of horror. There is no charge for admittance.