Ty Stange
Copenhagen
The guide was updated:
Copenhagen has something for everybody. Here you will find a great mix of world-class gastronomy, beautiful architecture, award-winning design, clean harbour baths, the unique free town Christiania and the world's oldest monarchy.
Copenhagen is a compact big city, a world-class city loved and ranked very highly by leading travel and lifestyle magazines. It has been named one of the best cities to live in several times, and it was the first city in the world to be named 'Bike City' by the International Cycling Union – a title to which the several hundred bike lanes bear witness to. Surrounded by historic buildings, narrow curving streets, pulsating shopping and a happening nightlife it is easy to feel right at home in the Danish capital.
Facts
Population:
1.7 million
Currency:
DKK (Danish kroner, often abbreviated to kr)
1 kroner = 100 øre
Emergency numbers:
112 (in case of accidents or illness) 114 (for police)
Newspapers:
Copenhagen Post (in English)
Website:
www.visitcopenhagen.com
Opening hours:
Monday - Thursday 10:00 - 18:00 Friday 10:00 - 19:00 Saturday: 10:00 - 16:00 Sunday 12:00 - 16:00
Tourist information:
Copenhagen Visitor Centre
Vesterbrogade 4 A
Tel: +45 7022 2442
www.touristinfo@woco.dk
Read more
Section in Copenhagen
Do & See
Copenhagen is an old city with historic buildings, royal castles, beautiful parks and harbours, and plenty of attractions and activities to keep even the most eager tourist busy. The city centre is characterized by charming architecture and narrow curving streets. But within recent years Copenhagen has supplemented its architectural heritage with new, world-class architecture. It is easy to explore the city and get around, and many sights are within walking distance from one another. You can always catch a bus, metro to get around or rent a bike - and travel the Danish way.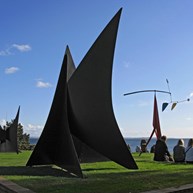 Louisiana Museum Of Modern Art
Louisiana Museum of Modern Art is located 35 km north of Copenhagen with a panoramic view across the Øresund. The interaction between world class art, nature and architecture is unique, and Louisiana is often hailed as "probably the most beautiful museum in the world". The collection includes significant chapters in 20th century art, and Louisiana is a dynamic framework for grand exhibitions, concerts, literature etc. Open Tuesday-Friday 11-22, Saturday, Sunday and public holidays 11-18 Closed on Mondays.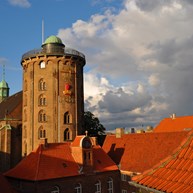 The Round Tower
Observatory – Platform – Concert and Exhibition Hall The Round Tower is one of the best known and most popular structures in Denmark. It is the oldest functioning observatory in Europe, and the platform that runs around the Observatory on the top of the tower affords views over the old Latin Quarter of Copenhagen. The road leading to the top takes the form of a white-washed spiral walk, passing the old Library which is the forum of exhibitions and concerts.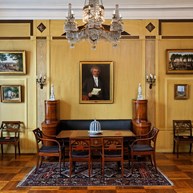 The David Collection
Experience an atmospheric museum with elegant 19th-century interiors, fine collections of furniture, porcelain, and silver, and work by renowned Danish painters, from Jens Juel and Christen Købke to the internationally acclaimed, Vilhelm Hammershøi. Then, enter a completely different cultural sphere through one of the world's largest collections of Islamic art. The museum is located in the center of Copenhagen, across from the King's Gardens. Admission is free.
LGBT CPH - BE GAY IN COPENHAGEN
LGBT CPH - BE GAY IN COPENHAGEN
Do & See
The Copenhagen Exbeerience
Visit a legendary landmark where you can use and indulge your senses. Smell the ingredients, discover beautiful architecture, try world-famous Danish beer in many styles and get taste of what Carlsberg is all about. A quarter of an hours ride from the City Hall Square. CRAFT BREWERY - GUIDED TOURS - STABLES - BAR - BRAND STORE - BEER TASTING
Kunstforeningen GL STRAND
Located by the canals, GL STRAND is a unique venue of modern and contemporary art. Annually we present 6-8 exhibitions which feature the newest tendencies and modern art with a contemporary twist along with artist talks, performances, and other events. Enjoy a cup of coffee in our café with outdoor serving and browse our bookshop.
Copenhagen - Favorite streets
Favorite streets in Copenhagen.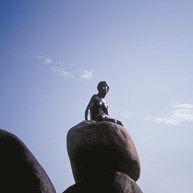 Top Attractions
Copenhagen has attractions and sights to suit every taste and interest - and most of them are within walking distance. With a history that dates back to 1043, the city is full of historical landmarks, significant buildings and interesting sights. Be sure to visit Amalienborg Palace - home to the royal family, do a guided canal tour on the harbour and walk down the shopping street Strøget.