James Willamor
Miami, Florida
The guide was updated:
In Miami, everything oozes glamour, elegance, and a cosmopolitan attitude. Beaming Miami is nestled on the Atlantic coast of Florida's most southern tip, rendering it sunny and warm all-year-round. It is North America with a twist of the Caribbean, a touch of Latin America and a hint of Europe. These combined give Miami a vibrant cultural life.
This is a place where you can find picturesque beaches, exceptional nightlife, plentiful shopping, and delicious restaurants. Although there is an abundance of things to do in the city and on the beach, visitors also enjoy taking one-day excursions to see some of the breathtaking natural surroundings of Miami.
Facts
Population:
409,000
Currency:
1 US dollar (US$) = 100 cents
Emergency numbers:
Ambulance: 911
Fire: 911
Police: 911
Miami Police Department: +1 305 579 6111
Newspapers:
Miami Herald
Miami Today
Miami New Times
Biscayne Boulevard Times
South Florida Sun-Sentinel
Tourist information:
Greater Miami and the Beaches Convention and Visitors Bureau
701 Brickell Avenue, Suite 2700
Miami, FL 33131
+1 305 539 3000
Read more
Section in Miami, Florida
Do & See
The good weather makes it easy to visit attractions year-round. Even more so, Greater Miami has plenty of different sights to charm you - whether it is the nature, the art, the architecture or the people. So if you fancy a break from the sunny beach, then here are some of the many things to do and see.
Do & See
The Art Deco Historic District
The Art Deco District was built in and around the 1930s in Miami Beach at the height of this architectural movement and embellished with exotic geometric motifs. The 800 buildings were restored, making it the largest grouping of Art Deco architecture in the world.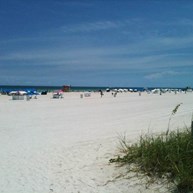 South Beach
Locally known as SoBe, South Beach is the beach in the Miami area with quite a few hotels, restaurants and bars across the street from the ocean. SoBe is widely known as the hottest nightspot in the world – Ibiza go home! South Beach lies at the tip of a slender island off the coast of Miami fringed with a wide belt of white sand.
The Florida Everglades National Park
The Everglades, a UNESCO world heritage site, is the only subtropical wetland in North America. It is rich in birdlife and the only place in the world where alligators and crocodiles live side by side. There are trails where visitors can enjoy and get close to the wildlife. As there is no public transportation to the park, the best way to get there is in a rented car or with one of the many organized tours either by boat or bus.
Do & See
Miami Metro Zoo
This one-square mile cage-less zoo has around 2,000 animals. Some of the species you can see here are rare white Bengal tigers, exotic birds, apes, koalas, elephants, kangaroos and many others.
Miami Museum of Science & Planetarium
The museum takes you on a fantastic journey into the natural world and explains its inner workings. There are hands-on exhibits, continuous demonstrations, and an outdoor wildlife center with snakes, birds and insects.
Do & See
Miami Seaquarium
This marine animal theme park features spectacular whale, sea lion and dolphin shows. Bring an extra set of dry clothes just in case you get splashed.
Parrot Jungle Island
A visit to Parrot Jungle Island, is like being on a tropical island with lush plants and trees, colorful parrots, waterfalls and plenty of exotic animals. With 75 years of history, this park attracts thousands of visitors each year.