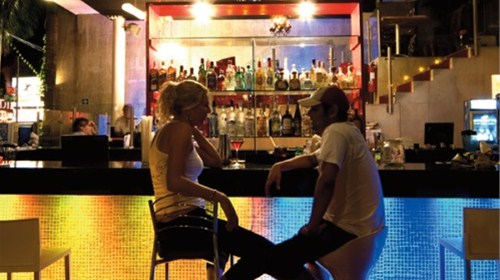 Playa del Carmen comes alive again at night with vibrant bars and clubs that range from casual beach hangouts with beers on tap to swanky nightclubs serving sophisticated cocktails. Th famous Quinta Avenida in the heart of downtown Playa is lined with chic nightclubs, sports bars, exotic hookah houses, open-air beach clubs with live music, rooftop patios with picturesque vistas and lively pubs and mezcalerias, which – staying true to Mexico's roots – feature a limitless selection of made-to-order mezcal drinks using liquor from the native agave plant.
Tequila Barrel
Tequila Barrel is a sports bar, great spot to drink a margarita and watch the daily parade of tourists. Or the perfect place to taste 70 different kinds of tequila and get the party started. It's a really lively place, popular with tourists, and has authentic Mexican décor.




La Mezcalinna
Mezcalinna is a very popular meeting point for tourists and local people who want to hear new musical ideas with Latin, indie and electronic rhythms, along with the traditional drink Mexican mescal (is a distilled alcoholic beverage made from the maguey plant), authentic laid back Caribbean atmosphere.


Blue Parrot
The Blue Parrot has been a "must-do" for visitors, where one can experience an eclectic mix of music either on the beach dance floor where they feature more pop and retro music, or the Palapa Lounge which offers the progressive dance mix that our Latin American and European customers tend to prefer. For a more relaxed chill out vibe, the palapa-covered sky bar offers dramatic overviews of the Caribbean and the beachfront dance floor. The most spectacular at the Blue Parrot is the Fire Show, held every night at 11.00 pm.




Coco Maya
On an oceanfront location, guests will enjoy dancing on the beach where renowned local DJs mix hip hop and Latin music or live music from 6pm until 5am.



Mandala
Decorated in an attractive Asian style, Mandala is a popular bar which offers an area to dance on the ground floor and the mezzanine, where there are DJs mixing the latest pop and techno tunes, and also there is an open-air terrace on the top floor where you can enjoy a drink and chill out for a while.




Coco Bongo

The best in show production, an excellent selection of music, and the latest technology, making it the best choice for a night full of entertainment. With impressive acrobatics, excellent impersonations of celebrities.




La Bodeguita del Medio
Indoor Cuban dance club with live dance bands. Free Salsa lessons on Tuesdays and Thursdays at 7 PM.

La Bodeguita del Medio is a Cuban bar on the Northern end of 5th Ave that serves up live music and the best Mojito in Playa.

Take a free salsa lesson and sign your name with thousands of others on the walls, ceilings or light fixtures. (located at 5th Ave and Calle 34.