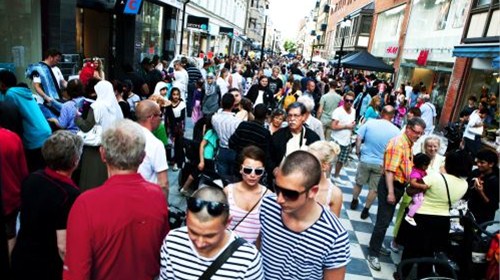 Örebro has been a center for trade since the Middle Ages. In earlier days as well as today, most of the shops were located along what is today Köpmangatan, Kungsgatan, Drottninggatan, Storgatan and the two major squares in town Stortorget and Våghustorget. Today there are also four gallerias: Träffpunkt, Kompassen, Oscar C and mighty Krämaren.

Do not miss the cosy, small shops in Gamla Stan at Engelbrektsgata or all the craftsmen at Wadköping and Karlslund. There are more shops and major stores to the north, at Eurostop, in Bettorp-Lillån and at Aspholmen, southeast of city.

Marieberg is situated less than 10 km south of Örebro. It is the target for many visitors who enjoy shopping, Marieberg Galleria has more than 100 shops, restaurants and cafés under one roof. However, the large shopping center is far from being the only one. In the area you will find several large department stores. IKEA is the largest, but there are also a great many other retail stores that sell building materials, home furnishing, toys, radio/TV, auto equipment, sports/hobby and food. Many new shops are being established.

Krämaren Galleria is newly renovated into a top modern meeting place. The remodelling has given it a clearer profile and several new and eager participants.

Marieberg Galleria
At Marieberg Galleria there are more than 100 shops to go shopping in as well as restaurants and cafés. Marieberg Galleria is situated approx. 9 km south of Örebro. You will be able to find the most common brand names like Din Sko, Dressman, H&M, Gina Tricot, Kapp Ahl, MQ and Wedins so & Accessoarer, just to mention a few.
Wadköping
In central Örebro, at Stadsparken, you will find the open-air museum of Wadköping. This is where Örebro's oldest buildings and town areas are found. There are several craftsmen's booths and small shops.

Wadköping got its name from Hjalmar Bergman's name for the neighbourhood of his childhood, and it appears in the novel "Markurells i Wadköping." It is the smallest section of Örebro, but it has museums, cafés, bakery, old books shop, a theatre and exhibition halls etc.

Örebro City
The shopping areas in Örebro are extensive but amazingly enough concentrated to a small area. Many of the stores can be visited in a single afternoon. Besides the shopping malls and the national retail chains, the city offers unique shops that offer classic clothing, vintage artifacts and furnishings mixed with delis, a food hall and much more.

Tip! Do not miss Market day/evening on 5 June when the shops are open until 22.00 and the city centre is filled with market stalls, food, music and activities.

Farm Shops
To take a trip outside the city centre and visit one or a few of the fantastic farm shops can brighten any day. And we have plenty of them! Tant Grön with its garden, cafe and greenhouse in Vintrosa and Smultrongården where you can purchase SIA, Green Gate and Odd Molly is just a small selection of the farm shops in the Örebro region. Visit www.orebrotown.com for more information and maps.