Tenerife
The guide was updated:
Apart from having the best climate in Spain, Tenerife is a place where you can really relax and enjoy yourself. This island, crowned by Mount Teide, has picturesque villages, incredible landscapes and idyllic beaches.
Here you will be able to enjoy fiestas where you will feel as though you are just one more reveller from Tenerife. Guess why over five million people have chosen this Island as their holiday destination. Just come and have a great time.
Facts
Population:
Approximately 1,000,000
Currency:
Euro (EUR) €1 = 100 cents
Emergency numbers:
Emergency: 112
National Police: 091
Local Police: 092
Guardia Civil: 062
Newspapers:
El Dia
Diario de Avisos
La Opinion

In English:
Tenerife News
English Daily News
Opening hours:
Normal opening hours in Tenerife are from 10.00 to 13.30 and 17.00 to 20.30 hours. However, in tourist resorts the opening hours are longer from 10.00 until 22.00, sometimes even later.
The shopping centres are also open throughout the day from 10.00 to 22.00 hours. On Sundays and Bank Holidays only the shops in tourist resorts are open, those in Santa Cruz de Tenerife and La Laguna and other non-tourist towns are closed. However these shops do open in December and a few Sundays during the year.
Tourist information:
Get all the information you need in the tourist information offices and points of the Infotén network. In the offices scattered around the Island, we will help you to find out about everything Tenerife has to offer.
www.webtenerife.co.uk/useful-information/tourist-information-offices/
Read more
Section in Tenerife
Must-see sights
You'll have so much to tell. You cannot leave the Island without getting to know its indispensable sights: cliffs, volcanoes or historical centres which are world heritage sites. Unique places and settings which will amaze you.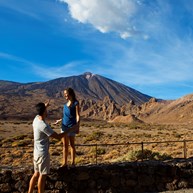 Teide National Park
All who have been to the Island, and those who haven't, will know of Tenerife through the Teide National Park. Standing amid a vast alien landscape, the Island's most famous symbol rises 3,718 metres above sea level. Mount Teide is the third highest volcano in the world and the least Earth-like place on Earth.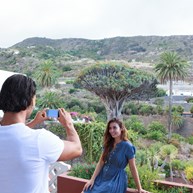 The Ancient Dragon Tree
What would someone 800 years old look like? On Tenerife, the Ancient Dragon Tree of Icod de los Vinos is estimated to be that old; a unique chance to see and touch such an incredibly old living being. A tree (actually, it's a bush) of colossal size and which is more than a great-great grandfather: 20 metres around and 16 metres tall.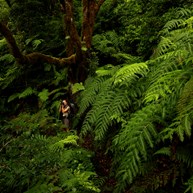 Anaga Rural Park
An area in the north-west of the Island where time seems to have stopped at the Tertiary Period. Hiking among the park's lush Laurel Forests is like stepping back millions of years in time and it's easy to imagine that witches and fairies once lived here.
Tenerife golf
A great way to combine your stay on the Island with a rewarding activity is to enjoy some golf, whether you're an enthusiast or an expert. The spring climate of Tenerife enables you to play all year round. Its nine original courses - including El Tecina on the nearby island of La Gomera -, designed by top experts and with between 18 and 27 holes make Tenerife a veritable paradise for golfers.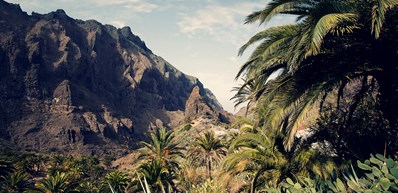 Teno Rural Park
The lucky 1,300 inhabitants of Teno Rural Park, a place of stunning natural beauty, live in the small towns of El Palmar, Teno Alto, Los Carrizales, Las Portelas and Masca. They make a living from livestock and farming, and the peace and tranquility which permeates the area has greatly shaped their philosophical outlook on life. It's a great place for all kinds of outdoor activities, including hiking.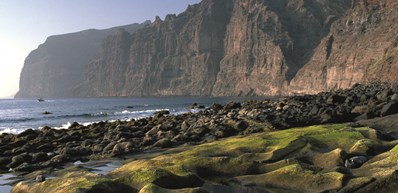 Los Gigantes Cliff
The name Los Gigantes (The Giants) was given for obvious reasons. This cliff in Santiago del Teide forms part of the Teno Rural Park and at certain points towers 600 metres above sea level, with virtually sheer walls which provoke a sense of vertigo even when seen from below.
Tenerife volcanoes
Live your volcanic experience!. The Island's volcanoes represent so much more than just Mount Teide. From beaches to canyons, lava flows through the very veins of the whole Island, a spectacular result of Tenerife's volcanic birth.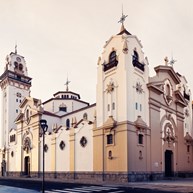 Basilica of Candelaria
Its white and beige tones provide stark contrast to the bronze statues of Los Menceyes (ancient pre-Spanish kings) standing alongside the basilica and the black volcanic sands of the beach at its feet. The religious value of this building is greatly enhanced by the treasure of incalculable spiritual value housed within: the exquisite statue of the Virgin of Candelaria, Patroness of the Canary Islands, highly revered by the islanders.