Nicola since 1972
Bari
The guide was updated:
Bari, a typical maritime and market city, is the capital of the Apulia region and the second biggest city in the Italian south. The city developed industrially in the second half of the twentieth century and now boasts an important trade fair, the largest in the south. Tourists visit Bari for its historic buildings, art works and fascinating town centre, as well as for the beaches which surround the area.
Facts
Population:
330,000
Currency:
Euro (EUR) €1 = 100 cents
Emergency numbers:
Police, Carabinieri: 112
Emergency: 113
Fire Brigade: 115
Ambulance: 118
Newspapers:
Gazzetta del Mezzogiorno
BariSera
La Repubblica
Corriere della Sera
La Stampa
Il Sole 24 Ore
Opening hours:
Shops in Bari are usually open from 9 am-1 pm and 4 pm-8 pm. They are normally closed on Sundays.
Tourist information:
Tourist Information Offices:

Azienda di Promozione Turistica
Piazza Moro, 33/A, Bari
+39 080 5242361

Ufficio Informazioni e Accoglienza Turistica
Piazza Aldo Moro, 32/A, Bari
+39 0805242244

Presidio Turistico Provinciale
Piazza Aldo Moro, 1, Bari
+39 0805216614
Read more
セクション 所在地 Bari
Do & See
Bari has many different cultural sites to offer for the tourist, such as the Cattedrale Di San Sabino, Basilica Di San Nicola and Castel Del Monte. If you want you can just enjoy a walk in the beautiful Orto Botanico or discover the Grotte Di Castellana - the caves of Castellana.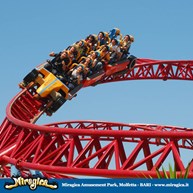 Miragica (Molfetta, Bari) Theme Park
The place to have fun in Bari! Miragica is Puglia's theme park 15' from Bari Palese Airport. 23 attractions (roller coasters, water attractions, 4D cinema, free-fall towers, children´s playground, etc.), a "magic" live show, "White Nights" and events every weekend.
Do & See
La Città Vecchia (The Old City)
The extraordinary Old City largely consists of narrow and winding streets. You will find all the important medieval monuments, such as the Swabian castle and many churches, including the Cathedral of San Sabino and the Basilica of San Nicola.
Do & See
Il Castello Svevo (The Norman Swabian Castle)
This building was originated by Roger II (1139), and destroyed at least twice by the people of Bari, in protest again the tyranny of the Normans. Frederick II rebuilt it, almost completely, between 1233 and 1240.
Do & See
Basilica Di San Nicola
This basilica was constructed between 1087 and 1197, and has always held the remains of San Nicola (who is also known as Santa Klaus). It is both a Catholic and an Orthodox church, and partly for this reason, it is a place of annual pilgrimage for many people from all over the world.
Do & See
Cattedrale Di San Sabino
This building was originally built in Byzantine style in 1062. Thereafter it was rebuilt in Romanesque form, in 1170, after the destruction at the hands of William the Evil in 1156.
Do & See
Castel Del Monte
70 kilometres from the centre of Bari, this unique medieval manor house stands on top of a hill in the Apulian Murgia, 540 metres above sea level and 18 kilometres from Andria. It was probably built as a hunting residence by Frederick II between 1229 and 1249 and is today a national monument.
Do & See
Grotte Di Castellana (Caves of Castellana)
This series of grottoes (40 kilometres southeast of Bari) are the biggest ones in Italy. They are 3 kilometres long and 71 meters deep, and include long underground passages and deep caves covered with hundreds of stalactites and stalagmites formed over thousands of years by water erosion of the calcareous rock.