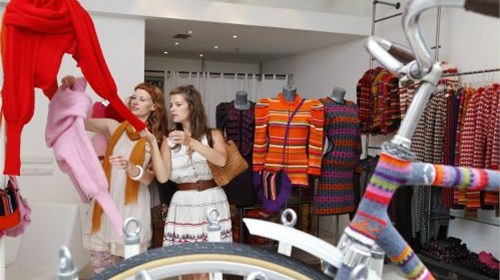 In Tallinn, the folk traditions exist alongside the contemporary. You can find some of the most amazing art pieces exclusively made with traditional skills. The most unique Estonian souvenirs are traditional Estonian handicrafts.

Many shops and galleries offer a wide range to choose from, so everyone is sure to find something to their liking. The most unique Estonian souvenirs are traditional Estonian handicrafts – knitwear, linen, ceramics, leather, and wood, especially juniper wood.

Most of Estonian design can be seen in small galleries, design boutiques and fashion stores. You will find many unique, handcrafted pieces from some of the most imaginative designers in Estonia. There is something for everyone and ceramic, textile and fashion, wood and furniture, jewellers and handicraft…
Viru Shopping Centre
The Viru Centre is by far the largest, busiest shopping mall in the downtown area. In addition to a healthy number of fashion outlets, it's home to the Tallinna Kaubamaja department store, an extensive, two-storey book shop and several cafés.
Rocca Al Mare Shopping Centre
This extensive mall on the edge of town offers dozens of shops that feature top fashion brands, as well as others selling everything from snowboards to eye glasses. It's also home to Estonia's only Marks & Spencer food shop, where you can find imported items that aren't available elsewhere.
Kaubamaja department store
By far Estonia's largest and best-established department store, the Kaubamaja has the widest selection of goods you'll find in the city. The shop occupies the six floors of its own downtown building, and even extends over the street to take up a portion of the Viru Centre mall.
Stockmann department store
This extensive, multi-storey branch of Finland's most famous department store offers an impressive selection of international brands in fashion, cosmetics, electronics and home furnishings. It also features a full-fledged food store as well as a restaurant, coffee-shops, beauty salons, currency exchange and even a golf-studio.
Solaris Centre
The modern Solaris Centre is a combination shopping mall and cultural centre located right in the heart of the downtown area. In addition to a number of shops and restaurants, it encompasses a 3D multiplex cinema, an art-house cinema, and the grand Nokia Concert Hall, which seats over 1800 spectators.
Foorum
Numerous shops offering fashion and footwear, for adults and children alike, play a starring role in this modern, downtown shopping centre. It's also home to popular dining spots such as Bonaparte Bistroo and the Cuban restaurant, Cubanita.
Telliskivi shopping street
Nice, cosy and creative atmosphere in the midst of affordable small boutiques and Estonian design shops is great for a quick yet enjoyable stop before heading to a nearby venue. Find here: vintage and design stores for children and adults, eco and beauty shops as well as a cosy Reval cafe to sit and watch the world go by.
Estonian Handicraft House
The largest selection of authentic handicrafts by master craftsmen from all over Estonia. Operates also as a gallery of Estonian handicraft and a workshop centre.
Hää Eesti Asi
Estonian handicraft and food.
Balti Jaam Market
This market takes you back to a different time. It offers is a wide selection of foods, clothes bric-a-brac and antiques all of which have a Soviet feel to them.
Kalaturg (Fish market)
The fish are caught in local waters or grown by local fishermen. Different sea foods are also on offer. After the market closes the square at Kalaranna becomes an open area where you can roam around and discover all things maritime.
Keskturg (Central Market)
The market also sells flowers in the summer months.
Nõmme Market
This market has a long history and is much loved among the Nõmme green area residents. The market offers local produce from Estonian farmers alongside quality goods from abroad. Next to outdoor selling stands are little sale booths specialising in certain products like meat, honey, potatoes etc.

The buses no 36 and 23 run frequently from city centre and take about 25 minutes to reach the Nõmme stop.
Telliskivi fleamarket
Second hand clothes, furniture, books and vintage stuff are mainly on sale. Most of the sellers are local people living in Kalamaja.

Come and discover local trading traditions and nice goods with reasonable price. Come with the whole family as there is also a children's area and café.
Estonian Design House
Estonian Design House is home to designers' studios, design companies and Estonian Association of Designers. Its showroom is the place to familiarise with the best of local designers creations and at the same time purchase the favourites. A café right next door makes the design shopping even more worthwhile.
Krambude
The medieval shop based in Olde Hansa, sells souvenirs from local and international producers including glassware, pottery, silver jewellery and authentic replicas of items used by medieval townsfolk.
Les Petites Design
This shop sells Estonian design, representing small local brands and around 80 designers. One can find clothes, accessories, jewellery and home decor. Les Petites also has an affiliate at Telliskivi Creative Hub.
Masters' Courtyard
Hidden in a quiet, Old Town courtyard is this site dedicated to the master craftsmen of old. Here visitors can shop for handicrafts and jewellery, view art exhibitions, and sample the heavenly confections created in the popular Chocolaterie Café. Comfortable accommodation is available in the courtyard's guesthouse.
Naiiv
Small showroom established by young fashion designer Liina Viira where her brand name knitting collections can be found, influenced from national themes.
Nu Nordic
Nu Nordik is the only shop in the world dedicated to cutting-edge Estonian design. It's full of fresh, offbeat items: clothing, fashion accessories and home décor. Visitors will find many unique, handcrafted pieces from some of the most imaginative designers in Estonia.