Tallinn
The guide was updated:
Steeped in Medieval charm, yet always on the cutting-edge of modernity, Tallinn offers today's travelers plenty to see. The city is big enough and interesting enough to explore for days, but also small and compact enough to give you the full Tallinn experience in just a few hours.
Read more
Section in Tallinn
Do & See
Tallinn is a highly compact city, most of which can easily be explored on foot without the need for taxis or buses. Most of the best opportunities for sightseeing, cultural events, dining, shopping, and nightlife are conveniently massed in city centre. Whatever your agenda, whichever of the Tallinn´s you need – the romantic, Medieval Tallinn or the trendy, high-tech one – the doors are open. Just take your pick and head on in! The Tallinn Card gives you free entry to 40 museums and other interesting attractions, one free sightseeing tour of your choice, free use of public transport and a variety of entertainment options. Find even more tips at www.tourism.tallinn.ee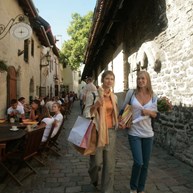 St. Catherine's Passage
What makes this easily the most picturesque of Old Town's lanes particularly interesting is that it's home to the St. Catherine's Guild, a collection of craft workshops where artists use traditional methods to create and sell glassware, hats, quilts, ceramics, jewellery, hand-painted silk and other wares.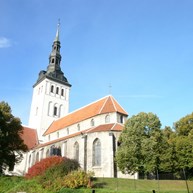 St. Nicholas' Church & Museum
This impressive 13th-century church houses a museum dedicated to church art, displaying medieval burial stones, exquisite alarpieces and Tallinn's most famous painting, 15th-century artist Bernt Notke's eerie composition, Dance with Death. The building's acoustics also make it a prime concert venue, with organ or choir performances held here most weekends. Entrance is free with Tallinn Card.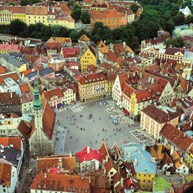 Town Hall Square
From this spot, with a little stretching and bending, you can see the tops of all five of Old Town's spires. Today, the square remains the social heart of the city, a venue for open-air concerts, handicraft fairs and medieval markets. Each winter it's home to the town's Christmas tree – a tradition that stretches back to 1441 – and a buzzing Christmas Market. In spring it hosts the Old Town Days festival, a modern version of a medieval carnival, where traditions from the Middle Ages are kept alive.
A Walk through Tallinn
High quality video introducing Tallinn as a tourist destination. Duration: 3:31 Produced by Tallinn City Tourist Office & Convention Bureau and Allfilm.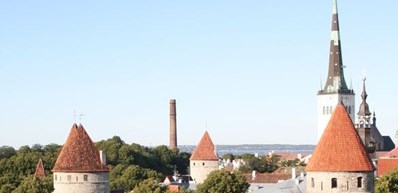 Patkuli Viewing Platform
The viewing platform on the north side of Toompea hill sits visibly on the limestone cliff. On the right you'll see the Town Wall with its defensive towers. On the left lies Kalamaja and Pelgulinn areas with Railway Station as landmark. Winding series of steps, built in 1903, lead down the cliff face to Nunne Street and Shnelli park below.
St. Alexander Nevsky Cathedral
This spectacular, onion-domed structure perched atop Toompea Hill is Estonia's main Russian Orthodox cathedral. Built in 1900, when Estonia was part of the tsarist Russian empire, the cathedral was originally intended as a symbol of the empire's dominance. The church's towers' hold Tallinn's most powerful bell ensemble, consisting of 11 bells, including the largest in Tallinn.
See you in Tallinn!
High quality destination video introducing vibrant city of Tallinn. Music and lyrics: "In the end there is only love" by Ewert & The Two Dragons Producer: Caviar Productions & Contrast Eye, Brilliant © Tallinn City Tourist Office & Convention Bureau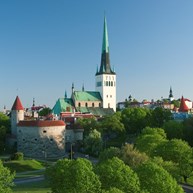 St. Olav's Church and tower
Once upon a time, from 1549 to 1625 to be precise, this 14th century Gothic church was considered to be the tallest building in the World. But it's gigantic, 159-metre spire, meant as a signpost for approaching ships, also turned out to be a very effective lightning rod. Throughout the church's history lightning hit the spire repeatedly, completely burning down the structure three times. Entrance to tower is free with Tallinn Card.