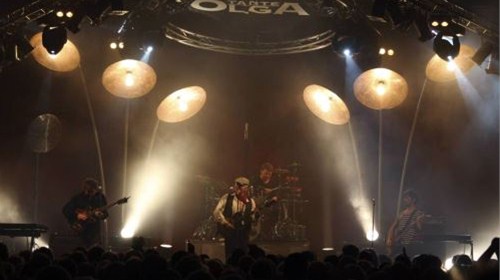 Randers has a hectic night life which thrives in the entertainment street where there are many restaurants, discotheques and bars. The town is simply seething with life - also at night. Via a pipeline, the entertainment street can offer beer both indoors and outdoors. Thus you are always sure to get a cold beer.
Tante Olga
At Tante Olga you never get bored! Tante Olga offers lots of activities, for instance concerts with known celebrities and stand-up comedians. After midnight, there is lots of action in the night discotheque with a large variety of music, and the quality of the music is always first-class. There is hardly any musical wish that the clever DJ of Tante Olga cannot fulfil. Likewise, the DJ tries to find the right music for the guests of the evening. You can listen and dance to hits from the tender start of the rock-and-roll music from the 50s to the latest hits within hip-hop, techno and dance.
Maren Knudsen
Maren Knudsen is a cosy beer and wine cellar which has existed for many years. There is a relaxed atmosphere where you can enjoy for instance a cold beer from the brewery Thor. In the evening there is dancing.
MacAle
MacAle is a Café & Cocktail Bar, and it offers banqueting rooms for every occasion, Brunch & Lunch dishes, Cappuccino, Espresso, Tea or Café Latte, a large selection of Single Malts Whiskeys, and Danish and foreign beers. The right place for adults.
Café 38
The place for adults who are keen on dancing. In Café 38 there is always live music on Wednesdays, Thursdays, Fridays, and Saturdays in the evening and at night. Café 38 offers the best music from the 50s, 60s, 70s and 80s well mixed with the best and latest music for dancing. For instance you can enjoy a cold beer or the speciality of the house, Irish Coffee, in cosy and merry surroundings.
Rocksann
The largest entertainment house of the town, and it offers live entertainment in several floors, cellar cosiness, live music, cocktail bar, piano bar, and an elegant discotheque.