Örebro
The guide was updated:
Örebro is an attractive city, well preserved with old areas along Svartån, the quiet river, and with new exciting architecture, business streets, pubs and cafés. And then there is "Finrummet" at Storbron – with the grand Vasa Castle, the jewel of the crown. Go shopping, have a meal at a sidewalk restaurant or just admire the beautiful views. Within walking distance from the town centre, the beautiful seashore scenery of the lake Hjälmaren is waiting for you. And ten kilometres to the west, Kilsbergen, "Blå Bergen" (the Blue Mountains), are rising with magnificent experiences.
Facts
Population:
Approx. 140,000
Currency:
Swedish krona
1 kr = 100 öre
Emergency numbers:
112
Newspapers:
Nerikes Allehanda
Website:
www.orebrotown.com
Opening hours:
Mon-Fri 11:00-18:00 Sat 10:00-15:00
Tourist information:
Örebrokompaniet, tourist information and ticket shop
Address: Medborgarhuset, Olof Palmes torg 3
Tel. +46 19 21 21 21
www.orebrotown.com
Read more
Section in Örebro
Do & See
Örebro is a city full of culture and entertainment, so put on your most comfortable shoes and experience some exciting days full of activities that suits you.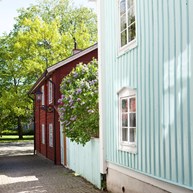 Wadköping
At the beach of the Svartå in central Örebro, we find the open-air museum Wadköping with environments from Örebro in the past. In the small farm buildings from the 17th-19th centuries there are craftsmen, shops, museums, a café and exhibitions. There are also other museum buildings like Cajsa Warg's house and Kungstugan from the 16th and 17th centuries. Events all through the year.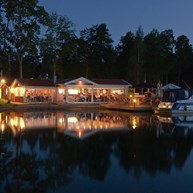 Katrinelund
The waterside restaurant in Katrinelund is surrounded by wonderful nature and has stunning views of Lake Hjälmaren. From 12 till late, the kitchen offers an extensive menu with delicious and harmonious flavours. Take a walk, a swim in the blue or enjoy a cold beer on the jetty. Katrinelund is well worth the trip, there's something for both adults and children.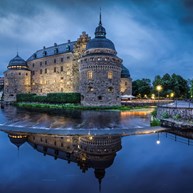 Örebro Castle
In the center of the city stands the stately Örebro castle, the gathering point in the city for more than 700 years. Once a simple castle for defense and prison, but during the Vasa era it was rebuilt as a magnificent, royal castle. Today the castle is an open tourist attraction, full of life, with tours, exhibitions, a restaurant and a café.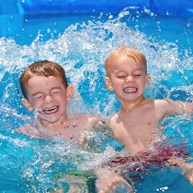 Gustavsvik
Gustavsviks Upplevelsebad (water world) is a fantastic experience in a jungle-like environment with Europe's longest wild water fall, water slopes, aquarium lagoons and a pool area for the youngest visitors. In addition to the bath part, there is an exercise pool, solariums, gym and a wonderful outdoor pool area. Even a fishing pond with trout, a field for soccer and a beach volleyball area. Here is also adventure golfing for children, with buildings from Örebro.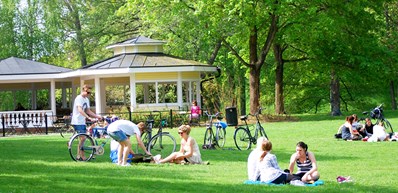 Stadsparken
In 2005, Stadsparken was ranked the fifth finest park in Europe. In the year before, the park was voted to be the most pleasant park in Sweden. Experience the wonderful flowers and unwind in the restaurant or café at the Stadrädsgård. In the park you will also find Örebro's largest playground.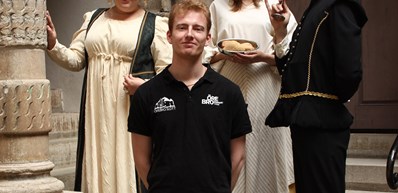 Guided tours of Örebro castle
During the summer, there are daily guided tours of Örebro Castle, a trip to times gone by. Hear about nobles, prisoners and servants and of known and unknown episodes from the castle's history.The rest of the year the castle has guided tours every Saturday and Sunday.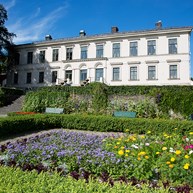 Karlslund
The cultural reserve Karlslund is a scenic area with a long history and is only five kilometres from Örebro centre. In this idyll you will find beautiful nature, cultural and industrial history, artisan towns, shops, a garden for children and in the old mill building there is a modern and exciting technological museum filled with experiences for the whole family.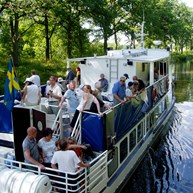 Hjälmaren and Vinön
Just south of Örebro, lake Hjälmaren extends. It is best to enjoy this beautiful lake from a boat, so come along on one of the cruises which start from Örebro harbour. The idyllic Vinön is Hjälmaren's largest island and a popular destination among the inhabitants of Örebro and tourists. Vägverket's free ferry will take you there.