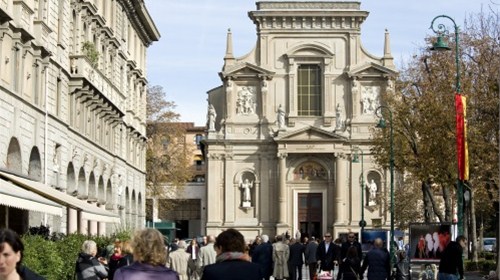 Bergamo is one of the richest and most elegant cities in Italy. The splendour of the city is in large part thanks to the domination of Venice, who ruled the city from the beginning of the 15th century until the end of the 18th century. The Venetians also constructed the city walls around the centre.

The upper city is easy to reach with the funicolar railway – and its main square – the Piazza Vecchia – hosts the most important religious and civic buildings as well as forming the focus for most of the main commercial and historic streets. Another funicolar railway – built in the beginning of the 20th century – leads up to the San Vigilio hill, from which you can enjoy a marvellous view of the city and the Lombard plain. The heart of the city lies in the less tourist lower town, where 18th- and 19th-century buildings are grouped in a semi-circle around the city's hill.

Bergamo towards Expo Milano
Bergamo, located only 50 km far from Milan, is an excellent starting point to let people visit Expo Milano in 2015.
Expo Milano is a non-commercial Universal Exposition with the theme of Feeding the Planet, Energy for Life. Open from May 1 to October 31, 2015, the visitors will have the possibility to take a trip around the world, sampling the food and traditions of people from all over the globe.

THE BRAND "IDEAS FOR EXPO. Emotions, Enthusiasm, Energy".
The payoff "Emotions, Enthusiasm, Energy" has become a brand that Turismo Bergamo gives to anyone who wants to organize events that pay attention to the important themes of Expo Milano 2015. The brand will be exhibited in the ITALY PAVILION - Bergamo area, during the 6 months of EXPO Milano 2015.

Canonisation of Pope John XXIIII
27th April 2014 will remain a historic date in the world, in Italy and above all Bergamo province: it is the date of the canonisation of Pope John XXIII, who came from Sotto il Monte, a town located 18 km from Bergamo. He was elected Pope in 1958, and in less than five years of papacy, he successfully launched an evangelical renewal of the Catholic Church. Notable were his convocation of the Second Vatican Council on October 11, 1962 and his encyclical "Pacem in Terris" during the Cold War, for which he was awarded the Balzan Award for Peace. Saint John XXIII died in Rome on June 3, 1963. Beatified by Pope John Paul II on September 3, 2000, he was proclaimed saint on April 27, 2014.