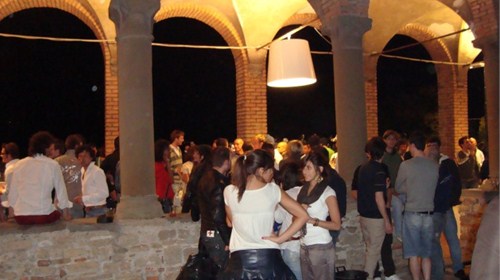 All kinds of people generally go to cafés or bars for a tea or chocolate and cake around 4 pm-5 pm. The apéritivo is common as well in the late afternoon (after 6 pm). At night, Bergamo offers a wide range of nice cafè-bars where you can listen to live music or just chill out and chat. In the summer months it's fun to just stroll up and down the streets either in the Città Bassa or the Città Alta. If you're looking for discos you need to go out of the city.
Vineria Cozzi
This place is a must, a historical wine bar, with its charming antique interiors. Come here to enjoy and relax.
Tsunami
Tsumani is an elegant mexican bar, with DJ music during the aperitivo hours. Come for mexican dishes and stay for drinks!
Baretto Di San Vigilio
Aperitivo bar and restaurant with an outdoor front terrace with a spectacular view of the city. Considered one of the most romantic restaurants in town.
Capogiro
The closest discoteque to Bergamo – just 15 minutes from the centre. Dominant color: black. Music: house/fashion. Target: 25-35-years-old.
Setai
Setai is a fashionable disco for trendy people. Saturday music: house, underground & cutting edge dance music.
Le Iris
Known as a fashionable wine bar with over 300 different Italian and foreign wines, also offers simple Italian dishes. Kitchen open until midnight.