Europa Park
Black Forest Region
The guide was updated:
Set Out for New Discoveries
Have you been dreaming of new inspiring experiences? If so, just step on board and disembark in the stunningly beautiful southern German district of Baden. We're here to show you just how many things there are to explore, all within easy reach of Karlsruhe/Baden-Baden Airport (FKB). Here, in the heart of Europe, you will find a world of excitement just a hop, skip and a jump away from the airport: Magnificent countryside, art, culture and lifestyle, sports, exciting recreational fun, relaxing spa facilities and wonderful culinary delights. Take a look and choose your favourite destinations.
Facts
Population:
Karlsruhe:
293,142 (2014)

Baden-Baden:
53,596

Rastatt:
49,162
Currency:
Euro, €1 = 100 cents
Emergency numbers:
Fire brigade & Medical: 112
Police 110
Website:
Karlsruhe: www.karlsruhe-tourismus.de Baden-Baden: www.baden-baden.de Rastatt: www.rastatt.de
Tourist information:
Karlsruhe:

-Bahnhof­­­platz 6
76137 Karlsruhe

Mo-Fr 8.30-18 Uhr
Sa 9-13 Uhr
So 10-13 Uhr (April-Oktober)
Tel: +49 721 3720 5383/ +49 721 3720 5384
Fax: +49 721 3720 5385
E-Mail: touristinfo@karlsruhe-tourismus.de

Baden-Baden:

-Schwarlzwaldstr. 52

Mo-Sa 9-18 Uhr,
So + Feiertage 9-13 Uhr
Telefon +49 (0) 7221 275200
Telefax +49 (0) 7221 275202
E-Mail info@baden-baden.com

-Kaiserallee 3

Mo-Sa 10-17 Uhr,
So + Feiertage 14-17 Uhr
Telefon +49 (0) 7221 275200
Telefax +49 (0) 7221 275202
E-Mail info@baden-baden.com

Rastatt:

-Herrenstraße 18 (Schloss)
76437 Rastatt

Tel. 07222 / 9 72-1220/-21
Fax 07222 / 9 72-1298
E-Mail: touristinfo@rastatt.de
Read more
Section in Black Forest Region
Do & See
While most of Germany is known for its dreary weather, Karlsruhe gets lots of sunshine and mild temperatures because it lies only 115 metres above sea level, and is sheltered by mountains to the east and west.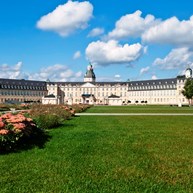 Schloss Karlsruhe
Karlsruhe's Baroque palace forms the centre of the city's fan-like pattern, from which boulevards extend like the spokes of a wheel. Formerly home to the blue-blooded leaders of Karlsruhe, the palace now houses the Badische Landesmuseum, which exhibits regional artefacts – from prehistoric to present times.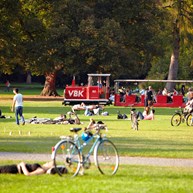 Palace Gardens
After your visit to the museum, go for a stroll in the palace's sweeping gardens to see the exotic trees royals planted here, as well as many statues from all epochs. On warm days you'll find plenty of Karlsruhe's inhabitants sharing picnics on the grass, playing badminton or going for walks.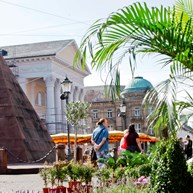 Market Place
Just steps from the palace, see the early 19th-century market place. In the centre stands the main symbol of Karlsruhe, a brick pyramid that protects Margrave Karl Wilhelm's crypt. The stone sarcophagus containing the ashes of Karl Wilhelm is still inside the pyramid, but it is not open to the public.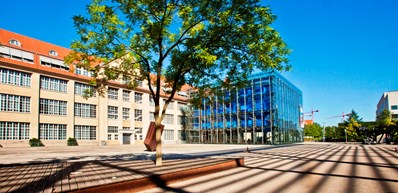 ZKM (Zentrum für Kunst und Medientechnologie)
This museum houses Germany's largest collection of media art, both in its Museum for Contemporary Art and the Media Museum, which is the world's first and only museum for interactive art.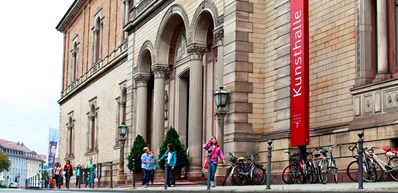 Staatliche Kunsthalle Karlsruhe
At the Staatliche Kunsthalle Karlsruhe you'll find an impressive collection of German paintings from the 13th century up until the present along with Rembrandt, Gauguin, and Monet.