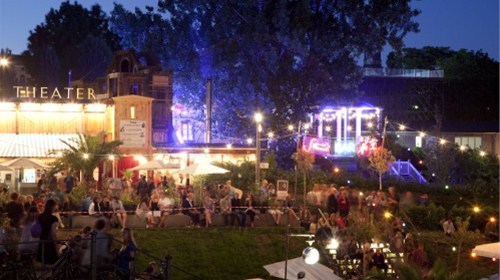 It doesn't matter whether you just want to round off the day or get started for the night ahead – you're sure to find the right sort of bar to plan your individual evening in Berlin. The spectrum ranges from the exclusive hotel bar via the trendy haunt with its modern design or traditional drop-in pub round the corner right up to the exotic cocktail bar or oriental shisha bar. Particularly popular are the skybars in the high-rise buildings on Ku'damm, at Alex or Potsdamer Platz. There is a spectacular view to be had of Berlin at night from high over the city's roofs.

The Berlin nightlife is legendary. The parties. The music. The people. In this respect it's a question of "Your wish is Berlin's command"! Well-known DJs present the latest sounds to their audiences in the city's countless clubs, bars and discotheques. And there are always new clubs shooting up out of the ground everywhere. The intent of the party people is obvious: dance, have fun and party into the small hours. Because there are no closing hours in Berlin.

TIP: It doesn't matter if you're a chic chick, easy jetsetter, gay gent or 9-to-5 type – a glance at our ClubMATCHER (at: www.clubmatcher.de) will help you to find the sort of club you're looking for.

Marooush • Restaurant Lounge Bar
Enjoy a "Royal-culinary journey along the Nile" in the restaurant with cocktails, arabian pastries, tea specialties or a shisha in the lounge. The "Dinner & Dance" offer includes a belly dance show and deejay which brings the dream of 1001 Arabian nights to the weekends.