Umeå SWE
Välkommen till Umeå - här gör vi saker lite annorlunda!
Läs mer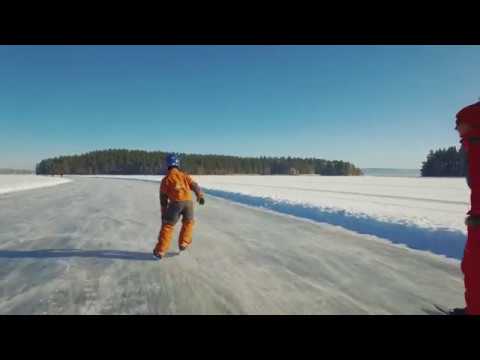 Skridskoåkning i Södra Dalarna
När det gäller skridskoåkning på sjöis är det ingen överdrift att påstå att Dalarna är ett riktigt eldorado.
Läs mer
Cafe Bar Grano
Don't miss the third episode of Café4you. Sophia will show you the beautiful Old Town and the Café Bar GRANO. Enjoy!
Läs mer
Florian Steiner
Enjoy your morning coffee with our fourth episode of Café4you and Florian Steiner.
Läs mer
Cafe Amoroso
Enjoy the 5th episode of Café4you with Sophia. This time she will show you the Amoroso in the Old Town.
Läs mer
Bergheim 41 - Cafe4you
Dear Heidelberg Lovers! Have a look on our second episode of Café4you. Today, Sophia will show you the "Bergheim 41". Enjoy!
Läs mer
Nomad Heidelberg
Dear Heidelberg & coffee lovers! In our last episode of Café4you, Sophia will show you the Café Nomad Heidelberg in Neuenheim. Enjoy!
Läs mer
coffee nerd Heidelberg
Sophia will show you the coffee nerd in Heidelberg. Enjoy!
Läs mer
Kaffeezimmer Heidelberg
Today, Sophia will show you the Kaffeezimmer. Enjoy!
Läs mer
rorbar Heidelberg
Sophia will show you the rorbar. Enjoy!
Läs mer
Les Estivales de Pézenas
Wine and local products festival at night in the summer season. Free musical entertainment.
Läs mer
Festival Boby Lapointe
A festival based on French singers and composers.
Läs mer
Nous sommes allés au salon nautique au Cap d'Agde
Large boat exhibition and sale in Cap d'Agde.
Läs mer
Nous sommes allés à la brocante à Pézenas
In May and October, a whole day dedicated to antique bargain hunting in Pézenas.
Läs mer
We went to Vinocap
Discover the largest wine fair in southern France, with more than a local hundred producers.
Läs mer
Cap d'Agde Méditerranée
Discover a destination on the Mediterranean with sandy beaches, historical sites, the Canal du Midi and much more.
Läs mer
Welcome to St. Petersburg!
Welcome to one of the most beautiful cultural destinations in the world - St. Petersburg! It is absolutely easy ro arrive in this city. Choose one of the options: by plane, by high-speed train or by sea with a possibility of 72 hours visa-free stay. Enjoy the city's cultural gems, religious heritage, architectural edifices and UNESCO objects. The city hosts the 23 session of UNWTO General Assembly in autumn 2019.
Läs mer
fishing at Harasjömåla, Olofström
Do you want high-quality fishing experiences within an hour's radius by car? Then you should book your fishing trip to Blekinge! There are many opportunities to get the best fishing experience at some of Blekinge's fishing waters. In the great nature, filled with a mix of streams that awaits most tastes. Here is the coast with its high-quality pike fishing, calm lakes and streams with different fishing and of course Mörrumsån's world-famous trout and salmon fishing. Blekinge holds northern Europe's nearest archipelago with an 80 km stretch of coast. In Olofström you will find Sweden's southernmost wilderness - the district with most lakes in Sweden. It guarantees a wide range of fishing experiences and makes Blekinge Sweden's best sports fishing destination.
Läs mer
Welcome to Heidelberg
As early as in the 19th century, Heidelberg cast its spell on poets such as Joseph von Eichendorff and Johann Wolfgang von Goethe with its romantic charisma. It was immortalized in many publications. Heidelberg has managed to preserve this irresistible magic to this day. The romantic Castle ruin with its large garden facility, the picturesque Old Town with its cozy alleys and squares and the River Neckar, idyllically winding its way through the green valley, draw several million guests to the city every year. Heidelberg is connected to its Castle – which served as the residence of the Prince Electors of the Palatinate for five centuries – as inseparably as with its more than 600-year-Old University. The city's history is ever-present. The Philosophenweg (Philosophers' Walk) on the sunny slope of the Heiligenberg (Holy Mountain), affording not only scholars a special view of the city, the river, the Alte Brücke (Old Bridge) and the Castle as well as the Königstuhl (King's Seat),which is nearly 600 meters high. Come to know and love Heidelberg as well. We look forward to meeting you!
Läs mer
Dark Mofo
Dark Mofo has a curious pull, with people coming even when they're not sure how the art, music and food will be delivered. That's because Dark Mofo keeps its cards close and it fails to disappoint time and again.
Läs mer
Shopping in Antwerp: Historic centre
Shopping in Antwerp: historic centre area
Läs mer
Shopping in Antwerp: Meir
Shopping in Antwerp: Meir area
Läs mer
This was Antwerp in 2018
An overview of Antwerp's achievements in 2018!
Läs mer
Autumn in Antwerp
Antwerp in amazing autumn colors
Läs mer
Tasty Antwerp
The old city centre is steeped in history. You will find it in ancient building-fronts on narrow streets or in the imposing Grand-Place. The Plantin-Moretus Museum is the only museum in the world to be classified as a Unesco World Heritage site. In the shadow of the Cathedral of Our Lady, the city teems with life in intimate pubs and restaurants. The banks of the Scheldt are a great place for a breath of fresh air.
Läs mer
Tasty Antwerp: Eilandje
Het Eilandje – 'The Little Island' – is so-called for good reason: Antwerp's oldest port area is surrounded by water. Today, port activity is more concentrated in the north, but the feeling of a port is still very much present. Savour the historical atmosphere of the old loading dock with its monumental warehouses, lanterns, hangars and cobblestones. Three major attractions, MAS | Museum aan de Stroom, the Red Star Line Museum and the Port House, have once again drawn attention to the links between the city and the water.
Läs mer
Tasty Antwerp: Central Station
You encounter the whole world in this district of Antwerp – in the faces on the street and in shops, cafés and restaurants. From chic to ordinary, from historical to modern: this district has it all. At its heart is the majestic Central Station. Next to it is the Zoo – Antwerp's most beautiful gardens. The diamond district is also nearby.
Läs mer
Bornos, White Town of Cádiz
Bornos, White Town of Cádiz
Läs mer
Pafos Sporting Destination
Pafos ranks among the world's top sports training destinations. The high-level infrastructure meets the demands of even the most intensive, professional training programmes. Athletes from around the world are drawn to this beautiful island, enticed by its exceptional climate, huge range of up-to-date sports facilities, high-quality service industry and the short distances between city, sea and mountains. From training grounds to gyms, from Olympic swimming pools to mountain biking routes, there is everything the modern athlete could ask for. As one of the world's favourite tourist destinations, Cyprus also offers an impressive choice of accommodation, from self-catering apartments to luxury hotels with fully equipped fitness centres and health spas with qualified personnel. Many international sports bodies have already recognised Cyprus as the ideal training destination, and National Olympic Committees from several countries use Cyprus as their pre-season training destination ahead of major international sports events.
Läs mer
Red Bull in Bruges - What tourists don't see
In an amazing video, Australian athlete Dominic Di Tommaso showcases our beautiful city of Bruges from an unseen perspective. As a tourist, Bruges' typical canal boats are the perfect way to discover the fabulous city from the inside. Well, you might want to reconsider. World-class freerunner Dominic Di Tommaso reveals this stunning piece of UNESCO World Heritage from a completely different perspective in the amazing video 'What tourists don't see'. On and across the roofs, towers, stepped gables and even the Belfry of Bruges, Dominic invites us on an athletic, jump- and flip-filled journey along the most beautiful spots of the inner city. Always on the move, freerunning in its purest form.
Läs mer
olofström outdoor
Paddeling on Halen is being in the wild. Experience The Lake District in Blekinge.
Läs mer
Travel video of Basel
This video was created in cooperation with Travel Me Happy and Switzerland Tourism. We will take you through Basel and you will see many breathtaking places such as: The iconic Minster, the beautiful Rhine and the verious museums. Enjoy! #LoveBasel #BaselSwitzerland
Läs mer