Help us improve our new site!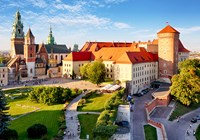 Denna medeltidsstad ser ut som om den vore tagen ur en sagobok, med sitt livliga torg, spiralformade Gotiska torn, slott och legender om drakar. Utforska de smala bakgatorna, gömda innergårdarna och nätverket av underjordiska tunnlar och valv. Kärleken till musik, poesi och teater har gjort staden till Polens kulturhuvudstad. Efter flera år av ockupation och kamp har Krakow trätt fram som en stolt stad med en stark identitetskänsla och har ändå behållit sin konstnärliga och nöjesälskande själ.
Till guide
Try our
NEW

site!
Our
NEW

website is now available, give it a try! Let's Go There!
Our
NEW

website is now available, give it a try!
Book

On the new ArrivalGuides you can book your next flight or hotel for the best price.

Plan

Collaborate with your friends or invite an agent to plan the best trip ever! All in one place.

Explore

578 and counting updated guides from the most popular destination all over the world.