Umeå SWE
Välkommen till Umeå - här gör vi saker lite annorlunda!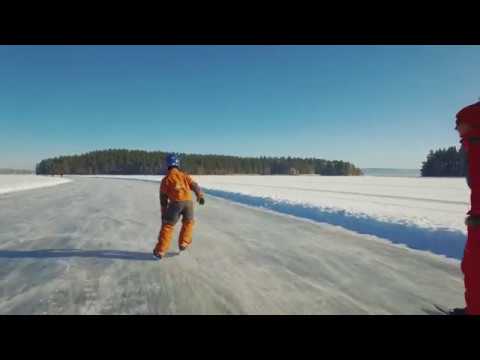 Skridskoåkning i Södra Dalarna
När det gäller skridskoåkning på sjöis är det ingen överdrift att påstå att Dalarna är ett riktigt eldorado.
MAS from dawn till dusk
Climb up to the rooftop and gaze at the Belgian city that never sleeps. Spot the world-famous 'lights of the Scheldt' and watch the sunrise over Antwerp's skyline. MAS | Museum aan de Stroom is one of the many must-sees in the beautiful city of Antwerp.
This is Antwerp - Antwerp by night
Belgian beer, galleries, performances, dj's, dancing, bars, music: only in Antwerp!
Beer in Antwerp
Who hasn't heard of Belgian beer? This clips shows you the Antwerp Seefbier is made and suggests an excellent foodtip: Antwerp meatballs.
Touring Antwerp by tram
Hop on a typical Antwerp tram and discover Antwerp from a unique point of view. Highlight after highlight after highlight.
Coffee in Antwerp
The import of coffee beans in the port of Antwerp, the roasting, the barista's and of course the tasting: coffee is big in Antwerp.
Summer in southern Dalarna
In Southern Dalarna, it is easy to have fun. There's plenty to discover and do - all year round, whatever the season. Sports, music, culture and breathtaking natural beauty - why choose?
Skating in southern Dalarna
Dalarna might have been made for skating on lake ice. For much of the season there are marked ploughed routes, varying in length.
Buzzing Bremen
Cologne has its carnival, Munich hosts the Oktoberfest, but in Bremen, the celebrations go on all year round! Not a month goes by without some exciting event taking place in the city: the Freimarkt (the oldest funfair in Germany), the music and maritime festivals, Europe's biggest six-day cycle race, musicals and plays, prestigious art exhibitions and last but not least the traditional Christmas market and the accompanying stalls along the Schlachte Embankment.
Historic Bremen
Bremen, the port city on the Weser river, can look back on over 1,200 years of history. The ornate Weser-Renaissance town hall and the grand old statue of Roland on the market square (both UNESCO World Heritage) are two of the city's most famous landmarks. The Roland, Bremen's very own "statue of liberty", has stood as an emblem of independence since 1404.
Innovativ Bremen
With exciting interactive exhibitions and science centres, highly regarded universities and pioneering technologies, Bremen has given rise to numerous projects that prove that science is anything but dry and boring. Science and commerce go hand in hand in Bremen a place where high-level research and the world of business are closely intertwined.
Maritime Bremen
Bremen's seafaring traditions are still alive and well today and have a big part to play in its unique appeal. The Schlachte Embankment along the River Weser is a magnet for locals and tourists: there are always people milling around by the water, especially when the sun is out.
Bremen + Bremerhaven - Made of stars
Bremen and Bremerhaven - two towns together.
Bremen - Made of stars
Join us on an enthralling journey through Bremen: you'll be amazed by the variety on offer in the city on the Weser. Bremen's highlights range from historical sights such as the UNESCO World Heritage town hall and Roland statue through to north Germany's biggest fun fair, the Freimarkt. The city also presents a whole host of theatres and museums, sporting events such as the SixDays cycle race and behind-the-scenes insights at Mercedes-Benz and the Beck's brewery, not to mention the labyrinth of narrow lanes in the Schnoor quarter and the vibrant boutiques of Bremen's Viertel district. Don't just take our word for it – come and see for yourself. We look forward to your visit!
Uppdrag Skåne - Del 2: Söderslätt SWE
Semestertestaren Valle Westesson reser till Skånes sydvästra delar, Söderslätt och spanar in bokskogarna, lyssnar på spökhistorier från Svaneholms slott, äter gott på Hallongarden, besöker Sveriges sydligaste udde for att sedan avsluta med en runda i Vikingabyn.
Uppdrag Skåne - Del 5: Ystad & Österlen SWE
Semestertestaren Valle Westesson reser till det mytomspunna Österlen i Skåne dar han bland annat besöker Sandhammaren (Sveriges basta strand), roar sig på sommarlandet Tosselilla, fikar på Olof Viktors (som fått utmärkelsen 'årets svenska konditori'), vandrar runt i ekoparken på Christinehofs slott samt besöker vid Ales stenar (Vad det nu är for något?).
Uppdrag Skåne - Del 3: Lund SWE
Semestertestaren Valle Westesson reser till Lund och experimenterar på Vattenhallen Science Scenter, ser sig runt i domkyrkan, besöker Kulturen och upplever hur det var att bo förr.
Uppdrag Skåne - Del 1: MittSkåne SWE
Semestertestaren Valle Westesson beger sig ut i MittSkåne för att ta reda på hur bra det verkligen är för barnfamiljer. Under resan besöker han bland annat Skånes Djurpark, Grottbyn, Bosjökloster och Leksaksmuséet i Eslöv.
Uppdrag Skåne - Del 4: Nordvästra Skåne SWE
Semestertestaren Valle Westesson ar i nordvästra Skåne och upplever den dramatiska naturen kring Kullaberg och konstverket eller "världens bästa lekland", Nimis. Han hinner även med att klättra ner i Lahibiagrottan, äta en god kakbuffé på Albertsgården, besöka järnvägsmuseet i Ängelholm och självklart Europas vackraste park, Sofiero slottspark.
Uppdrag Skåne - Del 6: Nordöstra Skåne SWE
I det sista avsnittet av Uppdrag Skåne åker semestertestaren Valle Westesson till dom nordöstra delarna av Skåne dar han upplever Kristianstad vattenrike, äter en ordentlig burgare på ett 50-tals diner i Bromölla, åker på fossilsafari vid Skånes största sjö och sist men absolut inte minst gör ett besök i den 20.000 kvm stora Tykarpsgrottan (dar for övrigt delar av Ronja Rövardotter spelades in).
Food & Fun
The Food & Fun festival combines extraordinary culinary talent with a selection of fine Icelandic ingredients, add to that Reykjavik's world famous nightlife and countless adventures in the great outdoors and you have the ultimate recipe for fun! The essential component of the festival involves world-renowned chefs collaborating with Reykjavik's finest restaurants, and as an extra serving of food and fun, chefs compete to create a three-course meal using exclusively Icelandic ingredients. The Food & Fun Festival will take place for the 13th time between February 26th and March 2nd 2014. www.foodandfun.is
Winter Lights Fostudagur
Amazing Days of Darkness in Reykjavik! The long winter days of darkness in Reykjavik are to be illuminated magnificently at the city's next annual Winter Lights Festival. From 6 - 15 February 2014, the festival promises another superb collection of sparkling events, all delivered with our customary commitment to quality and diversity. Prepared to be amazed by the dramatic interplay of darkness and light at the Winter Lights Festival 2014! vetrarhatid.is
Reykjavik Fashion Festival
The Reykjavik Fashion Festival provides a platform for emerging Icelandic designers to collaborate with creative minds from different disciplines, providing a unique fashion experience. So jump on-board and don't miss this rare opportunity to be a part of Iceland's biggest fashion event! March 27-30, 2014 www.rff.is
Reykjavik Children's Culture Festival
The three main aspects of Reykjavik Children's Culture Festival are chilrden's culture, culture for children and culture with children.
Welcome to Jönköping!
Welcome to Jönköping!
Nantes : Take the Journey
Nantes A destination truly creative and attractive. Take the journey ! Situated 30 minutes away from the Atlantic Ocean, on the Loire estuary, Nantes is a perfect gateway to the Brittany and the Loire Valley. Take the journey and follow the green line to drift through this 10-mile trail, with its thirty stops, from le lieu unique to the Ile de Nantes. Along the way, let yourself be guided from a public work of art in a random side street to a remarkable element of our architectural heritage, from classic sites to little-known treasures, from an historical back alley to contemporary architecture, and from a surprising view of the city to an incredible sunset on the Loire estuary. This year, Nantes is celebrating the Thea Awards 2014 (world's most original attraction) for the Marine Worlds Carousel and you are invited !
Nantes take the journey!
Nantes - city of every possibility!
Unique Dubrovnik
Promotional Video of Dubrovnik Tourist Board
Nuremberg Events
The event calender of Nuremberg is packed with unique and special events throught the year. Nuremberg's musical life has much to offer, spanning the annual International Nuremberg Organ Week ION, Europe's largest and oldest festival for sacred music.
Nuremberg Lifestyle
Nuremberg has to offer a lot of culture, events, shopping and lifestyle! Besides that, you'll also find a vibrant nightlife with bars, discos and many places to dance till the morning. And of course there are many possibilities to be active or chill at the park. So come and get to know Nuremberg's Lifestyle!