Byron Bay
The guide was updated:
Subtropical Byron Bay is the hippest destination on the NSW North Coast. A place of outstanding natural beauty, set against lush volcanic hills, Cape Byron is the continent's easternmost point, basked in Australia's first rays of sunshine each day.
Byron Bay's original inhabitants, the Arakwal people, call it "Cavvanbah" - The Meeting Place. Today surfers, sea changers, new agers, artists, celebrities, backpackers, festival-goers and holidaymakers from all walks of life meet here, drawn by the vibrant energy of Byron Bay.
Facts
Population:
Latest census of Byron Shire 30,000
Currency:
Australian Dollar (AUD) $1 = 100 cents
Emergency numbers:
Police, Fire and Ambulance 000
Newspapers:
The Byron Shire Echo
Byron Shire News
Website:
www.visitnsw.com/destinations/north-coast/byron-bay-area/byron-bay
Opening hours:
Opening hours vary but most shops are open 9am - 5.30pm on weekdays and 9am - 12pm Saturdays with the major centres open until 5pm. On Sundays some bigger shopping centres are open from 10am - 4pm. Many of the bigger centres also have Thursday and Friday late night shopping until 9pm.
Tourist information:
Byron Visitor Centre
Old Stationmaster's Cottage, 80 Jonson Street, Byron Bay, NSW 2481
PO Box 735, Byron Bay, NSW 2481, Australia
Opening hours: Daily 9am - 5pm
Email: info@visitbyronbay.com
Phone: +61 2 6680 8558 www.visitbyronbay.com
Read more
Section in Byron Bay
Do & See
Byron Bay is a melting pot of surf culture, alternative philosophies and hedonistic indulgence - the perfect place to get back in touch with nature and your inner wild child. Get active, be it surfing, kayaking, fishing, sailing or just enjoying a swim at the beach. Express yourself with arts and hippie fashions or dance the day away at a festival. Or you can make like a local and just chill out. From the lush hinterland to the sparkling beaches on the coast, the region is full of natural wonders: humpback whales cruise past the headland, tropical storms create rainbows over the mountains, and hang-gliders ride the thermals above the lighthouse. There are plenty of tours and activities to take it all in. Discover more beauty by simply exploring. The laid-back town of Brunswick Heads, plus the arts-loving villages of Bangalow and Mullumbimby, combine the casual vibe of coastal retreats with a touch of city style.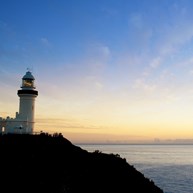 Cape Byron Headland and Lighthouse
Cape Byron Headland Reserve offers walking tracks through spectacular beaches and beautiful rare coastal vegetation. Visit the Cape Byron Lighthouse above the 94 m cliff at mainland Australia's most easterly point. The view is magnificent in every direction, from the Cape Byron Marine Park and Pacific Ocean to the hinterland, to the rocky coast and beaches of Byron Bay. If you're there at dawn you'll see the first rays of sun on the lighthouse, built in 1901. Look out for dolphins, turtles, wallabies and whales in season.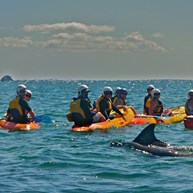 Kayaking with dolphins
Kayak with dolphins and whales or snorkel over a hidden volcanic reef with local green and loggerhead turtles in Byron Bay's Marine National Park. Owned and operated by local surf life savers, Go Sea Kayak will bring you within metres of local wildlife while entertaining you with tales of Byron Bay history and Indigenous stories. Spot the massive humpback whales as they migrate through Byron Bay, and surf the waves at one of Byron's famous beaches on your kayak. This is an experience to remember.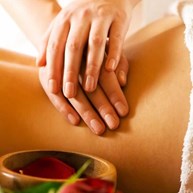 Alternative Therapies
Byron Bay is the natural and alternative therapies capital of Australia, offering a range of holistic treatments such as acupuncture, rebirthing, aura reading, cranial sacral balancing, ayurvedic medicine, intuitive readings, reiki, tarot, psychic healing and breath connection. Pick up a copy of the Byron Body & Soul Guide from the visitor information centre to find a treatment that appeals to you.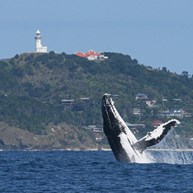 Whale Watching
From May to July, magnificent humpback whales pass Cape Byron on their journey to breeding grounds further north. From September to November they come past Byron Bay again when they migrate south to the Antarctic with their young calves. Spot them playing in the waves from a coastal lookout point or join a whale watching cruise.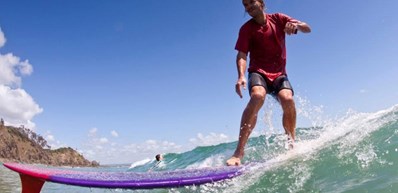 Surfing
Surfing is a tradition in Byron Bay, and with some of the best waves on the East Coast you'll be very glad you brought your surfboard. Experienced surfers spend their days chasing waves on the many gorgeous beaches of the region, choosing their surf break depending on conditions. Beginners flock to Byron Bay's beaches for the more gentle waves, with several expert surf schools offering to help hone the craft. Mojosurf, Byron Bay Style Surfing School, KoolKatzSurf, Rusty Miller Surf School, Soul Surf School and Surfing Byron Bay are great options for a surf tour. No matter how well you surf, they can offer you a great time on the water.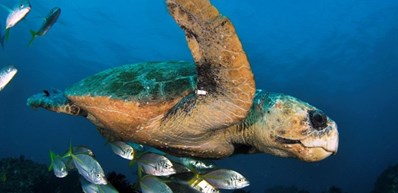 Diving and Snorkelling
The sea around Byron Bay is home to a thriving and abundant underwater world. The Julian Rocks Marine Park, just 2.5 km off the Byron Bay coast, has earned a reputation as being one of the most prolific fish dive sites in the world. Whales, dolphins, manta rays, leopard sharks, grey nurse sharks, and turtles are all common visitors to the marine park, thanks to a unique blend of tropical warm currents from the north, with cooler temperate waters from the south. Sundive is Byron Bay's only PADI 5 Star Dive Centre. If you are not a certified diver, this is the place to train.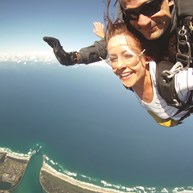 Skydive Byron Bay
Enjoy a scenic flight over beautiful Byron Bay up to 14,000 feet above ground and then experience 60 seconds of adrenalin-packed freefall with Skydive Byron Bay. Take in impressive views of surf beaches, the famous lighthouse, the mountains and the coast. No experience is necessary for a sensational tandem skydive, as your expert instructor guides you through the day.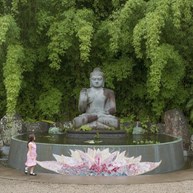 Crystal Castle and Shambhala Gardens
Located a short scenic journey into Byron's hinterland, these private botanical gardens are filled with extraordinary crystals and sub-tropical plant life. Walk among stunning landscaped gardens and rainforest areas on the Buddha Walk, Rainforest Walk or around the labyrinth. The Peace Experience offers an enriching sound healing bath, meditation session and Kora Walk around the Kalachakra stupa for world peace, a sacred monument project that has blessed by His Holiness the Dalai Lama.