Get the
free
London guide
now!
Last Download: 2013/10/22 09:17:18 from Ireland.
Articles about "underground"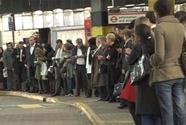 Third London Underground strike hits Londoners
Commuters faced a day of disruption on London's Tube network during a third 24-hour strike over job cuts. Unions said 11,000 members were taking part in the walkout which started on Tuesday night. The Victoria, Central and Waterloo and City lines were running but there was no service on the Circle ...
BBC News
HS2 'will bring Birmingham Airport closer to London'
Birmingham Airport says the proposed new high-speed rail link between the city and London could be a solution to runway capacity problems in the South. Airport bosses said it will be quicker to get to London from Birmingham than from London Stansted if it is approved. Proposals ...
BBC News
Ten of the best: scenes on London Underground
... Cecilia has a phobia about it, which she tries to conquer in the course of the novel. Underground, by Tobias Hill In Hill's debut novel London Underground worker Casimir tries to catch a man who has tried to push a woman under a tube train. The novel takes us down hidden tunnels to ...
Guardian Unlimited (The Guardian / The Observer)
Underground Strike Hits London Commuters
... Salaried Staffs' Association have been on strike three times in recent months over threats to cut around 800 jobs in ticket offices at London Underground stations. Managers say fewer staff are needed at counters because of the widespread use of Oyster swipe cards. The two ...
Sky News
London Commuters Hit by Fourth Tube Strike
TFL said under half of its trains were running and about 70 underground stations closed out of 270 in total. Unions said 114 had been shut, accusing management of operating "ghost trains" with few people on them in a public relations exercise. Only the Docklands Light Railway arm serving the ...
ABC News (USA)
Tube strike: Union walkouts 'could escalate' in London
The fourth 24-hour strike over job cuts in London Underground ticket offices has ended, with unions warning their walkouts could escalate in 2011. Industrial action lasting two or three days was possible in the new year, the Rail, Maritime and Transport (RMT) union and the Transport Salaried ...
BBC News
Londoners prepare for train strike
LONDON, Nov. 26 (UPI) -- Londoners are preparing for a 24-hour strike by thousands of transit workers who operate the London Underground train service, officials said. The Rail Maritime and Transport union and the Transport Salaried Staffs Association said workers would walk out at 6:30 p.m. ...
United Press International, UPI - english
What blogs say about "underground"
Trip to london flying to stansted 15-03-2011
You can get a coach direct to London airport from Stansted. From London airport there are direct coaches to central London. There is an underground station at Heathrow and at Hatton Cross. Near London airport there are a number of are simply everywhere but if you ...
Trip to london flying to stansted 15-03-2011
london underground tube map
London Underground Tube Diary - Going Underground's Blog. View LocationView Map. click for. Fullsize London Underground Tube Map Transort For London. Transport, especially public transport is becoming more Curvy Tube Map by Maxwell Roberts - click to see a larger version London ...
Luke's Blog
See More of London by Going Undergound
A guest post by Elena Price During research for this post the author noted an illuminating post about mastering the London Transport ticketing system which should prove helpful to new visitors to the city and those who last visited before the introductionof the Oyster Card. London is a massive ...
See More of London by Going Undergound
london underground map geographic
... Tube Map Go underground and see a different way to look at Zone 1 (central zone) of the Underground (and DLR) network in a The London Underground Map -- Harry Beck's Design Icon Geographical Tube Map: London Underground Tube map pastiches. Image 1 of 6 Physical Tube Map: ...
london underground map geographic
bombings in london
... Bombings 7/7 London bombings, one significant narrative was lost - that of British Leaked MI5 London Bombing report may be disinfo many London Underground staff were greatly affected by the bombings, How the Government Staged the London Bombings in Ten Easy Steps #5 The London ...
bombings in london
Mobile network on the London Underground; Brits want it, says survey
It all started when mayor Boris Johnson stated that London needs a mobile network on the Underground. The Chinese from Huawei saw an opportunity in this and have announced that they'll invest the £50 million to build it before the 2012 Olympics kick in, hoping to make a profit from renting it to UK ...
Mobile network on the London Underground; Brits want it, says survey