Umeå
The guide was updated:
The town of the silver birches does not only offer top-class culture. Some of the very best restaurants in northern Sweden are to be found here and they serve local culinary delicacies with singular precision. Add to that an exceptional outdoor life and you'll understand why tens of thousand of students feel so at home in Umeå.
Facts
Population:
119 000
Currency:
Swedish krona, 100 öre = 1 krona
Emergency numbers:
112
Newspapers:
Västerbottens-Kuriren (local paper)
Västerbottens Folkblad (local paper)
Aftonbladet
Expressen
Dagens Nyheter
Svenska Dagbladet
Website:
www.visitumea.se
Opening hours:
In Umeå the shops are normally open Monday – Friday, 10.00–18.00 and Saturday, 10.00–14.00.
Tourist information:
Umeå Tourist Office
Address: Renmarkstorget 15
Tel: +46 90 16 16 16
Opening hours:
Mon-Fri 10-17,
Sat 11-15.
www.visitumea.se
Read more
Section in Umeå
Do & See
In Umeå, with the forests, the sea and the river, lots of exciting outdoor experiences awaits you just around the corner. The Tourist Information Centre is happy to help with suggestions and advice. At their web site - www.visitumea.se - you will find more information and can also book activities online.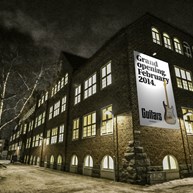 Guitars - The museum
Umeå brothers Samuel and Michael Åhdén possess one of the world's largest privately owned collections of guitars and starting in 2014 the whole world has a chance to see it. You can visit the experience-based, interactive exhibition of electric guitars, basses, amps and music accessories at Umeå Guitar Museum. The museum houses about 500 exhibits altogether. Alongside the exhibition the museum arranges lectures, temporary exhibitions and presentations of new developments. World stars will also visit the museum during the year and hold 'clinics' – open guitar lessons.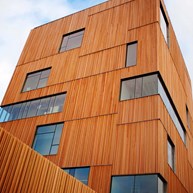 Bildmuseet
In recent years it has established itself as one of the country's leading museums for photography and the visual arts. Painting, sculpture, drawings, graffiti, video and installations, but also photojournalism, design, architecture and the world of scientific images are presented in about 15 exhibitions per year. The museum´s new seven – story building enjoys phenomenal views. Along with its shop and café the museum is by the Umeälven river. Entrance is free.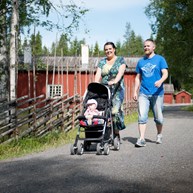 Västerbottens Museum
The basic exhibitions in Västerbotten's museum deal with the county's ancient past, its cultural history, the life of settlers and reindeer husbandry. The photographer Sune Jonsson's fantastic pictures of the agricultural landscape of Norrland are also to be found here. Gammlia is a hive of activity in the summer. Historical buildings have been moved here from various parts of the county, and together with the farm animals and the people living in the cottages who are dressed in keeping with the period, they create an authentic environment.
Umeå - with a lot of passion
Umeå - with a lot of passion.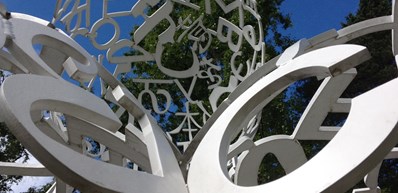 Umedalens skulpturpark
Skulpturparken, Sculpture Park, which is located in the former hospital compound in Umedalen, is considered to be one of Europe's most distinguished sculpture parks and is also one of Västerbottens most visited sites in the summer. More than 150 Swedish and international artists has since the start in 1994 exhibited their works in Umedalen Skulptur, an exhibition that is organized every summer. Today there are also 26 purchased and permanent works in the park. Skulpturparken also has a garden landscape in connection with the IKSU Spa, Umeå's so-called cultural spa. The garden is created by one of Sweden's famous landscaping artists, Ulf Nordfjell. Skultpturparken is open to everyone year-round seven days a week.
Women's history museum
The Women's history museum, the only one of its kind in Sweden. To highlight structures and ideas about male and female, the new museum will raise the profiles of women in historiography. It will be a living museum that attracts repeated visits. The Women's history museum will surprise. It will also twist and turn aspects and perspectives. It is to be a place for action, laughter and debate.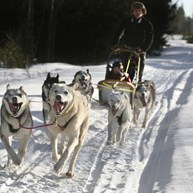 Dog sled
A trip with a dog team, wrapped up in warm blankets under the northern lights, is a superb way of experiencing the countryside of Norrland. Perhaps you'll encounter an elk or a reindeer? Hedlunda Husky (picture) and Aurora Borealis.
Älgens Hus (Elk Farm)
Älgens Hus in Bjurholm, 45 minutes from Umeå, gives you the chance to get really close to the king of the forest you might even be able to stroke or feed him? The farm produces elk cheese which it goes without saying is available for purchase. Prebooking wintertime is required.