Gran Canaria Tourist Board
Gran Canaria
The guide was updated:
Gran Canaria's more than the sum of its famous beaches, where holidaymakers assume the horizontal position to best enjoy one of the world's most-celebrated climates. For a start, it's not difficult to see why its capital Las Palmas de Gran Canaria was named after the island's palms. They are as here, there, and everywhere as orange trees in Seville. If you think of active sports in GC, you'll probably think of diving and surfing. But head towards the island's interior to climb. It's even possible to ascend Roque Nublo, Gran Canaria's iconic Cloud Rock. Little wonder then that GC's dubbed the miniature continent.
Facts
Population:
838,397
Currency:
1 Euro = 100 cents
Emergency numbers:
112
Newspapers:
Canarias 7
La Provincia
The Canary News
Website:
www.grancanaria.com Facebook: www.facebook.com/MyGranCanaria Twitter: @gctourism
Opening hours:
On weekdays, shops generally open from 9.00 am until 1.00 pm and then again from 4.30 pm until 8.30 pm. At weekends, most only open in the morning on Saturday. Those in the resort areas generally open seven days a week. Over the Christmas and New Year period, shopping centres extend their opening hours to accommodate the extra trade with some staying open until as late as midnight.
Tourist information:
Patronato de Turismo de Gran Canaria
Address: C/. Triana 93, 35002, Las Palmas de Gran Canaria
Tel: +34 928 219 600
E-mail: dpromoc@grancanaria.com

Oficina Información Turística Aeropuerto de Gran Canaria
Address: Llegadas Comunitarias, Puerta A, Aeropuerto de Gran Canaria, 35230, Telde
Tel: +34 928 574 117
E-mail: cit@grancanaria.com

Centro Insular de Turismo
Address: Avda. España, Esquina con Avda. EE.UU. (Centro Comercial Yumbo), 35100, Playa del Inglés
Tel: +34 928 771 550
E-mail: cit@grancanaria.com

Oficina de Turismo de Cruz de Tejeda
Address: Cruz de Tejeda, Puesto nº 2 , 35328, Tejeda
Tel: +34 928 666 334
Read more
Section in Gran Canaria
Do & See
Whilst the temptation to work on that tan might prove an impossible one to resist, especially given Gran Canaria's all-year-round sunshine, here's why you should drag yourself off that sun lounger. There's just so much to see and do on the island. Here are 20 recommendations for you to add to your itinerary. 1.) Dunas de Maspalomas 2.) Las Palmas de Gran Canaria 3.) Protected natural spaces 4.) Taste Gran Canaria 5.) Jardín Botánico Viera y Clavijo 6.) Archaeological heritage 7.) Las Palmas de Gran Canaria's museums 8.) Carnivals 9.) Theme Parks 10.) Nautical activities 11.)Land activities 12.) Golf 13.) Spas 14.) Traditional sports 15.) Party like a Canarian 16.) Gran Canaria, the Rainbow Isle 17.) ARC 18.) Coffee 19.) Cave communities 20.) Rural accommodation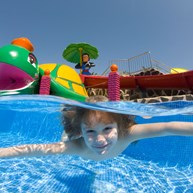 Aqualand Maspalomas
Gran Canaria's largest water park boasts over 40 slides and attractions. It's fun for all the family, from infants up to grandparents. There's so much to do and see at Aqualand Maspalomas, that it's a day out in its own right.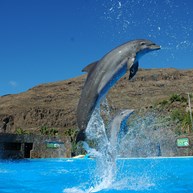 Palmitos Park
Bird species from every continent, exotic flora and spectacular shows awaits you at this Gran Canaria icon. To save money, you can buy a combined parks ticket which also allows you entry to Aqualand Maspalomas.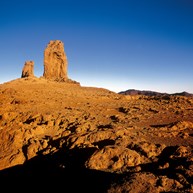 Roque Nublo
Roque Nublo is a landmark which is a must see in Gran Canaria. Thousands of rock climbers and tourists visit this each year. It is simply beautiful. Park your car at the La Goleta car park and follow a well-signposted path.
Families in Gran Canaria
Families in Gran Canaria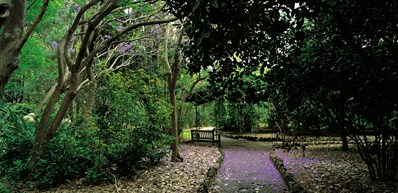 Jardín Botánico Viera and Clavijo
Also known as the Jardín Canario, this botanic garden is a great place for a stroll. Start from the bottom and work your way up or the other way around. Whichever way you choose to explore, you'll easily spend a couple of hours here.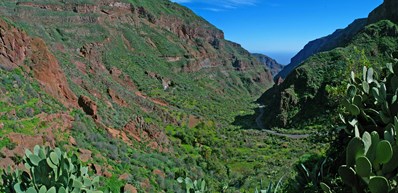 Barranco de Guayadeque
If you love to get up close and personal with nature, then the Guayadeque ravine is paradise for you. Here you will find almost 2,000 different plant species and many historical remains.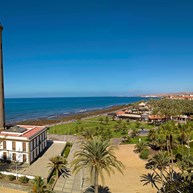 Faro de Maspalomas
Travelling to Maspalomas lighthouse and walking on the beach and amongst the shops makes for a lovely evening. Try to catch the sunset and enjoy the view with a leisurely drink or bite to eat.