Paphos
The guide was updated:
Pafos is a magical city rich with fascinating things to see and areas of exquisite natural beauty. All sorts of ancient ruins can be found here and the city is just a short journey from the untouched Akamas Peninsula, a staggering region of dramatic bays, gorges and incredible views – so what are you waiting for?
Facts
Population:
90,000
Currency:
1 EURO, € = 100cent
Emergency numbers:
112
Pafos General Hospital: +357 26803260, +357 26306100
Website:
www.visitpafos.org.cy www.visitcyprus.com
Opening hours:
Office Hours 8.00am to 17.00pm
Shopping Hours June to October 9.30 to 21.00 (Every Day)
April to May 9.30 to 20.00 (Every Day)
November to March 9.30 to 19 (Sunday Closed)
Tourist information:
Tourist information office Pafos
Address: Gladstonos 3, Pafos
Postal Code 8046
Tel: +357 26932841
Email: information_officepafos@visitcyprus.com
Website: www.visitcyprus.com

Tourist information office Kato Pafos
Address: Poseidonos 63 A
Postal Code 8042
Tel: +357 26930521
Email: informationkatopafos@visitcyprus.com
Website: www.visitcyprus.com

Pafos Regional Board of Tourism
Website: www.visitpafos.org.cy
Read more
Section in Paphos
Do & See
Pafos has something for everyone, whether you are a sun seeker, explorer or someone looking for a relaxing holiday with great scenery. There are so many reasons to visit this beautiful part of Cyprus.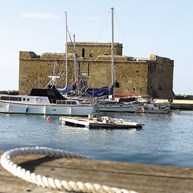 Pafos Medieval Castle and Harbour
The harbour area of town is a busy bustling centre of activity, here visitors can either sit and enjoy snacks and drinks, or tuck into delicious freshly caught fish at one of the many seafood restaurants. Here one can also book direct for the many fun water sport activities, also day boat trips etc. Dominating the area is the medieval castle which has been a solid presence here since the 13th century. During its long history it has acted as a protector of the town with men having been stationed there to watch for potential sea faring marauders, it has also been used as a prison and during British rule was the main storage area for salt supplies. Now it performs an important role as a stunning backdrop for the many cultural music, dance, and pop concerts that take place during the summer months.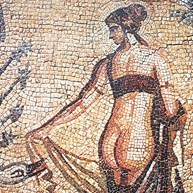 Pafos Archaeological Park
Close to the entrance of the harbour one can access this quite stunning park which houses a truly unique collection of remarkable treasures dating from as far back in time as the 2nd century B.C. The key monuments on display include the Saranta Kolones or forty columns, the basilica of Chrysopolitissa, the Hellenistic theatre, a magnificent 2nd century Roman Odeon built entirely of perfectly hewn blocks of limestone, and today is still a venue used by visiting theatre companies and musicians. There is also the temple to Askilipios the God of medicine, our jewel in an already well encrusted crown has to be the Pafos mosaics. These wonderful examples of mosaics floors which graced the floors of the rich Roman villas date back to the 3rd and 5th century AD and are recognised as the finest examples in the eastern Mediterranean of this 'floor art'. Each of the scenes depicted originate from Greek mythology although only the floor art still survives these four villas must have been truly sumptuous palaces.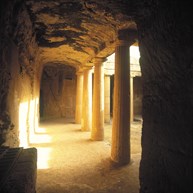 The Tombs of the Kings
Just off the Tomb of the Kings road lies a huge area which dates back to 300 BC here was the last resting place for top officials and members of Paphian aristocracy, each would have been laid in burial niches along with jewellery and other artefacts relating to their life etc but these tombs were looted many many years ago leaving behind only an echoing and very powerful sense of stillness and a certain mystery. The tombs were carved out of solid rock and with frescoed walls, and looming Doric columns line the 100 tombs which have been unearthed. This site is well worth a visit and best examples can be seen if you visit the atrium area.
Pafos, for the Cultural Lover
EU Capital of Culture 2017, Birth Place of Aphrodite, UNESCO Heritage Listed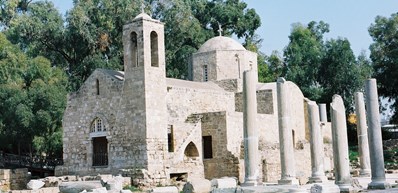 Early Christian Basilica-St Paul's Pillar
A few minutes' walk from the harbour is the Ayia Kyriaki Chrysopolitissa, in the grounds of this lovely old church is the pillar which during his visit to Pafos in 45 AD in company with Barnabas as Christian missionaries, Paul was dragged to the church tied to a pillar and received forty lashes. The pillar is there today for pilgrims to view and despite the lashings Paul received, the then Roman proconsul Sergius Paulus after meeting with Paul was indeed converted to the Christian faith.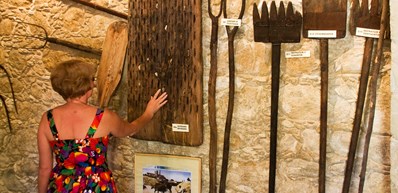 A visit to Pafos Old Town
This is a hugely enjoyable outing which is best done on foot, here you can wander the local market where everything is sold from fruit and vegetables, fish and jewellery, scarves and lace. Not forgetting to also pop into what is considered to be one of the very best places to appreciate our local arts and crafts, also winemaking, don't miss the entrance which is just a few minutes round the corner from the market and it is called THE PLACE which will surely delight all ages in that it has managed to perfectly create an atmosphere of pride and great joy in everything from the making and selling of homemade preserves, to the promotion of unique Cypriot made handicrafts, and where one can also admire the art of the Icon painter, this has to be the perfect PLACE for the purchase of some truly unique holiday mementos. Should your interest is to watch how Cypriot recipes are cooked pop at the Pafos Gastronomic Center. There you can taste local food and learn how to cook hidden Cypriot recipes
Pafos, a good reason for all seasons
Beautiful countryside, a cosmopolitan resort, historic sights as well as sporting activities, the Pafos region has something for everyone at any time of year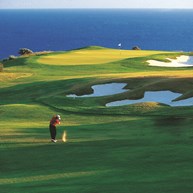 Teeing off?
Then there is no shortage of golf courses we have four excellent courses within the region and all are recognised internationally as being first class, the added bonus we have is that the game can be played all year round as we are indeed blessed with weather which really doesn't require one to carry a golf umbrella.