Aleksandr Zykov
Ho Chi Minh
The guide was updated:
Located near the Mekong River, Ho Chi Minh City is the largest and most exciting city in Vietnam. With a population now almost 8 million people, it's one of the densest urban areas in the world and it's common to see houses where several families share the same living space. For a foreigner, visiting Ho Chi Minh is a real experience! It's a vibrant and an 'in transition' city. You'll be fascinated by its rich cultural and quite recent traumatic history, mixed in with its current modernization. Unlike other cities in Vietnam, Ho Chi Minh is also very active at night, with many bars and restaurants to entertain you!
Facts
Population:
7,750,900
Currency:
Vietnamese Dong (VND)
Emergency numbers:
Police 113
Fire Brigade 114
Ambulance 115
Newspapers:
Sai Gon Giai Phong (Liberated Saigon)
Tuoi Tre (Youth)
Nguoi Lao Dong (Labourer)
The Thao (Sports)
Saigon Times Daily
Website:
www.vietnamstay.com
Opening hours:
Government: 7.30 am-4.30 pm (excluding one-hour lunch). Closed on Saturday and Sunday.
Banks: 7.30 am or 8 am-11.30 am and 1 pm-4 pm. Closed Saturday and Sunday.
Private shops: 8 am or 8.30 am-9 pm or 10 pm.
Tourist information:
Head office
45 Le Thanh Ton street, District 1
+ 84 8 38 27 9279
Read more
Section in Ho Chi Minh
Do & See
The best way to see Saigon and its districts is on foot. Most major tourist attractions are in District 1. There you'll find the History Museum or the famous Ben Thanh Market. You will also find find many beautiful temples and gorgeous architectural buildings in the city. To truly understand the meaning of the temples and buildings around, visit the Museum of History which houses 2, 000 years of Vietnam's history. Stroll around the city and discover the smaller lovely districts to find your own favourite.
Do & See
Museum Of History (bao Tang Lich Su)
Bao Tang Lich Su first opened its doors in 1929. The Museum houses a unique collection of artefacts from Vietnam's two thousand years of recorded history. A statue of the Buddha with 1,000 eyes and 1,000 arms is also part of this superb collection.
Unification/independence Palace (dinh Doc Lap)
The former presidential palace is a fascinating building preserved almost exactly as it was in 1966. It is significant for its role in the Vietnam conflict.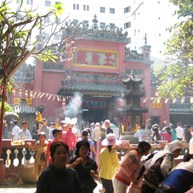 Emperor Jade Pagoda (den Ngoc Hoang)
There are many beautiful pagodas (temples) in Ho Chi Minh and Emperor Jade is considered by many to be the finest and most lavishly decorated. The architectural style is heavily influenced by southern China.
Cho Lon (Chinatown)
Separated from the main section of the city by the Saigon River, this is one of Saigon's oldest and most mysterious parts. Don't miss the overwhelming Binh Tay Market where you'll get uncanny glimpses into everyday life in Saigon. Touring the bustling place in the morning is a real experience! Cho Lon is also home to some of the best Pagodas in town, Quan Am is the oldest one.
Do & See
Vinh Nghiem Temple
This is a seven layer temple and southern Vietnam's most majestic one. It was the first pagoda in Vietnam that was built in Vietnamese traditional architecture style but with concrete.
Notre Dame Cathedral
The Catheadral was built by the French in the 19th century with bricks shipped from Marseille. This place gives you a taste of France in the heart of Ho Chi Minh Ville!
Do & See
Cao Dai Temple
If you have time, a day trip to Tay Ninh, the centre of the Cao Dai religion is fascinating. The breathtaking temple is the main attraction.