Aleksandr Zykov
Ho Chi Minh
The guide was updated:
Located near the Mekong River, Ho Chi Minh City is the largest and most exciting city in Vietnam. With a population now almost 8 million people, it's one of the densest urban areas in the world and it's common to see houses where several families share the same living space. For a foreigner, visiting Ho Chi Minh is a real experience! It's a vibrant and an 'in transition' city. Unlike other cities in Vietnam, Ho Chi Minh is also very active at night, with many bars and restaurants to entertain you!
Facts
Population:
7,750,900
Currency:
Vietnamese Dong (VND)
Emergency numbers:
Police 113
Fire Brigade 114
Ambulance 115
Newspapers:
Sai Gon Giai Phong (Liberated Saigon)
Tuoi Tre (Youth)
Nguoi Lao Dong (Labourer)
The Thao (Sports)
Saigon Times Daily
Website:
www.vietnamonline.com
Opening hours:
Government: 7.30 am-4.30 pm (excluding one-hour lunch). Closed on Saturday and Sunday.
Banks: 7.30 am or 8 am-11.30 am and 1 pm-4 pm. Closed Saturday and Sunday.
Private shops: 8 am or 8.30 am-9 pm or 10 pm.
Tourist information:
Head office
45 Le Thanh Ton street, District 1
+ 84 8 38 27 9279
Read more
Section in Ho Chi Minh
Do & See
The best way to see Saigon and its districts is on foot. Most major tourist attractions are in District 1. There you'll find the History Museum or the famous Ben Thanh Market. You will also find find many beautiful temples and gorgeous architectural buildings in the city. To truly understand the meaning of the temples and buildings around, visit the Museum of History which houses 2, 000 years of Vietnam's history. Stroll around the city and discover the smaller lovely districts to find your own favourite.
Do & See
Museum Of History (bao Tang Lich Su)
Bao Tang Lich Su first opened its doors in 1929. The Museum houses a unique collection of artefacts from Vietnam's two thousand years of recorded history. A statue of the Buddha with 1,000 eyes and 1,000 arms is also part of this superb collection.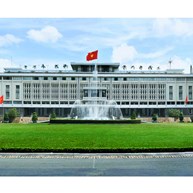 Reunification/Independence Palace (Dinh Doc Lap)
Located just 6-minute walking from Saigon Notre Dame Basilica, Independence Palace, also known as Reunification Palace, is another must-not-be-missed destination in Vietnam's second largest city. The today's Independence Palace was actually first designed by French architecture, then officially constructed on 23 February 1868 with a name of Norodom Palace, and finished after 3 years. This is where a lot of French and Japanese colonist-generations used to work and live during the colonial period before 1954. The Palace was designed with a concept of modern western architecture mixed with symbolic traditional eastern art. The Independence Palace also has a tremendous historical and cultural value reminding people of a striking event shocking the whole world at that time. Tourists nowadays are attracted not only by the Palace's historic value but also by its aesthetic surroundings. Walking through the giant cages, ones can see a huge neat lawn full of freshly-mown green grass with an ornamental fountain in the center. The best thing to do is then taking a memorable picture which can capture the whole palace with green grass and the water fountain.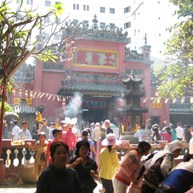 Emperor Jade Pagoda (den Ngoc Hoang)
There are many beautiful pagodas (temples) in Ho Chi Minh and Emperor Jade is considered by many to be the finest and most lavishly decorated. The architectural style is heavily influenced by southern China.
Cho Lon (Chinatown)
Cho Lon, also well-known as China Town, is a must-see destination in Ho Chi Minh. The place is where Chinese immigrant people (yet they can speak Vietnamese really fluently) are staying and earning their living. In Cho Lon, the biggest and most crowded hub of trading is Tan Binh Market, where sells a lot of clothing, arts and handicrafts with an incredibly cheap price. The best time to visit Cho Lon is when local people celebrating Chinese New Year Festival. During Tet Holiday, all the restaurants, cloth shops are lavishly decorated with multi-colored lanterns, red Eastern parallel sentences. The whole streets seem to be overwhelmed with one single red color. One another activity in Tet Holiday that need to be noticed is Lion Dance performed by local people. Lion Dance is a traditional ritual performed to bring good luck for a new year, in which two men dance costumed in a large ornamental artificial lion head and body. Cho Lon is also an interesting place which can offer tourists a newfangled experience of huddling through a crowd in Tan Binh Market, and trying to haggle with local shopkeepers over some beautiful handicrafts.
Do & See
Vinh Nghiem Temple
This is a seven layer temple and southern Vietnam's most majestic one. It was the first pagoda in Vietnam that was built in Vietnamese traditional architecture style but with concrete.
Notre Dame Cathedral
The Catheadral was built by the French in the 19th century with bricks shipped from Marseille. This place gives you a taste of France in the heart of Ho Chi Minh Ville! For a bit of history, Saigon Notre Dame Basilica was not the first church in town, the very first church was built on today's Ngo Duc Ke Street. However, in order to fully meet the religious and community need of French colonists, commander-in-chief Bonard decided to build a wooden church in 1863 which was shortly attacked by termites. In 1876, South Vietnam Admiral Duperré organized a design competition for the new church which is today's Saigon Notre Dame Basilica and architecture J. Bourad won the competition and then was responsible for the construction of the church as well. In 11th April 1880, the official inaugural ceremony took place. 15 years after, the very most unique features of the Church – the two 60-meter high bronze bell towers were then added in to magnify the Church's beauty. As one may not know, the Notre Dame was the harmonious combination of Roman architecture and the late medieval Gothic features. Until now, the Church still remains its untouched state due to special bricks which were designed and created originally in French and directly transported to Vietnam. Notre Dame Cathedral Saigon is now becoming a popular gathering spot for young generations in Ho Chi Minh and it is considered the idiosyncratic symbol when people first think of Saigon.
Do & See
Cao Dai Temple
If you have time, a day trip to Tay Ninh, the centre of the Cao Dai religion is fascinating. The breathtaking temple is the main attraction.