c.hug
Agadir
The guide was updated:
With approximately 340 days of sunshine and six kilometres of soft white sands, Agadir is Morocco's premiere beach resort! Nestled among the verdant valleys of the Great Souss and with the majestic range of the Anti-Atlas rearing up behind it, this modern, cosmopolitan city has all the attendant pleasures, thrills and luxuries you can ask for.
Facts
Population:
750,000
Currency:
Moroccan dirham (Dh) 1 dirham = 100 centimes
Emergency numbers:
Police / Fire / Medical: 190
Newspapers:
www.ahdath.info/ (Arabic)
Website:
www.visitmorocco.com
Opening hours:
Banks: 08.30-11.30 & 14.30-16.30 Mon-Fri
Business: 09.00-13.00 & 15.00-19.00 Mon-Sat
Tourist information:
Office National Marocain de Tourisme (ONMT)
On the upper level of Building Iguenouane
Corner of avenue du Prince Moulay Abadallah and avenue Prince Sidi Mohammed

Opening hours: 08.30-12.00 & 14.30-18.30 Mon-Thu, 08.30-11.30 & 14.30-18.30 Fri

Phone: +212 28 846 377
Read more
Section in Agadir
Do & See
To get a taste of the hustle and bustle of old Agadir, head down to the port where you can watch the fishermen bring in the daily catch, head out to the souk and do a spot of bartering, or trek up to the remains of the 16th-century Kasbah and take in the spectacular sights of the bay.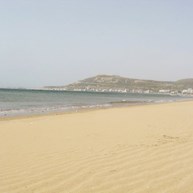 Agadir Beach
Agadir's top attraction is the six mile crescent shaped beach, soak up the sun, splash in the surf and enjoy! Speaking of surf - there are many places in Agadir that are well suited for surfing, a few examples are Devils rock, Imesouane bay and Ankhor point. If you are interested in learning to surf there are a number of schools and camps to help you get started.
Do & See
Kasbah
Built in 1540, all that remains of the old Kasbah are the fortified walls, however, the trip up the hill to this historic site is worth it for the view alone. Engraved into the hill in Arabic are the words God, King and Country. The Moroccans are prohibited to speak anything bad about any of these three things. If you are interested in history you can easily find a professional guide here to take you on a tour.
Souk al-Had
Immerse yourself in the sights and sounds of Agadir's walled souk and get ready to barter for your souvenirs! A "souk" is a term of a central, local market in an Arabic city selling spices, textiles and jewellery. If you take a taxi to the Souk al-Had you should ask for it by name, since some taxi drivers take you to their own personal souk. You recognize the real souk by its ochre wall and the numbered gates.
Do & See
Fishing Port
If you're looking to taste the hustle and bustle of a typically Moroccan town, then head for the fishing port. It is a great place to wander around, take pictures and maybe buy your own fish that you can cook at home.
La Médina d´Agadir
La Médina d´Agadir is a fascinating reconstruction of a typical Moroccan Berber village. It was built using traditional building techniques and local materials. Today, visitors can stroll the alleys and shop in the many small boutiques.
Do & See
Museum Municipal Amazigh
This museum offers a fascinating insight into the culture and art of the Berbers, the original inhabitants of Morocco. You can see a collection of old Berber music instruments, carpets, architecture, pottery, jewellery and traditional clothing from the 18th and 19th century.
Do & See
Port de Plaisance Marina
Don't miss this beautiful marina located south of the commercial port, surrounded by shopping and new condos. This marina was made in 2008 and has supermarkets and fresh markets close by.