Sundsvall
The guide was updated:
Welcome to Sundsvall – The capital of Norrland
Sundsvall is the destination for those who want to embellish a holiday to Norrland with shopping and entertainment. Today, this is home to Norrland's largest city mall plus Birsta Shopping Centre which is one of Sweden's largest out-of-town retail centres. Nowhere north of the river Dalälven has more life and activity. In the midst of the northern nature, and at the heart of everything, is perhaps one of the country's most beautiful city centres with rich ornate post-renaissance stone buildings. Raise your eyes towards the beautiful facades and enjoy!
Facts
Population:
Muncipality about 100 000
Currency:
Swedish crowns (kronor) SEK 1 = 100 öre
Emergency numbers:
112
Newspapers:
Sundsvalls Tidning
Dagbladet
Sundsvalls Nyheter (Every Friday)
Website:
www.visitsundsvall.se www.sundsvall.se
Opening hours:
In: Galleria Mon-Fri 10.00-19.00 Sat 10.00-17.00 Sun 12.00-16.00
Birsta City Shoppingcentre 10.00-20.00 Sat-Sun 10.00-18.00
Tourist information:
Sundsvalls Tourist office
Stadshuset
Stenstan Visitor Center

Address: Stora Torget
Opening hours:

1 September–31 May:
Monday–Friday 10 am–6 pm
Saturday 10 am–4 pm

1 June–31 August:
Monday–Friday 10 am–7 pm
Saturday 10 am–4 pm
Sunday 12-4 pm

Day before public holiday open to 3 pm

Public holidays closed

Tel: +46 60 658 58 00
More info: info@visitsundsvall.se
www.visitsundsvall.se
Read more
Section in Sundsvall
Do & See
Experience more! There's a lot to see in the Sundsvall region. The natural attractions are just as fascinating as the historical sites. And don't miss the Stone City…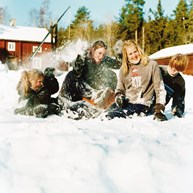 Norra Berget
Norra Berget in Sundsvall exhibits part of the cultural history of Medelpad in a beautiful, living environment. You can wander around among the old Medelpad buildings in the open-air museum, enjoy the view of Sundsvall and visit a living mountain pasture where the goats are milked and cheese made. Stroll around on your own or take a guided tour.
Do & See
Merlo Slott
The grand, fairytale castle-like main building in Timrå was built in 1883–1885 as the summer residence for the timber magnate Fredrik Bünsow. At this time he was one of Sweden's most powerful timber magnates. The architects were Isak Gustaf Clason and Fritz Eckert. The former is known as the architect behind buildings such as Nordiska museet and Hallwyl House in Stockholm. The beautiful castle is now a listed ancient monument.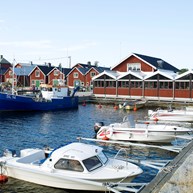 Turistväg Kustvägen
Experience summer in Sweden at its very best. Kustvägen is a unique road that runs through North East Hälsingland and South East Medelpad. Along the route you will find a treasure trove of exciting places that all have something to offer everyone. Stroll through a fishing village, find out about our proud industrial heritage or take a seat at one of the wonderful restaurants and cafes along Kustvägen.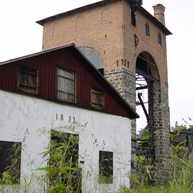 Galtströms Järnbruk
Galtströms Järnbruk on the Njurunda coast is not only Medelpad's oldest ironworks, but also its biggest and last ironworks. The works was founded in 1673 and ceased operation in 1916. The well-preserved historic industrial environment is a fascinating ancient monument of national interest. The forestry museum has photos of the glory days of the works. Galtström church, which dates from 1680, is one of Sweden's best preserved industrial churches and well worth a visit. Industrial history is not usually something for children, but there is even a Galtström for children. They can run around and meet the animals in their enclosures. In the summer they can pat or stroke cows, lambs, chickens and rabbits.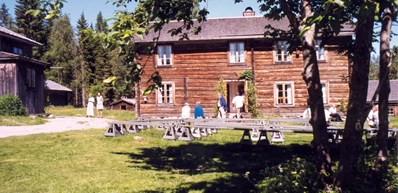 Gudmundstjärn
30 km west of Sundsvall is one of the last preserved self-subsistent households in Sweden. Between 1779 and 1944 the fields here were farmed by five generations with no roads. The 22 buildings preserved are listed and the area is a nature reserve.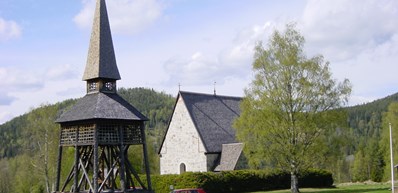 Turistväg Indalsleden
Main roads 86 and 87 between Sundsvall and Östersund are called Indalsleden and said to be one of the most beautiful tourist routes in Sweden. The entire route along the Indalsälven valley is an outdoor activities eldorado. If you are interested in history, you have many opportunities to stop and see old rural culture, museums, nature information centres and ancient remains.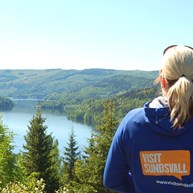 Vättaberget
The mountain Vättaberget, 50 km west of Sundsvall, gurantee a fantastic view over the river Indalsälven. This is also one of the most photographed views in Sweden. In addition to ravishing nature scenery, there are interesting cultural environments here in the form of old houses, log cabins on stilts and a preserved smithy.
Do & See
Döda Fallet
An hour's drive from Sundsvall is one of Jämtland's most popular tourist destinations, which has only existed since 1796. One of the country's worst natural disasters occurred then. In four hours, the entire lake Ragundasjön disappeared. A destructive wave was generated that caused the beautiful rapids of Storforsen to dry out. The dead waterfall, Döda Fallet, was created. The man behind this drama was Magnus Huss, known as Vildhussen.