Bratislava
The guide was updated:
Bratislava - the little big city.
With fewer than half a million people, Bratislava ranks to Europe's most relaxed capitals, because everything is in close vicinity, reachable within few minutes walking distance. Even other 2 capital cities are very close - Vienna (80km) and Budapest (200km) - reachable also by a boat on the river Danube. Besides, the city itself has its old-town charm, sophisticated restaurants, traditional pubs, good music ranging from jazz to opera, stylish people, and a human scale which means that as a visitor you will not spend half your day trekking in and out of underground stations or getting from the airport into town. All this plus Central Europe's greatest river as a backdrop. What more could you want?
Facts
Population:
411 228 (2011)
Currency:
Euro (EUR), €1=100 cents
Emergency numbers:
Police 158, 112
Fire and rescue service 150, 112
Ambulance service 155, 112, 16 155
City police 159,
+421 2 599 806 11, fax: +421 2 5441 8221
Website:
www.visitbratislava.eu
Tourist information:
City centre
Klobučnícka 2, P.O. Box 349, 810 00 Bratislava
Tel.: +421 2 16 186
touristinfo@bratislava.sk
IV – X: 9.00 - 19:00 1 – 7
XI – III: 9.00 - 18:00 1 - 7

M. R. Štefánik Airport / Letisko M.R . Štefánika
Ivánska cesta
Tel.: +421 2 38 103 988, letisko@bratislava.sk
Opening hours upon the applicable aviation timetable
Read more
Section in Bratislava
Do & See
Bratislava is not just the political, but is also the cultural and sporting capital of Slovakia. Owing to its historically multi-ethnic character, the city's cultural scene is a product of various influences: German, Slovak, Hungarian, and Jewish, among others. Bratislava boasts numerous theatres, museums, galleries, concert halls, cinemas, film clubs, and foreign cultural institutions. It also has the country's biggest football and ice hockey teams, a purpose-built white-water rafting centre on the Danube, and numerous walking and cycling trails in or near the city. High-quality spa and relaxation facilities, increasingly popular throughout Slovakia, are easily accessible. Bratislava has numerous coffee shops and restaurants, offering international as well as Slovak cuisine, as well as lively bars and clubs.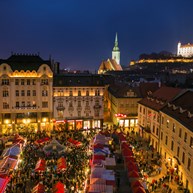 Traditional Christmas markets
November 20th and December 22rd Enjoy the advent atmosphere on the squares and streets of the Old town. Taste the traditional slovak delicacies and warm up your body with christmas punch, honey schnaps or hot wine made of red or black currant.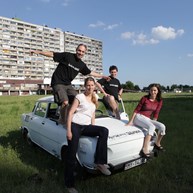 Post socialist city tour
Funky retro tour in a legendary 70's Czechoslovak Škoda car (or minivan) through off-the-beaten-track places of communist past and recent transformation in Bratislava.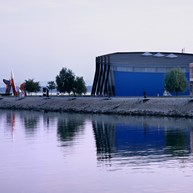 DANUBIANA Meulensteen Art Museum
Modern art gallery located on the edge of a peninsula where the mighty Danube flows. One of the youngest museums of modern art in Europe. The River Danube has lent the museum its name and the rest is the result of the enthusiasm and initiative of the Slovak gallery owner Dr. Vincent Polakovič and the financial resources of the Dutch collector and art patron Gerard H. Meulensteen. Also reachable by scenic bicycle via cyclo-path from Bratislava city centre.
Bratislava main video spot
Bratislava main video spot. The video spot with reflections of Slovakia's capital city - Bratislava - general overview of the nature, historical, cultural and other main attractivities of the city.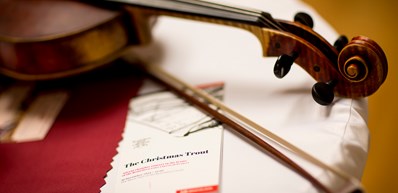 Bratislava goes classical
The Bratislava Goes Classical project is a new art and marketing project of the destination management organization of Bratislava – the capital city of the Slovak Republic / The Bratislava Tourist Board. Its task is to present the unique classical music production such as Opera, Ballet, Philharmonic and chamber concerts on one spot - the new wep portal http://www.bagoclassical.sk The visitor and fan of classical music gains this way an easy access to all events related to this music genre without having to search on diferrent pages and bulletins. The project seeks to enlarge the possibilities for tourists to spend their free time in Bratislava enjoying products of the classical music.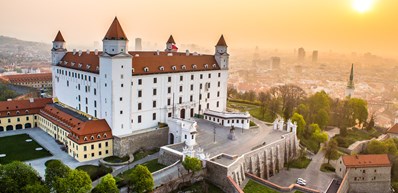 Bratislava Castle
A national historical monument has a strategic location which was settled in the Celtic and Great Moravian periods. The architecture of the castle was mostly influenced by reconstruction works during the Gothic and Renaissance periods and during the reign of Maria Theresa. In 1811 it burned down. It was reconstructed in the 1960s.
Chill out in exciting Bratislava city
Chill out in exciting Bratislava city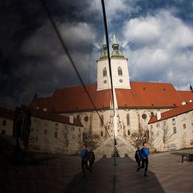 St. Martin's Cathedral
St. Martin's Cathedral is a national historic monument; a Gothic church with several chapels, consecrated in 1452. Between 1563 and 1830, 11 Hungarian kings and 8 queens were crowned here. The cathedral tower rises to a height of 85 metres and is topped off by a gold-plated replica of the royal Hungarian crown.