Bratislava
The guide was updated:
Bratislava - the little big city.
With fewer than half a million people, Bratislava ranks to Europe's most relaxed capitals, because everything is in close vicinity, reachable within few minutes walking distance. Even other 2 capital cities are very close - Vienna (80km) and Budapest (200km) - reachable also by a boat on the river Danube. Besides, the city itself has its old-town charm, sophisticated restaurants, traditional pubs, good music ranging from jazz to opera, stylish people, and a human scale which means that as a visitor you will not spend half your day trekking in and out of underground stations or getting from the airport into town. All this plus Central Europe's greatest river as a backdrop. What more could you want?
Facts
Population:
432 801 (2010)
Currency:
Euro (EUR), €1=100 cents
Emergency numbers:
Emergency situations and Police 158 / 112
Fire brigade 150 / 112
Ambulance 155 / 112
Website:
www.visitbratislava.eu
Tourist information:
Klobučnícka ul 2, Bratislava
Mon–Sun 09.00–19.00 (Apr-Oct), Mon–Sun 09.00–18.00 (Nov-Mar)
Tel: +421 2 16 186
E-mail: touristinfo@bratislava.sk
Read more
Раздел в Bratislava
Do & See
Bratislava is not just the political, but is also the cultural and sporting capital of Slovakia. Owing to its historically multi-ethnic character, the city's cultural scene is a product of various influences: German, Slovak, Hungarian, and Jewish, among others. Bratislava boasts numerous theatres, museums, galleries, concert halls, cinemas, film clubs, and foreign cultural institutions. It also has the country's biggest football and ice hockey teams, a purpose-built white-water rafting centre on the Danube, and numerous walking and cycling trails in or near the city. High-quality spa and relaxation facilities, increasingly popular throughout Slovakia, are easily accessible. Bratislava has numerous coffee shops and restaurants, offering international as well as Slovak cuisine, as well as lively bars and clubs.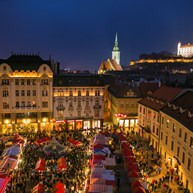 Traditional Christmas markets
November 21st and December 22rd Enjoy the advent atmosphere on the squares and streets of the Old town. Taste the traditional slovak delicacies and warm up your body with christmas punch, honey schnaps or hot wine made of red or black currant.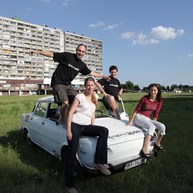 Post socialist city tour
Funky retro tour in a legendary 70's Czechoslovak Škoda car (or minivan) through off-the-beaten-track places of communist past and recent transformation in Bratislava.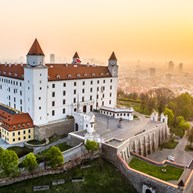 Bratislava Castle
A national historical monument has a strategic location which was settled in the Celtic and Great Moravian periods. The architecture of the castle was mostly influenced by reconstruction works during the Gothic and Renaissance periods and during the reign of Maria Theresa. In 1811 it burned down. It was reconstructed in the 1960s.
Bratislava main video spot
Bratislava main video spot. The video spot with reflections of Slovakia's capital city - Bratislava - general overview of the nature, historical, cultural and other main attractivities of the city.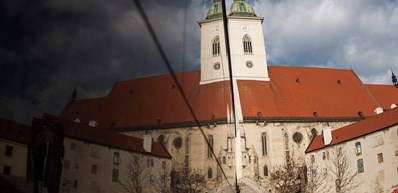 St. Martin's Cathedral
St. Martin's Cathedral is a national historic monument; a Gothic church with several chapels, consecrated in 1452. Between 1563 and 1830, 11 Hungarian kings and 8 queens were crowned here. The cathedral tower rises to a height of 85 metres and is topped off by a gold-plated replica of the royal Hungarian crown.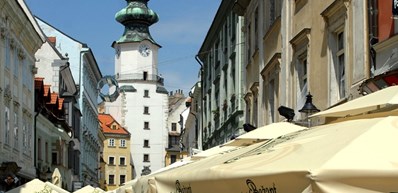 Michael's Tower
A Gothic gate built in the first half of the 14th century; it consists of a square tower with a walkway on the ground floor. After the reconstruction of the tower in 160 - 61, the Town Museum established a Museum of Weapons there.
Chill out in exciting Bratislava city
Chill out in exciting Bratislava city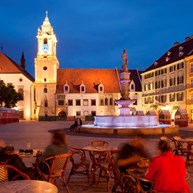 Old Town Hall (Stará radnica)
The Old Town Hall is a complex of various buildings originating from different architectural periods. It housed the self-government of the town headed by the mayor. The Town Hall's core was established in the first half of the 15th century from the house of Mayor Jacob. Since 1868 it has been the seat of the City Museum, housing an exhibition of town history and feudal justice.