tejvanphotos
Rome
The guide was updated:
Rome, known as the Eternal City, has attracted visitors for over 2,000 years. It is one of the most magnificent and romantic cities in the world. Rome has an attractive mix of grandiose sights and bustling city life. Life is sweet—the cake is there for the eating. Italian designer shopping, smooth ice cream, frothy cappuccino and exquisite wines to name but a few things.
Facts
Population:
3.8 million
Currency:
Euro, €1 = 100 cents
Emergency numbers:
Fire brigade: 115
Medical: 118
Police: 113
Opening hours:
Shops in Rome are normally open 9.00-13.00 and 15.00-20.00. Department stores are usually open all day.
Tourist information:
APT Rome
Via Parigi 11, Rome
+39 06 4893 0729
Read more
Section in Rome
Do & See
Rome is one of a kind. No other city - not even Athens, Istanbul, London or New York - has as many world-class sites as Rome. Walking down Via del Fori Imperiali towards the Colosseum will impress even the most spoiled and shopping-crazed teenager. The city has so much to offer. In addition to the Roman heritage there are also Medieval neighbourhoods, well designed squares, colourful markets and of course, the Vatican and St. Peter's Basilica. This Rome guide suggests a few other places that must be seen.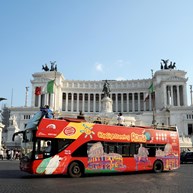 Citysightseeing
From the Trevi fountain to the Colosseum, Rome's abundant sights rival those of any other city on the planet. A tour on CitySightseeing's distinctive red buses represents a tremendous way to see this incredible city for the first time, to get your bearings and to visit many of the major sights in a relatively short time period. Get on board and discover Rome from a different point of view.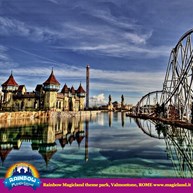 Rainbow Magicland Theme Park
The place to have fun in Rome! Rainbow magicland is the new theme park of the Capital, just 30' away by train from Roma Termini station. The biggest in Italy with 36 attractions (roller coasters, water attractions, 3D Dark Ride, free-fall tower, 4D Cinema, kids playground, 10 live shows, including "Gladiators", etc.), 4 themed restaurants and events every weekend.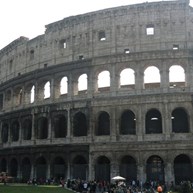 Colosseum
Colosseum is one of the most impressive sights in Rome and one of the world's most famous venues. Many people and animals were killed here, you could see everything from gladiatorial games and drama to killings and battles between wild animals. Emperor Vespasian began the building which was completed by his son Titus. The building was completed in 80 A.D. Inauguration lasted one hundred days, and approximately 9,000 animals and 2,000 gladiators were killed during the event. At its peak this place had 87,000 spectators.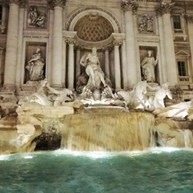 Fontana di Trevi
The fountain is an impressive building situated on the Piazza di Trevi in Rome centre. It was designed by Giovanni Lorenzo Bernini, and was completed by Nicola Salvi in 1762. The fountain became world famous when Anita Ekberg splashing around in the "La Dolce Vita". Today, it is forbidden to bathe in the fountain. Trevi Fountain is a "must" to visit in Rome, and tradition says that you must throw a coin over your shoulder into the fountain and that this will bring happiness. The fountain standing 26 metres (85.3 feet) high and 20 metres (65.6 feet) wide, it is the largest Baroque fountain in the city and one of the most famous fountains in the world.
Do & See
Pantheon
It doesn't look like much from the outside, but once inside it astounds you. This dome and temple, built over 2,000 years ago, is powerful and impressive. Since the Renaissance, the building has also been used as a grave church and among others the painter Raphael (died in 1520) is buried here. The square in front of the Pantheon is called Piazza della Rotonda. It is located near Piazza Navona and Campo de Fiori so take the opportunity to stroll around in this area, there is much to see.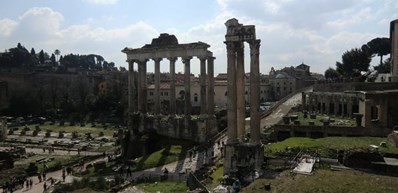 Forum Romanum
Forum Romanum, one of the world's top tourist attractions. It is like a fairy tale with its mosaic of temple ruins, worn marble streets and basilicas. It is located in the valley between the Palatine hill and the Capitoline hill. Forum Romanum was the commercial, political, and religious centre of ancient Rome. It was expanded to include temples, a senate house and law courts. When the Roman Empire fell, the Forum became forgotten, buried and was used as a cattle pasture during the Middle Ages.
Do & See
Galleria Borghese
Rome falls short of Venice and Florence when it comes to art, but this gallery is an exception. The Borghese Gallery, housed in the former Villa Borghese Pinciana shows masterpieces by artists such as Bernini, Titian and Caravaggio. The Villa was built by the architect Flaminio Ponzio.
Piazza Navona
According to some, this is not just Rome's but the world's most beautiful square. Not only because of its statues and fountains such as Lorenzo Berninis' Fontana dei Quattro Fiumi, but because of its dimensions. It is one of Rome's liveliest squares, with many outdoor cafés and restaurants. This large rectangular square still manages to feel intimate.