Gareth Williams
Florence
The guide was updated:
Florence is the beautiful regional capital of Tuscany, and one of the most popular tourist destinations in Italy. It is acknowledged by UNESCO as a World Heritage Site, and stepping onto its historic cobbles it is easy to see why. Cradled between the surrounding hills, the city hosts some of the most famous works of art on the planet and the whole of the city centre is packed with stunning palaces, churches and monuments. The surrounding countryside is well-known for its rolling hills and its wine—particularly the Chianti area between Siena and Florence.
Facts
Population:
366,000
Currency:
1 Euro (€) = 100 cents
Emergency numbers:
Carabinieri: 112
Police: 113
Local police: +39 055 328 3333
Fire brigade: 115
Medical Emergency Service: 118
Newspapers:
La Nazione
Il Giornale di Firenze
La Repubblica
Corriere della Sera
La Stampa
Opening hours:
Shops are usually open from 09.00-13.00 and 15.30-19.30. Closed on Sundays and Mondays morning.
Tourist information:
APT (Tourist Information Board)
Via Cavour 1r
+39 055 290 832 / +39 055 290 833

Piazza Stazione 4
+39 055 212 245 / +39 055 272 8208

Bigallo, piazza San Giovanni 1 (Duomo)
+39 055 288 496

Airport A. Vespucci
+39 055 315 874


Opening hours: Monday-Saturday 08.30-18.30 Sundays and holidays 08.30-13.30
Read more
Section in Florence
Do & See
To meet the spring in Florence is an obvious option, there are not many cities that beat it. In Florence there is so much to see and experience, and to alternate this with a good Italian ice cream make your holiday unbeatable. The historic centre of Florence attracts millions of tourists each year, and it has been ranked as one of the world's most visited by Euromonitor International.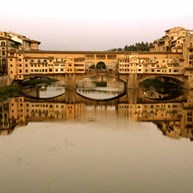 Florence Market Walking Tour
Sample food the way locals do – at the market. Meander through Florence's most vibrant market, sampling delicious local fare including Amalfi olives, cured Tuscan prosciutto, fresh bread, and a glass of wine. Tours run Monday to Saturday. More walking tours are available from Urban Adventures.
Cathedral S. Maria del Fiore
This is a gothic cathedral with Brunelleschi's stupendous dome. Florence's cathedral stands tall over the city. To the right is Giotto's Bell Tower, and the Baptistery of S. Giovanni stands opposite the cathedral entrance.
Do & See
Santa Maria Novella
The church of Santa Maria Novella was built between 1279 and 1357 by Dominican friars, and is located just across from the main railway station which shares its name. Chronologically, it is the first great basilica in Florence. Architecturally, it is one of the most important Gothic churches in Tuscany. Inside the basilica, you will find masterpieces by Masaccio, Giotto and Brunelleschi.
Basilica of Santa Croce
The church is located on the Piazza di Santa Croce and was rebuilt for the Franciscan order in 1294 by Arnolfo di Cambio. Michelangelo is buried in Santa Croce among other great and good in Florence. Basilica di Santa Croce is the principal Franciscan church in Florence, and a minor basilica of the Roman Catholic Church.
Do & See
Basilica di San Lorenzo
If your favourite painter is Michelangelo you shouldn't miss this basilica. This is probably the most exciting place associated with the famous artist in Florence. The Basilica di San Lorenzo is framed by the splendid, square-shaped Old Sacristy by Brunelleschi and the New Sacristy, by Michelangelo. Here you can find his sculptures for the tombs of Lorenzo and Giuliano Medici and fine examples of Mannerist architecture in the Biblioteca Laurenziana.
Chapel Brancacci (Santa Maria del Carmine)
The chapel is famous worldwide for its frescoes of Masaccio. They were a great inspiration for da Vinci and Michelangelo. The visit now includes an excellent interactive audio-visual tour.
Do & See
Uffizi Gallery
This is one of the greatest museums of the world with masterpieces from the 13th to 19th century. The Uffizi is the most important and visited museum in Florence and its most famous works include Botticelli's "Birth of Venus". The name of the Uffizi means offices and the museum was completed in 1581. Since the 17th century, it has been open to visitors and in 1765 it was officially opened to the public.