Hamburg
The guide was updated:
Elbe and Alster, the historic Town Hall, the unique Speicherstadt, the nightlife on the famous Reeperbahn, the traditional Hamburg fish market shape the image of Hamburg, Germany's green city on the water. HafenCity offers modern architecture and the new landmark Elbe Philharmonic Hall. In Hamburg prestige, elegance and modernity are combined to a globally unique atmosphere.
Facts
Population:
1.8 million in the city
5 million people live in the greater metropolitan region of Hamburg
Currency:
Euro, €1 = 100 cents
Emergency numbers:
110 for the police
112 for ambulance and fire service
Newspapers:
Hamburger Abendblatt
Die Zeit
Hamburger Morgenpost
Website:
www.hamburg-travel.com
Opening hours:
From Monday to Saturday the shops are open from 9 a.m or 10 a.m to 8 p.m or 10 p.m. Shops and boutiques located away from the city centre may close earlier.
Tourist information:
Tourist Information in Hauptbahnhof
Kirchenallee Main entrance
+49 40 300 51 300
Opening hours: Mon-Sat 8 a.m- 9 p.m, Sun and public holidays 10 a.m- 6 p.m
Read more
Section in Hamburg
Do & See
Water gives life. People find proximity to water in Hamburg like nowhere else. The city on the water is incomparable and has a unique character. Its maritime flair, fresh air, and Hanseatic cosmopolitanism make Hamburg the finest city in the world for many people. To discover it, embark from the Elbe landing stages (Landungsbrücken) on a round trip through the harbour and the historic Speicherstadt district. You will pass the Elbphilharmonie Hamburg, the city's new landmark under construction, and HafenCity, Europe's largest urban development project.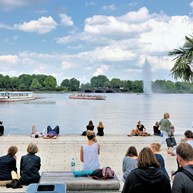 Lake Alster
A 160-hectare lake right in the city centre, surrounded by cafés, parks and walks. There are sculptures both on land and in the lake. There are also an abundance of oak and chestnut trees for nature lovers. It is also possible to rent pedal and rowing boats.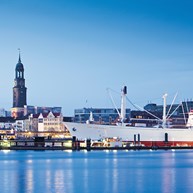 The Harbour
Hamburg's port is not simply a factor in the economy but, being so centrally located, it is also the city's greatest tourist attraction. Located on the waterfront, since 1703 every Sunday morning virtually anything not nailed down firmly has been traded at Hamburg's most traditional market. A popular option for early risers, night clubbers, bargain hunters and tourists alike is the brunch in the historic fish auction hall to the tunes of jazz, pop or rock music.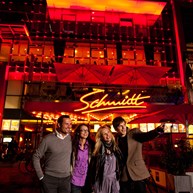 The Reeperbahn
The Reeperbahn is a living legend: in the old days it was a seedy red-light quarter for seafarers, during the 1960s it was a stepping stone for the Beatles. Since the 1990s the red-light district has been gradually transformed into a unique entertainment district with bars and clubs, art galleries, cabarets, theatres and top-class restaurants. The Reeperbahn, almost 1 kilometre long, is a "must" on the tourist route as well as Grosse Freiheit, the Davidwache police station or the Spielbudenplatz with its Panoptikum waxworks and Operettenhaus.
Hamburg Cruise Days DE
Freuen Sie sich auf ein Kreuzfahrt-Event der Superlative vom 1. bis 3. August 2014: Die Hamburg Cruise Days bieten Schiffe aus nachster Nahe und Kreuzfahrt-Feeling live – drei Tage voll maritimer Stimmung, sinnlicher Genusse und Unterhaltung. Sechs Kreuzfahrtschiffe werden Hamburg wahrend der Hamburg Cruise Days anlaufen und im Hafen vor Anker gehen. Die Licht-Inszenierung Blue Port von Kunstler Michael Batz taucht den nachtlichen Hafen in magisches blaues Licht, die Hafenkante selbst wird zur Erlebniswelt und ladt zum entspannten Spaziergang durch unterschiedliche Themeninsel mit kulinarischen Highlights, zubereitet von den Top-Gastronomen der Stadt.
Hamburg Museum
The Hamburg Museum hosts one of Germany's largest urban history exhibitions. As a cultural history museum it displays the varied history of the city of Hamburg, from its beginnings in around 800 AD to now. It is the biggest museum within the Foundation of Historical Museums in Hamburg – complemented by the Altonaer Museum, focussing on maritime history, the Helms-Museum, specialising in archaeology, and the Museum of Work in Barmbek.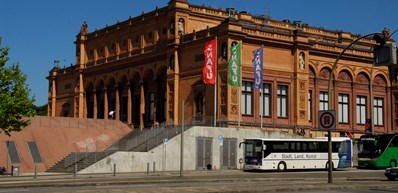 Hamburger Kunsthalle
Opened in 1869, and once the embodiment of the Hamburg bourgeoisie's feeling for art, the Kunsthalle is now acknowledged as one of Germany's leading art galleries. The adjacent Gallery of Contemporary Art opened in 1996 at its prominent location and complements its main collection with ambitious examples of contemporary art. Collections include the Old Masters, valuable 19th century prints and drawings, Classical Modernism, as well as contemporary art exhibitions in the Gallery of Contemporary Art.
Hamburg Cruise Days
Look forward to a superlative cruise ship event from August 1 - 3, 2014: the Hamburg Cruise Days offer impressive ships at close quarters and live cruise feeling – a stunning three days simply packed with maritime atmosphere, delicious food and drink, and great entertainment. Six cruise ships will be calling in on Hamburg during the Hamburg Cruise Days to anchor in the port. The Blue Port illuminations by artist Michael Batz will bathe the harbour in a magical blue light, the dockside itself will become a cruise experience, creating the perfect setting for a relaxed stroll through different themed islands with culinary highlights prepared by some of the city's best restaurants.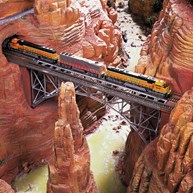 Miniatur Wunderland - The world's largest model railway
Miniatur Wunderland is the world´s largest model railway museum, one of Hamburg´s most popular family tourist attractions. It displays sections, showing authentic environment from different countries - Sweden and Norway to the pyramids of Egypt and Las Vegas in U.S. Visitors can even experience day and night – and all this every 15 minutes. You can also take a guided tour that shows Wunderland behind-the-scenes.