Art in the city
Playful and creative, Nantes has been totally turned upside down by art! Visit the Castle of the Dukes of Brittany and the Machines de l'île, a very original artistic project with the Grand Elephant, the Carrousel of the Marine world and the Galerie des Machines. Le Voyage à Nantes: In July and August, the atmosphere of the city gets a bit more electric than usual with 40 art installations, playgrounds, exhibitions and more!
Ler mais
Places4You
Places4You - Hainsbachweg. A presentation of special places - insider tips from Heidelberg residents for visitors
Ler mais
Places4you
Mausbach Ziegelhausen
Ler mais
Tasmania
Tasmania and island at the worlds edge
Ler mais
Dark Mofo
Dark Mofo has a curious pull, with people coming even when they're not sure how the art, music and food will be delivered. That's because Dark Mofo keeps its cards close and it fails to disappoint time and again.
Ler mais
Salzburg for 48 hours
Crisscrossing Salzburg in two days The fortress, Mirabell Gardens, plus a whole entourage of other sights practically around every corner, are magnets for visitors to Salzburg. And because everything in the city is so compact, a two-hour stroll through Salzburg's streets will fly by in no time. It'll seem like you are chalking off yet another attraction from your must-see list every five minutes or so. https://www.salzburg.info/en/magazin/city-feeling/48-hours-in-salzburg_a_301561
Ler mais
Simply Central
Discover what's in store for you in Bloomington, MN, home of Mall of America!
Ler mais
Family Vacation - Family Vacation in Dubai
Dubai is an ideal holiday destination for families, with theme parks, family beaches, brunches, waterparks, aquariums camel encounters and more to keep everyone happy. Visit Dubai!
Ler mais
Food in Dubai - Gastronomy and Fine Dining in Dubai
Dubai boasts a rich food and gastronomic scene, from the street- side cuisine of Zaroob and legendary Ravi's, to the celebrity chef outposts of Gordon Ramsay, Jean-Georges Vongerichten and Sanjeev Kapoor.
Ler mais
7 Days In Dubai
Visit an icon like the Burj Khalifa, enjoy family thrills at Dubai Parks and Resorts, discover the new City Walk shopping district and finish it off with a night of culture at Dubai Opera. Visit Dubai for a weeklong adventure.
Ler mais
Sölvesborg
Sölvesborg has a well-preserved city center with old buildings that have emerged in the shelter of the castle of Sölvesborg, the medieval Danish national castle, which in recent years has also been called castle because Danish royals often stayed here.
Ler mais
48 hours in Rotterdam
A couple of days in Rotterdam? Keen to explore Rotterdam but not sure where to start? Let this video inspire you and discover how you can get the most out of Rotterdam in 48 hours.
Ler mais
Mall of America® Holiday Shopping
Mall of America® is the place to shop this holiday season! With over 520 shops and 50 restaurants, the Holiday shopping experience is wonderful. No sales tax on clothes or shoes. Bloomington, MN is home to over 40 hotels most offering free shuttle service to MOA®, so book a holiday shopping getaway with the whole family.
Ler mais
Save with The Big Ticket™ Attractions Pass
The Big Ticket™ is a 3-day adventure pass that provides 30% savings on Mall of America and Twin Cities attractions. Once your mobile ticket has been scanned, you are allowed to visit each attraction one time within three days. Attractions included in the pass are as follows: Nickelodeon Universe® SEA LIFE® Minnesota Aquarium Science Museum of Minnesota® Minnesota Zoo IMAX® Theatre at the Minnesota Zoo FlyOver America Crayola® Experience Purchase now at www.BloomingtonMN.org/BigTicket Category
Ler mais
How to do Vienna | VIENNA/NOW
What is the best way to get from the airport to the city? Where do I get Wi-Fi? And why are there so many different types of coffee? Tips, Tricks, Do's and Don'ts: In this episode of VIENNA/NOW Adia shows you some basic facts on how to make your arrival and stay in Vienna even easier.
Ler mais
VIENNA/NOW - Vienna on a Budget
You don't need to throw around money in order to have some fun in Vienna. This insider tour will give you an intel report for exploring Vienna on a budget. So lean a little bit closer to the screen and let Adia show you some occasions for reasonably priced food, sightseeing and shopping opportunities. And even if you're not on a budget: You don't want to miss out on free museum admission, opera tickets for 3€ and a delicious pay-as-you-wish-restaurant.
Ler mais
VISITBRUSSELS
All information about Brussels
Ler mais
Stockton - Stocked Full of Flavor
Discover why Stockton, California is "Stocked Full of Flavor"
Ler mais
Blekinge by air
In Blekinge there are wonderful water with the sea appearing along the coast. There are powerful rivers, babbling brooks and tranquil lakes with navigable ice. We have water slides and soothing bath.||With a genuine authentic and close unexplored coastline that gives things to see and that brings joy and the feeling of being alive.||Collecting impressions in the lush archipelago which is northern Europe's nearest islands with World Heritage medal ancient cities and white sandy beaches. The feeling of sun on your skin, the taste of the food & beverage, and let themselves be captivated by the wilderness and our wonderful water.
Ler mais
Blekinge - wonderful waters
Blekinge wonderful waters… Our waters is our everything, warm coves, cold water depths, flowing streams, turquoise bays, cities build for the water, on the water.
Ler mais
Bloomington Foodie
Bloomington, MN showcases four restaurants in Bloomington, MN. Also, showcased is Summit Brewery in St. Paul, MN. These restaurants show how their food comes from Minnesota. The showcased Bloomington, MN restaurants are Firelake Grill in Radisson Blu Mall of America, Twin City Grill in Mall of America, Parma 8200 in Bloomington, David Fongs in Bloomington.
Ler mais
Bloomington Kids
Family Fun for you and your family at Mall of America. Never have to leave because there is a Radisson Blu hotel attached to Mall of America. Fun attractions including Nickelodeon Universe, mini golf at Moose Mountain, SEA LIFE Minnesota Aquarium and much more!
Ler mais
Alicante General Video
General tourist video of the city of Alicante, the capital of the Costa Blanca.
Ler mais
Greater Raleigh Nightlife
Whatever your definitions of fun and entertainment are, the Greater Raleigh area offers a plethora of diverse nightlife activities that are sure to surpass visitors' expectations.
Ler mais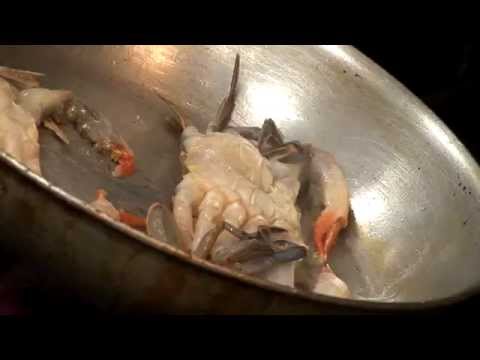 Greater Raleigh Dining
Heralded by Southern Living magazine as one of the "Top 10 Tastiest Towns in the South", Raleigh offers visitors an extensive selection of culinary crafts that feature local ingredients and unique twists on Southern classics.
Ler mais
Umeå - with a lot of passion
Umeå - with a lot of passion.
Ler mais
Citypuls
Citypuls, by Kalmar
Ler mais
A taste of Kalmar
Sports, music, theater and exhibitions - whatever interests you may have, there are plenty of activities to choose from in Kalmar.
Ler mais
Säfsen Resort Winter
Säfsen Resort Winter, Sweden
Ler mais