Get the
free
London guide
now!
Last Download: 2013/10/22 09:17:18 from Ireland.
Articles about "b&b"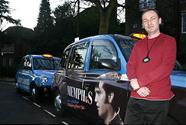 With the U.S. a Bargain for Britons, London Cabbies Hired as Boosters
"Oh, the climate! I didn't see a cloud all week!" he exclaimed, driving around London in a pink taxi with "Las Vegas" emblazoned in huge letters down the side. Ever since the gambling mecca's tourist board brought him for a visit, his friends have called him "Steve Vegas," one of a growing ...
Washington Post
Can we rent a flat in London for only three days?
... a trip to Britain to visit family with our two teenage boys and are hoping to add a few days in London. In the past, we shared a hotel room, but now the boys are so big (and London is so expensive). We were thinking of renting a "flat" or hotel with a kitchenette. I know many ...
The Globe and Mail
London's best B&Bs
In a quiet street facing the Chelsea Arts Club is an enticing, contemporary haven. Softly spoken Nina is passionate about the arts, food and music, knows Chelsea inside out and takes real pleasure in looking after her guests. Antique shop finds stand alongside more modern delights. Your ...
Guardian Unlimited (The Guardian / The Observer)
Councils plan for exodus of poor families from London
Jon Cruddas: 'It is tantamount to cleansing the poor out of rich areas - a brutal and shocking piece of social engineering.' Photograph: Richard Saker /Rex Features
Guardian Unlimited (The Guardian / The Observer)
Ginny Light would happily have become part of the furniture at this quirky west London B&B
Behind a pillar box red door just off the fully gentrified, and now rather chi chi Westbourne Grove, is an extraordinary little B&B. Stepping into another world is no exaggeration for crossing the threshold of this west London bolt hole. It's sensory overload of colour, clutter and Willie Wonka ...
Times Online (The Times / The Sunday Times)
Living the dream of a B&B in the South of France
... a building that provides an income. Orlando Murrin and Peter Stegall took the plunge in early 2002, and committed themselves to moving out of London to run a bed and breakfast in the Tarn region in the South of France. "We'd been on a walking holiday through the bastide villages around ...
Times Online (The Times / The Sunday Times)
Bradford & Bingley dives again as recession fears worsen in London
... an agreement with some of B&B's largest investors to pump £400 million into the bank. B&B's board preferred to go ahead with a deal to sell a stake to TPG, a US private equity firm. However, within a fortnight, TPG pulled out of the deal. While B&B's stock reached new lows, ...
Times Online (The Times / The Sunday Times)
What blogs say about "b&b"
London, day 1
I can certainly say our first day in London was great.  We started off with a lovely English breakfast at our B&B, followed by 2 great cups of coffee at a nearby coffee shop, we saw Buckingham Palace, enjoyed a lovely walk through Green Park & St. James Park, thoroughly explored ...
London, day 1
Hotels & Accommodations in London
London is a world-class city. With a rich history and a lively culture, tourists flock to this capitol. Whether visiting on business or enjoying the musicals and museums that London has to offer, there are many options for accommodation. Guests can choose from a range of Bed and ...
Hotels & Accommodations in London
gatwick airport logo
Gatwick Logo, Before and After. Gatwick Airport, formerly London Gatwick The UK's second largest airport "Gatwick Airport" was purchased by Nigerian Boeing 777 and each from DFW to London's Gatwick airport, Beautiful Guest house / b&b near Gatwick airport Da Vinci Logo buyer of ...
gatwick airport logo
Royal Cambridge Hotel Paddington London
London Royal Cambridge Hotel : Hyde Park. The Royal Cambridge is less than 5 minutes' walk from Paddington Station, which offers fast, direct access to. The Royal Cambridge Hotel London – Best Deals & Real Reviews. The Royal Cambridge Hotel - Reviews - London Hotels - TripAdvisor. Get the best ...
Royal Cambridge Hotel Paddington London
Top 5 Boutique Hotels in London
Close to Harrods and the Natural History Museum, this contemporary hotel has strong clean lines and the lobby is glass fronted, filling it with natural light. The tiny televisions studded in the walls of the lobby and corridors are just one of the many features of this luxury hotel.
Top 5 Boutique Hotels in London
Cheap London Hotels and Bed and Breakfasts Close to London Tourist Attractions
... Covent Garden and also visit the University College campus close to the Russell Square. If you book cheap London hotels to stay in a cheap London b&b and cheap London hotels in London Victoria SW1 area, you will not have to travel for a long time to reach the famous Buckingham Palace which ...
Cheap London Hotels and Bed and Breakfasts Close to London Tourist Attractions