Help us improve our new site!
Teleférico - Madrids linbana
Guiden uppdaterades:
Teleférico är ett bekvämt sätt att se stadens sevärdheter medan du lutar dig tillbaka, om du inte är rädd för höjder, vill säga! Denna linbana byggdes först som en del av en nöjespark och på sina håll når den en höjd av cirka 40 meter över marken. Resan tar tio minuter och när du har nått destinationen Casa de Campo Park kan du njuta av en spektakulär utsikt över staden samt ta lite mat på restaurangen.
Användbar information
Adress: Paseo Pintor Rosales, Madrid
Mer info: Färden startar på Paseo del Pintor Rosales
Öppettider: Tillgänglig varje dag från april till september och de övriga månaderna under helgerna.
Hemsida: www.teleferico.com
Telefon: +34 915 41 11 18
Ladda ner guide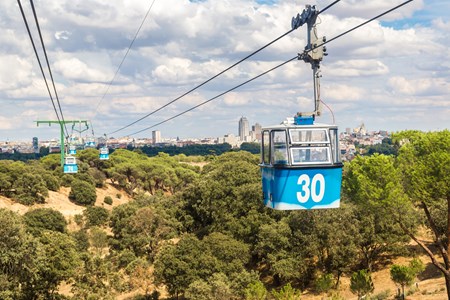 Try our
NEW

site!
Our
NEW

website is now available, give it a try! Let's Go There!
Our
NEW

website is now available, give it a try!
Book

On the new ArrivalGuides you can book your next flight or hotel for the best price.

Plan

Collaborate with your friends or invite an agent to plan the best trip ever! All in one place.

Explore

578 and counting updated guides from the most popular destination all over the world.