Help us improve our new site!
Shakespeare's Globe
Guiden uppdaterades:
Shakespeare's Globe är en återuppbyggnad av den ursprungliga Globe Theatre, där skalden satte upp några av sina första teatrar. Shakespeare's Globe ligger bara några hundra meter från den ursprungliga platsen och idag kan man se moderna tolkningar av Shakespeare och helt nya uppsättningar i återuppbyggnaden. Allt detta för enbart £5! Utställningen har audioguider på engelska, franska, tyska, spanska, italienska och japanska. Guidade turer går var trettionde minut.
Användbar information
Adress: 21 New Globe Walk, Bankside, London
Öppettider: Teatern är öppen maj-september. Utställning och rundvandring finns hela året om förutom den 25 och 25 december, måndag-söndag 09.00-17.30 (kortare mellan 6-30 mars 2014)
Kollektivtrafik: Blackfriars, London Bridge och Mansion House är de närmsta tunnelbanestationerna
Telefon: +44 20 7401 9919
Ladda ner guide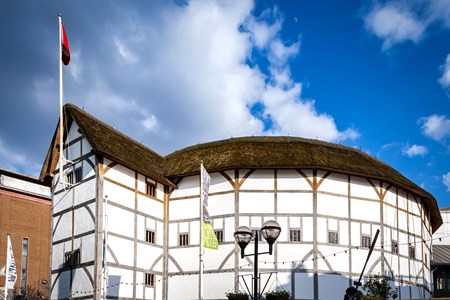 Try our
NEW

site!
Our
NEW

website is now available, give it a try! Let's Go There!
Our
NEW

website is now available, give it a try!
Book

On the new ArrivalGuides you can book your next flight or hotel for the best price.

Plan

Collaborate with your friends or invite an agent to plan the best trip ever! All in one place.

Explore

578 and counting updated guides from the most popular destination all over the world.